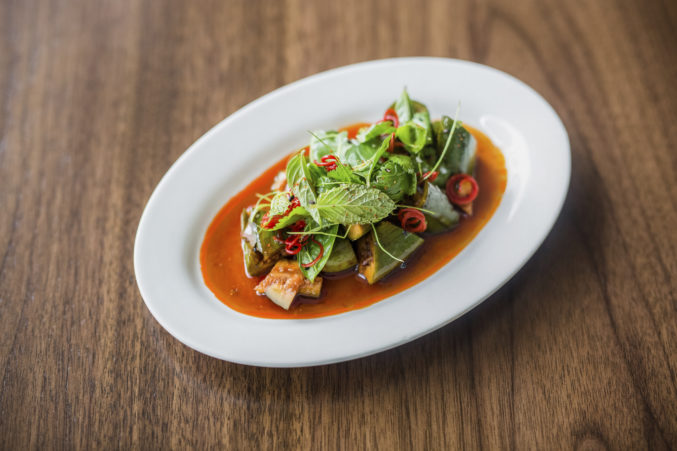 Fine China Is Finally Opening at The Statler
Angela Hernandez has been getting deep into bao and Cantonese-style roast duck.
After a long wait, we learned yesterday that Fine China will open mid-July at The Statler hotel. The modern Chinese spot joins Graham Dodds' diner Overeasy; the restaurant and bowling alley Scout; the underground bar Bourbon & Banter; and rooftop bar Waterproof.
For Fine China, executive chef Angela Hernandez plumbed the repertoires of Chinese cuisines. She's joined by chef de cuisine Josh Bonee, who has roots in the South and worked at Husk and Flora Street Cafe.
From the beginning, it was clear the restaurant would serve roast duck, specifically Cantonese-style roast duck, hailing from southern China.
"It's not quite Peking duck," says Hernandez. "Peking was for imperial royalty, where Cantonese is home-style, the duck you see in the windows in Chinatown. The focus is more about nice-flavored, juicy meat [vs. the crispy skin]. To me, personally, that's my favorite." The ducks come in whole—head-on, feet too—from a producer in Long Island. The cavity is seasoned with Chinese five-spice spice and hoisin, sewn up, given a quick blanch to tighten the skin, matured three days in the walk-in, then roasted in the duck oven that holds heat like a hearth.
"Don't get me wrong, Peking duck is quite delicious …" she says. But the driving question for Hernandez was what she liked to eat when she went out for Chinese food. "[The concept] started as more pan-Asian, but it became more apparent that this was going to be Chinese," in an idiom "with cleaner and fresher flavors," she says, "incorporating our personal backgrounds."
"I've never cooked Chinese in my life," Hernandez is quick to point out. "I've mainly done French-style and Japanese." And so, she staged. In the summer before the work on the restaurant began, Hernandez spent time in Las Vegas—one of the lesser-known corridors for high-end Chinese food—learning one-on-one from the dim sum master at the traditional, Imperial-style The Mansion at MGM, and staging elsewhere during the day. In New York, she spent time learning at Fung Tu, the modern-leaning sister restaurant of the iconic Nom Wah Tea Parlor at the heart of Chinatown, the city's oldest dim sum parlor. She and chief dim sum maker Sarah Lewis then spent another week at China Tang in Vegas.
"Dim sum is a craft," Hernandez says. "I've been at it now for about a year. But I want to do it justice."
And so, the menu is laid out to guide you through cold dishes, dim sum, and larger plates—maybe from smacked cucumbers, cool and refreshing, through shu mai dumplings, to fried rice.
Meanwhile, Kyle Hilla has stepped into the world of tea. Cocktails dark with activated charcoal or layered in a French press play up the visual drama. House-brewed cold teas will include marriages like oolong with coconut and vanilla. But the focus is on traditional Chinese tea ceremony, with its trays and tea sets made by a ceramicist in China. A tableside cart may cater to smaller tables, bringing the aromas of green, oolong, and puerh teas. You'll want to explore this wrinkle.
"I love the puerh, the bitterness and complexity and earthiness," says Hernandez.
R&B, which the Statler is calling a "fast-casual ramen and bao spot," is a fast-and-loose spot designed for lunch and late-night, with a standing counter where you can throw back bao and a few ramens. Its hours are Monday through Saturday, 11am – 5pm and Friday and Saturday late night 9pm – 4am.
Now you know as much as I do. Are you ready to pair oolong with juicy duck?