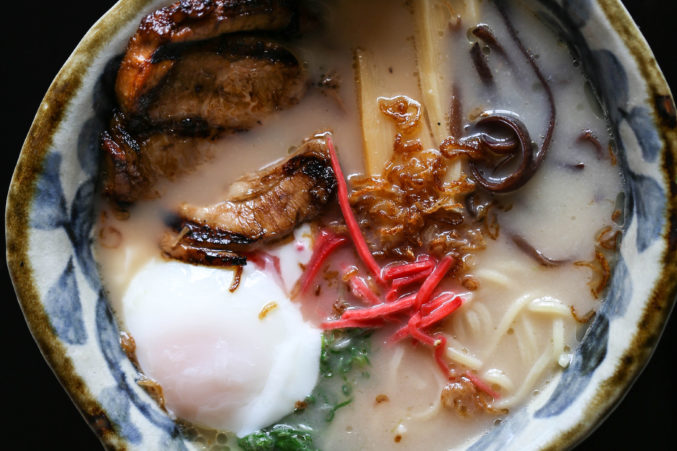 Eat This Now: Cold Noodles at Ten Ramen
Good news for when the weather turns scorching.
Continue ordering the pork-jowl maze-men, if that's what you love. It's very good. I know. Or keep slurping the spicy miso lobster ramen that was a special until they recognized, early on, the folly of ever taking it off the menu. But if you're seeking something different—if you want, in this case, to cool off rather than warm up with a steaming bowl of ramen—try the cold noodle bowls they'll now be serving as specials at Sylvan Thirty's Ten Ramen.
They do this in the late spring, just as short sleeves and fans begin to seem the only options for survival. Last week was the first edition (specials run Monday through Sunday, with slightly different twists every iteration), and there will be more cold noodles on the horizon, running for weeks back to back in the height of summer.
Cold somen, Japan's thinnest noodles tangled with ice, are a hot-weather classic in Japan, where summers are humid and relentless. The eccentric hiyashi chuka, like a crudité platter over instant ramen (cucumber batons, shirred egg omelet cut into strips and other nibbles topped with nori and togarashi spice) is another cold-ramen go-to you find all over Tokyo. Cold somen in particular is singularly transporting when eaten in a semi-shadowed kitchen with the shades pulled down against the heat.
The cold noodles at Ten Ramen are neither of those standards, but rather their own creations. This first week was pesto chicken: big pieces of tender chicken over noodles tossed in pesto that was garlicky and full of ginger. A shower of Parmesan and cherry tomatoes snuggled in amongst the pickled Japanese vegetables and two sheets of nori that stand sentinel. The mélange was lovely—this funny play on Italian pesto meets Japanese. The ginger and basil, both refreshing; the Parmesan's umami—it works, it's fresh. I could have used a touch more pesto, but then again the noodles were allowed to shine, and at Ten, that's a good thing.