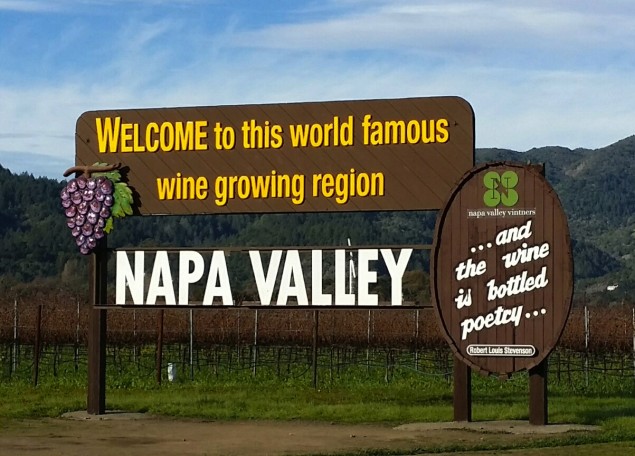 We are just a few weeks away from one of the biggest, and best, wine auctions in the country. Auction Napa Valley brings out-of-state visitors, Bay area locals, and Napa Valley residents together in wine country paradise with the purpose of doing good. Hosted annually by the Napa Valley Vintners, an organization that's been around for more than 70 years and is made up of over 525 wineries and vineyard owners within the region, Auction Napa Valley raises funds to help workers and families within the Napa Valley region with improved healthcare and children's education. More than $150 million has been donated to Napa County non-profit organizations since the event began 35 years ago. The 2016 event will take place June 2 through 5, with Agustin Francisco Huneeus of the prestigious Quintessa Winery serving as Honorary Chair.
In anticipation, I have been enjoying quite a few stellar Napa Valley red wines lately, prepping my palate for the barrel auction tasting. Here are a few current releases stand outs, mostly 2012 and 2013, both considered exceptional vintages for Napa Valley. A few selections were sent for editorial consideration. If you can't make it out to Auction this year, but would like an opportunity to get in on the fun, their E-auction will go live May 29 with over 200 auction lots available for bidding, full details on their website.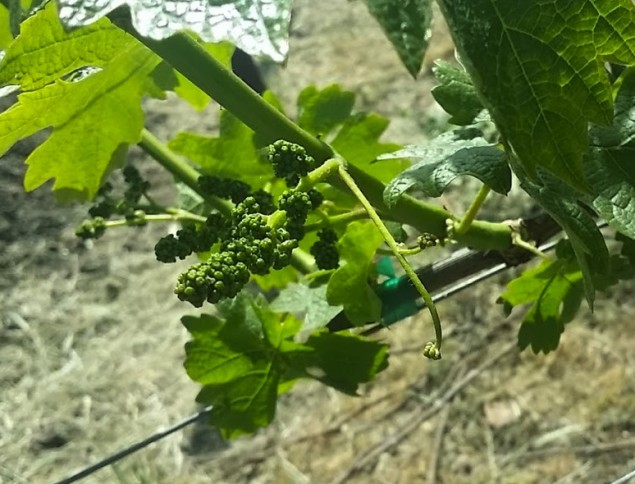 A few weeks ago I had a chance to stay and taste with a relatively new Napa Valley winery, just now completing their 16,000 feet of wine caves, along with their winery and tasting room in the Coombsville AVA hills above Napa town. Italics was started just a few years ago by Texan Mike Martin, with Winemaker/Partner Steve Reynolds and Managing Partner Andy Wilcox. Born out of an existing brand led by Reynolds, which began over a decade ago and known as Thirteen, blending fruit from vineyards in each of the then 13 sub-appellations of Napa Valley. Over the years, as Napa continued to sub-divide, Thirteen became Fourteen, Fourteen became Fifteen, and Fifteen became the current Sixteen with the release of the 2012 vintage.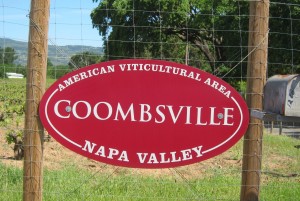 Martin, a collector of the wines and fan of what Reynolds was producing, thought the appellation wines deserved more, purchasing the brand and creating Italics, while keeping his roots in South Texas where his family has been in the citrus farming business for generations. The 16th sub-AVA is Coombsville, and the now home of Italics estate and soon to be completed winery. Their 73 acre estate lies in the foothills of the Vaca Mountains, southeast of Napa. The group took the name Italics for their brand as a nod to the thought that when something is truly special, you want to define it on its own, and italicize it.
The Italics philosophy shows that the best wines are a revelation of place. The wines are bold, slightly rugged, yet refined. Small production, premium quality, showcasing Bordeaux varieties, Reynolds and team are determined to get the most out of the fruit as possible, from their sustainably farmed estate.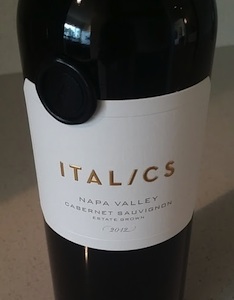 Their 2012 Italics Estate Cabernet Sauvignon ($125) is filled with ripe blackberry, black plum and bitter chocolate with licorice and tobacco notes. Tiny production (about 50 cases) Italics 2012 Estate Reserve Cabernet Sauvignon ($250) is an intensely complex wine with depth and texture. Fermented using both stainless steel and new French oak barrels, aged for 2 years in French oak, of which 75% is new, the wine not only expresses the earthy terroir of Coombsville, but also black fruit, espresso and spice with mouth-watering tannins and an underlying minerality. The warm vintage creates a juicy wine, yet the natural acidity helped by the vineyard location keeps the wine fresh and interesting. Both wines are available through the website via allocation.
With a philosophy based around the Roman poet Ovid [Publius Ovidius Naso,] who lived from 43 BC – 17 AD, and was perhaps best known for Metamorphoses, a poetic retelling of famous Greek myths, celebrating the themes of transformation and change. Ovid Winery celebrates these ideas of transformation, as grapes change into wine creating something sublime, forming a connection with the palate and person. From 15 acres of organically farmed, CCOF-certified estate fruit, grown in red rocky soils on Pritchard Hill, which are carefully managed by David Abrue, and with the help of Consulting Winemaker Andy Erickson, Winemaker Austin Peterson crafts premium quality Ovid Napa Valley. Only the best barrels of each individually harvested one acre lot is blended into Ovid Napa Valley, layering Cabernet Sauvignon with Cabernet Franc, Petit Verdot and Merlot to create an expressive blend filled with black cherry, blueberry, cedar, truffle, and wild flowers. Brawny yet inviting, with a sophisticated and subtle finish. Available via their website through allocation.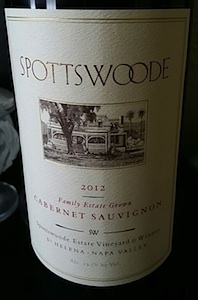 Organic vineyard practices have been the norm for Spottswoode Estate since 1985, a time when not everyone saw this as the smart way to farm. However, the Novack family, who have farmed their 40 acre vineyards since the early 1970's, and making wine since the early 1980's, saw this as smart business not only for their desire to be good stewards of the land, but also their pursuit of making authentic wine of the highest quality. They knew farming this way produces wine with the distinct style and character, tasting of the land and vintage. With Mary Weber Novak at the lead as one of the first women to run a winery estate in Napa, and daughters Beth Novak Milliken as President and CEO and Lindy Novak as National Marketing Director, Spottswoode is one of the most respected in the region, championing the region, the environment and women in wine. Their Spottswoode 2012 Estate Cabernet Sauvignon showcases the elegance that St. Helena fruit can bring to wine. Cherry liqueur, black plum and berry, nutmeg and cinnamon with traces of pepper and woody herbs. A beautiful wine that will age nicely. $175, available at Pogo's.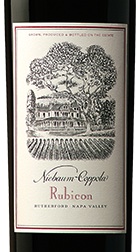 One of my favorite wine memories is with a 1997 Niebaum-Coppola Rubicon from the historic Inglenook Estate in Rutherford. Dusty, earthy and spicy, a beautiful, memorable wine. Started in 1879 by Finnish sea captain, Gustave Niebaum, with the goal to make Old World quality wines in California. His family managed the estate, run from 1939-1964 by John Daniel, Jr., through some of the most difficult times for wine in America, the Great Depression, WWII, Prohibition, etc. while still producing wine, one of which was later named the "Wine of the Century" by Wine Spectator, the 1941 Inglenook Cabernet Sauvignon. By the early 1960's the struggling, but always special, winery was in need of major repairs and updating, which the Daniel family could not do, and the name and much of the vineyards were sold. However, they kept the historic estate and 1500+ acres of vines. When John Daniel, Jr. passed away the final piece of the estate was sold.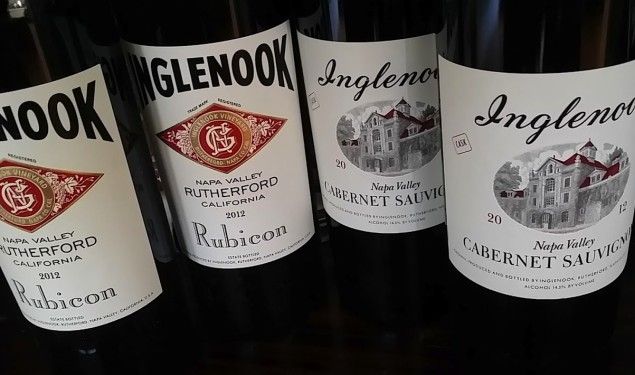 In 1975 Film Director Francis Ford Coppola and his wife, Eleanor, bought the property. Their goal was to reestablish the property as a great winery of Napa Valley, refurbishing the chateau, rejoining vineyards which had been sold off through the years, and making stellar Cabernet Sauvignon, bringing in another Napa Valley icon, André Tchelistcheff, to consult, renaming the property Niebaum-Coppola. In 2011 the Coppola's acquired the iconic Inglenook trademark, announcing the estate will once again be known by its historical name, Inglenook.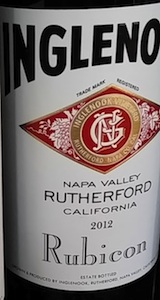 The current release 2012 Inglenook Rubicon ($210) is still as special as that 1997 wine I tried so many years ago. From an equally as celebrated vintage, the fruit included is only the best from the estate, including some old vines originally planted in the 1880's, filled with fruit black, soft herbs like thyme and sage, nutmeg, leather and tobacco. Complex, inviting and completely engaging. In 1998 the 1995 CASK Cabernet Sauvignon to honor the CASK wines John Daniel, Jr. had made. The 2012 CASK Cabernet Sauvignon ($75) is bold and robust, while maintaining the elegance these wines are known for. Aromatic notes of purple flowers, wild berry, and spice are followed by a juicy, ripe berry palate with texture, length and concentration. Both wines are available via their website; The CASK is available at Pogo's.
The 2012 Vineyard 29 "Aida Estate" Cabernet Sauvignon  showcases the structure of warm weather Cabernet Sauvignon, grown just north of St. Helena in a perfect, rather textbook vintage year. Ripe red cherry, cassis and currant notes fill the palate enhanced by dark chocolate, earthiness from iron-rich red soils, and well integrated tannins. A wine that will age nicely for years to come, or perfect for enjoyment now with a medium-rare filet after an hour or two of decanting. $250, with the new release available via their website; Pogo's currently has a few of their older vintages including a cooler vintage 2010.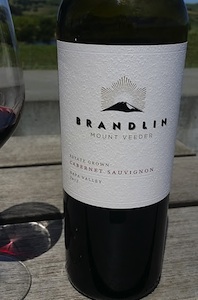 High atop rugged Mount Veeder rests a 170 acre estate, with a surprisingly small number of vines, as the steep, rocky and quite rugged AVA has made it rather impossible to plant. Brandlin Winery, a sister to Cuvaison in Carneros, sits at elevations of 900-1300 feet, with 38 total acres planted in schist and gravelly loam on shale, creating low yielding, concentrated vines. A few of these vines date back over 90 years, as 10 acres of Zinfandel still exists from early plantings by then owner Henry Brandlin.
Sustainably farmed, with the remaining Brandlin Ranch Estate supporting the natural biodiversity and abundant wildlife found on Mount Veeder, the goal is to pay respect to the heritage of the land and showcase slow ripening, earthy and bold, yet delicate, Cabernet Sauvignon from the AVA. The wines are fresh, as hot days turn to very cool nights high atop the mountain, keeping acidity intact, and melding dried olive, woody herb and coffee notes with ripe cherry and berry flavors. The Brandlin "Henry's Keep" Proprietary Red ($98) pays homage to Henry Brandlin and his dedication to the land, producing a well integrated Cabernet Sauvignon blend from some of the best vines on the property. Brandlin Estate Cabernet Sauvignon ($68) and the "Henry's Keep" are both available via their website.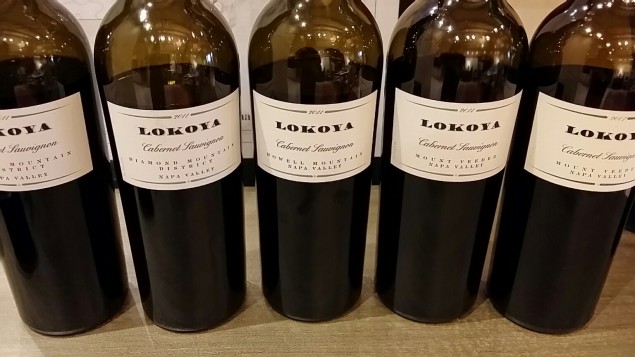 Also on Mount Veeder Lokoya produces their highly prized mountain fruit Cabernet Sauvignon, one of four for the brand focusing specifically on high quality vineyard sites on Howell Mountain, Diamond Mountain, Spring Mountain and of course Mount Veeder. It is fascinating to try these wines side by side to truly taste how terroir can affect the fruit. Though all are Cabernet Sauvignon wines from volcanic soils, each has its own distinction, with the Mount Veeder producing a finessed, elegant wine with great concentration, structure and earthiness. Sister winery on Mount Veeder, Mt. Brave Cabernet Sauvignon resembles the same rustic, rugged qualities of Lokoya, with complex layers of ripe black fruit, tobacco, crushed stone and violets. Both masterfully crafted by Winemaker Chris Carpenter, the Lokoya wines are available via their website through allocation. Mt. Brave is available locally at Dallas Fine Wines for $95.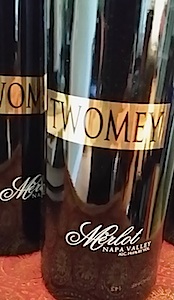 With an influence from the great Right Bank vineyards of St. Emilion and Pomerol in Bordeaux, Twomey Winery created a Napa Valley Merlot based wine from the hills of Soda Canyon Ranch just below Atlas Peak. The terroir focused wine is complex, layered and expressive. Old World in style, yet filled with the ripe fruitiness of California grapes, making the licorice, ripe plum, berry and tobacco filled wine ideal for enjoying with or without food. $60, available at Dallas Fine Wines.
Calistoga is the warmest part of Napa Valley, ideal for hearty, ripe and spicy Cabernet Sauvignon. Clos Pegas "Hommage" Tenma Vineyard Cabernet Sauvignon displays this in a black licorice, black cherry liqueur, ripe berry and baking spice filled wine with character and concentration. Though the wine is bold and powerful, it maintains freshness, with a luscious finish. $125, via their website.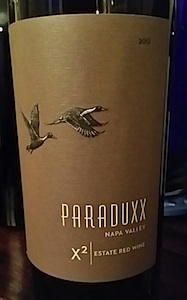 2012 marks the debut of a new wine for Paraduxx, the sister winery to Duckhorn. Their 2012 Paraduxx X2 Napa Valley Red is crafted from the best blocks of estate grown fruit to fully capture the essence and expression of the soils and vineyards. The fruit, predominantly grown on high, steep slopes of Howell Mountain, also showcases the incredible year that 2012 was for Napa Valley. The 90% Cabernet Sauvignon, 10% Zinfandel blend is velvety and ripe, with juicy fruit, sweet spice, black pepper and a touch of floral notes with a velvety, inviting palate. $95, available via their website.
High in the Vaca Mountains above Napa town is Somerston Vineyard, the home of Priest Ranch. Their 2013 Cabernet Sauvignon is blended from 24 different vineyard blocks layering in the different elevations, soil types, sunlight exposures and temperatures into one wine to create a harmonious, well rounded wine with richness and depth. $48 via their website.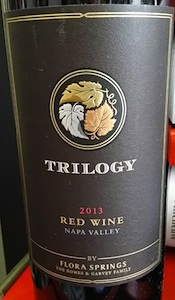 The history of Flora Springs dates back to the 1970's, but the winery property dates back to the late 19th Century. The old stone winery had been abandoned, as many at the time were, due to the threat of phylloxera and the reality of prohibition. When the children of Jerry and Flora Komes, John Komes & wife Carrie, and Julie Garvey & husband Pat, established the winery in the 1970's, naming it after their matriarch, Flora, they refurbished the old stone winery, and set about managing their 650 acres of sustainably and/or organically grown vineyards. Today they keep 20% of this fruit to produce their Flora Springs wine, selling the rest to their Napa Valley neighbors. Their Trilogy Red Bordeaux blend is considered to be the best of the best of this 20%. From fruit off of their Rutherford and Oakville estates the fruit forward, juicy, balanced wine is filled with red cherry, toffee and dusty earthiness. $80, available at select Goody-Goody stores.
Get the SideDish Newsletter
Dallas' hottest dining news, recipes, and reviews served up fresh to your inbox each week.