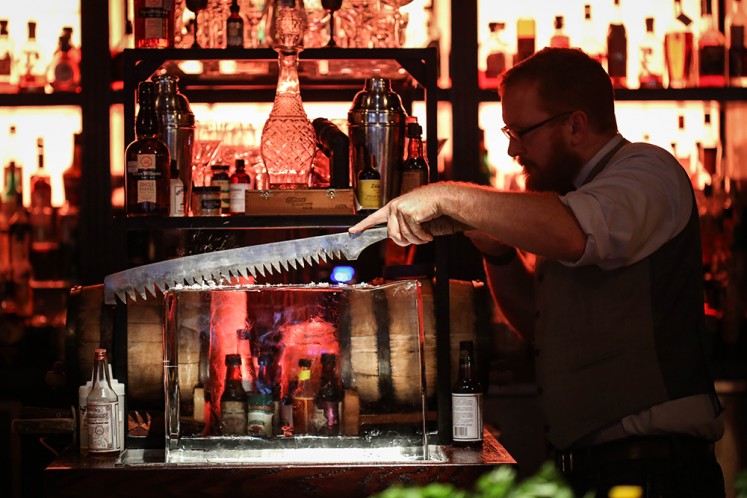 There's not always enough time in the day to skim a lengthy, re-worded press release that's been stamped with "breaking" or "exclusive." And some stories don't warrant an entire page of prose. Each week we'll gather the most important tidbits of Dallas food news and post them here, on SideDish. Because sometimes all you need is the scoop.
Sundown at Granada introduces new winter menu: The popular Lower Greenville restaurant known for plating an organic, non-GMO menu is changing things up for the winter.
According to the release: "The culinary-forward new seasonal menu introduces the work of new Executive Chef, Jason West. Chef Jason comes to Sundown at Granada by way of his most recent experiences as the Executive Chef at Steel Restaurant and Lounge, located in Uptown. Chef Jason brings with him 17-years of culinary excellence that draws upon his vast background in a variety of cooking styles to create unique dishes with flavors from all over the world. Chef Jason crafted the new menu featuring 15 new, and original, menu items that adhere to Sundown's vision of combining local and high-quality ingredients to deliver fresh and healthy farm-to-table dishes. These new seasonal dishes are also crafted to pair perfectly with Sundown's extensive list of beer, wine, and must-try artisan seasonal cocktails."
New menu highlights include Meatballs Nirvana made with Akaushi brisket, Berkshire pork, red wine marinara, served with toast points; Crispy Crawfish Rolls made from Cajun boudin, wild rice, sweet chili, and with creole mustard; and New Orleans BBQ Shrimp and Grits with barbecued Gulf shrimp and cheddar grits, topped with bacon and braised kale.
Parliament launches molecular cocktail program: What is a molecular cocktail program, you ask? Well, according to Parliament bartender-owner, Eddie "Lucky" Campbell: "Molecular gastronomy has received criticism for abstracting the art in classic techniques, but we believe that this criticism is actually rooted in an inability to create these elements. We have learned that it is incredibly hard to produce these elements, and we don't believe that we will even profit from serving these "glimpses into the future," but we believe that we owe it to our guests to produce the most advanced flavors that we are capable of…"
New drinks include the The Molecular Ramos Gin Fizz made with sweet gin, cream spherification, citrus Pop Rocks, and orange blossom air; The Molecular Margarita with Patron margarita spherification, salt air, and dehydrated Cointreau powder; and The Molecular Sazerac with bitters edible glass, lemon zest sazerac foam with brandy and absinthe, and Peychaud's bitters cotton candy.
While I have no idea what "salt air" is, I'd be lying if I said I wasn't curious to try it, along with all of these other science experiment-y cocktails.
Trigger's Toys fantasy bar draft takes over Henry's Majestic: Join some of Texas' top bartenders for a charitable evening filled with over-the-top-cocktails. According to the release: "Trigger's Toys, the charitable event that unites bartenders, brands, and consumers for a good cause, held its Fantasy Bar Draft at Industry Alley. At the draft, 120 of Texas' best bar talents were whittled down into five teams that will compete at the main event on December 13. Each roster chose its team's concept and name and will be tasked with creating an original menu at their pop-up bars inside Henry's Majestic. All the proceeds will go to Trigger's Toys, a nonprofit that provides toys, therapy aids and financial assistance to hospitalized children and their families." The event is on Sunday, December 13 from 8 p.m. until midnight. Tickets cost $25 in advance and $30 at the door.
Gemma to host Napa Valley wine dinner and book release: Author Kelli White will be at Gemma on Monday, December 14 for an intimate dinner celebrating the launch of her book Napa Valley Then & Now. According to the release: "Napa Valley, Then & Now is an in-depth look at the history, the land, the wineries, and the wines of Napa Valley, with a special emphasis on tasting notes of older vintages. Written by sommelier Kelli Audrey White, this book serves as a much-needed definitive guide to one of the world's most celebrated wine regions. Exhaustively researched and thoughtfully organized, Napa Valley, Then & Now chronicles the rise of Napa's wine industry from its earliest days to its current glory, examining its triumphs and failures along the way. Critically, it also checks in on the current state of many of Napa's historic wines and vintages, just as interest in this heretofore, marginalized category of wine is starting to grow." The event is on Monday, December 14 at 6:30 p.m. Tickets cost $250.
Sweet Arleen's releases seasonal peppermint hot cocoa cupcakes and candy cane bread pudding: Three-time champion of Food Network's Cupcake Wars, Sweet Arleen's, is getting festive with two new holiday-inspired flavored treats. The peppermint hot cocoa cupcakes are made with classic chocolate cake, mini chocolate chips, fresh whipped cream, and crushed candy canes on top, an the candy cane bread pudding is a sweet mix of candy canes baked on top of the classic white and black bread pudding, drizzled with a minty white chocolate sauce. The holiday confections are available through the end of December.
Have a scoop? Send it to [email protected]
Get the SideDish Newsletter
Dallas' hottest dining news, recipes, and reviews served up fresh to your inbox each week.