I went with mixed feelings to the 32nd annual French-American Chamber of Commerce Beaujolais and Beyond festival held at the Irving Convention Center on Friday.
The event is a celebration of Beaujolais Nouveau, the first French wine released in any given vintage year, its date officially set for the third Thursday of November. As any French person will tell you, Beaujolais Nouveau is not a great wine: young, light, and straightforward, it's meant to be quaffed young and doesn't improve with age. But it's a chance to gather in what is usually a festive time of year.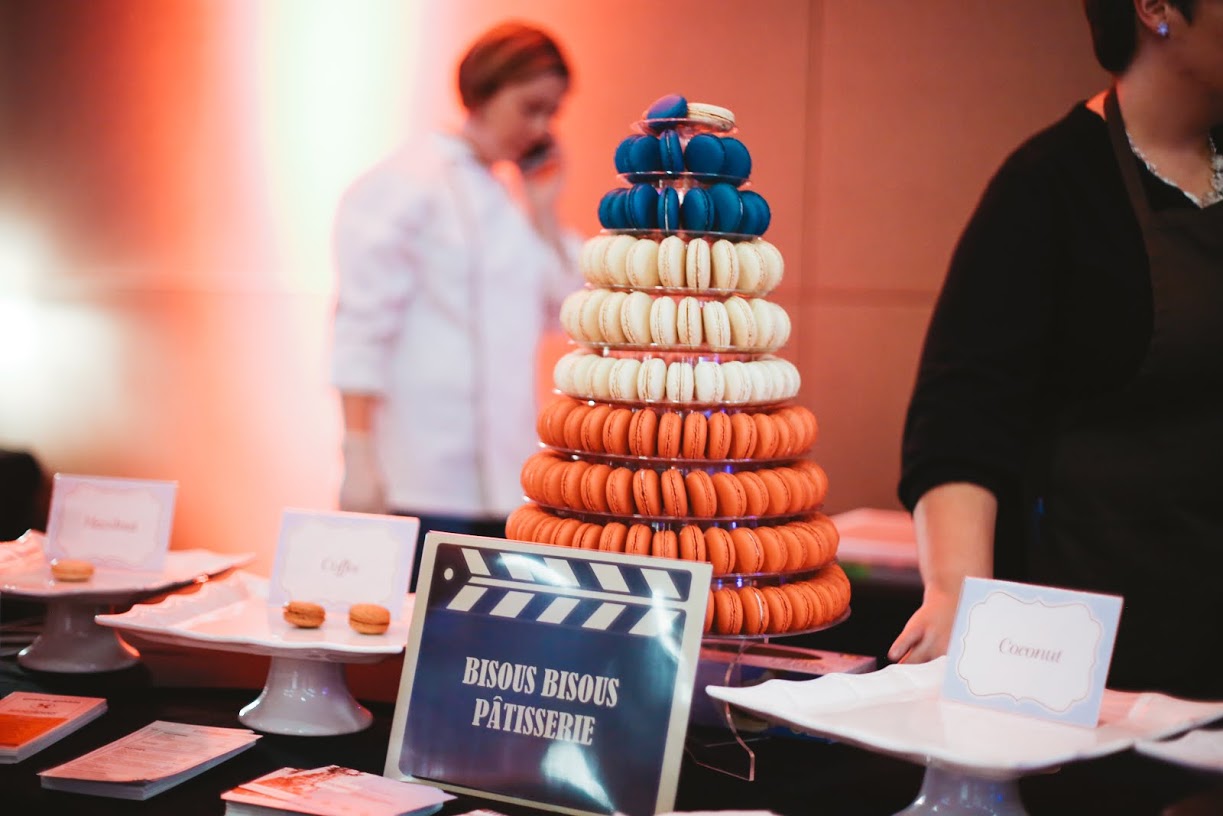 I didn't know what the event would be like, one week after the attacks in Paris. With close family in Paris, I was walking the same tightrope I imagined many in the room would be.
Music from the film Amelie played as the doors opened to black and gold balloons and tables of wine and food. (Wines were not just from Beaujolais, but Burgundy, California, Oregon, Texas.)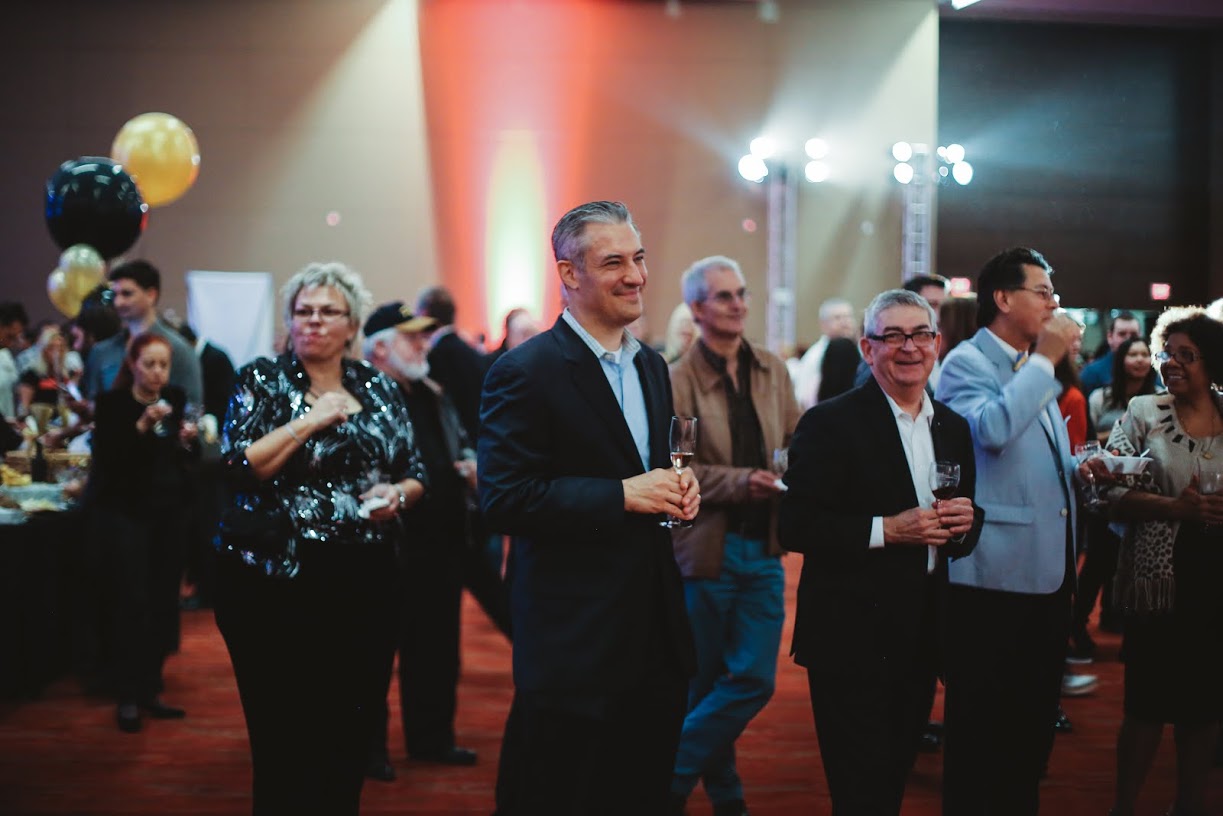 Everywhere, groups were chatting in French. Men wore bowties and vests. An Emeritus French professor from SMU had been proudly wearing his gendarme outfit to the event for the past 31 years. People made baguette finger sandwiches of pate, cheese, and cornichons. Eiffel towers anchored buffet tables laden with charcuterie platters of mortadella, rillettes, country pate, and salami. A Le Cordon Bleu instructor flitted around in his toque, and Le Cordon Bleu students strayed from the elaborate chocolate confections they were handing out to raid the cornichon bowl near the charcuterie spread. (People after my own heart!) Fanned around the perimeter of the room, vendors and chefs were perfectly in theme. Henry's Homemade Ice Cream had Grand Marnier and Honey-French lavender ice creams. Janice Provost of Parigi was ladling mussels in a white wine broth with sourdough bread.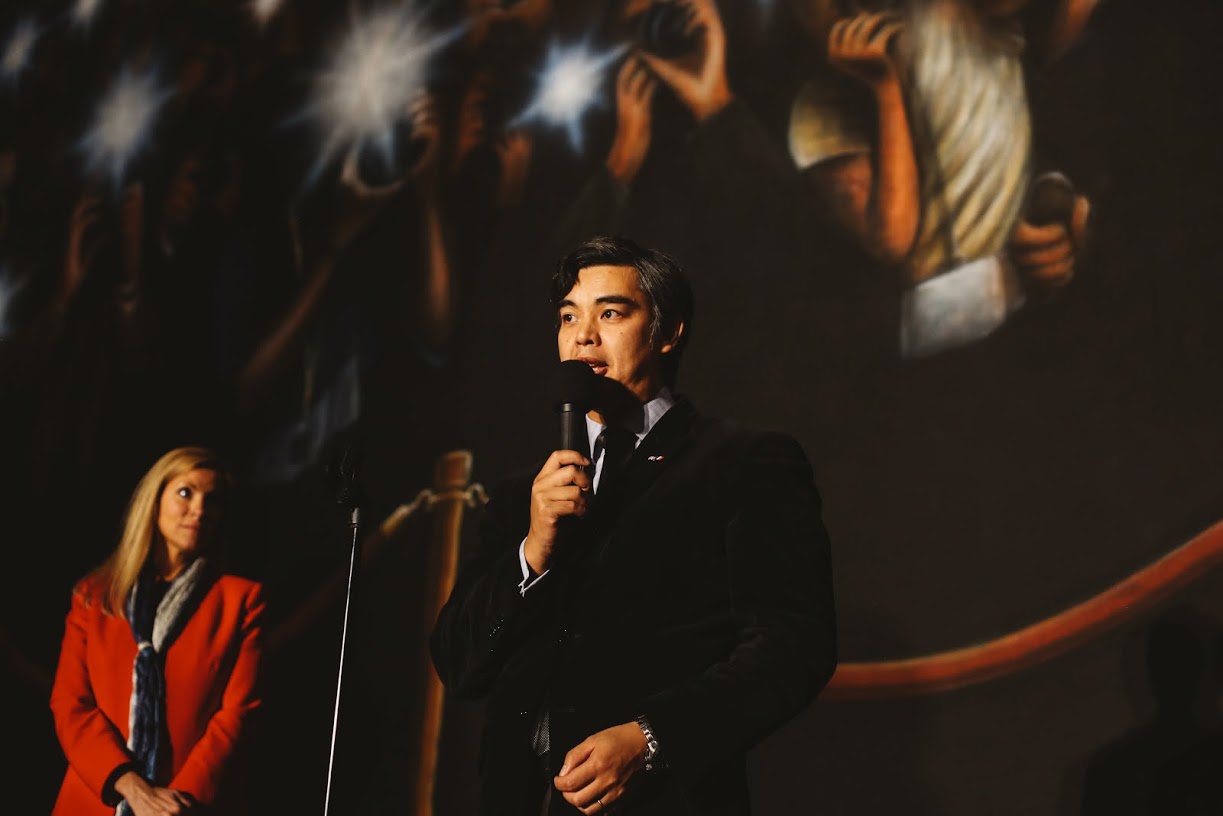 One of the best places in the hall was in the corner where Jean-Marie Cadot of Cadot Restaurant was turning out escargot with Pernod, parsley, and mushrooms. Then it was duck rillettes, then long-braised sauteed gizzards.
"Hey! The pate? Excellent!" a man said, vigorously shaking the chef's hand while his wife pulled out her phone for a photo. If this was a first encounter with rillettes, it was anything but hostile. Cadot's family has been in the business of restaurants, boulangeries, and patisserie for generations, and he himself has been in restaurants since he was eight. These were real flavors of France.
Nearby, a woman was over the moon about the escargot. It was her second year at the event. "I love France and the meeting of the two [countries]. It's cool. There's a lot of French people here. There's a lot of Texans … and we all get along!"
Something about her candor captured the spirit of the evening.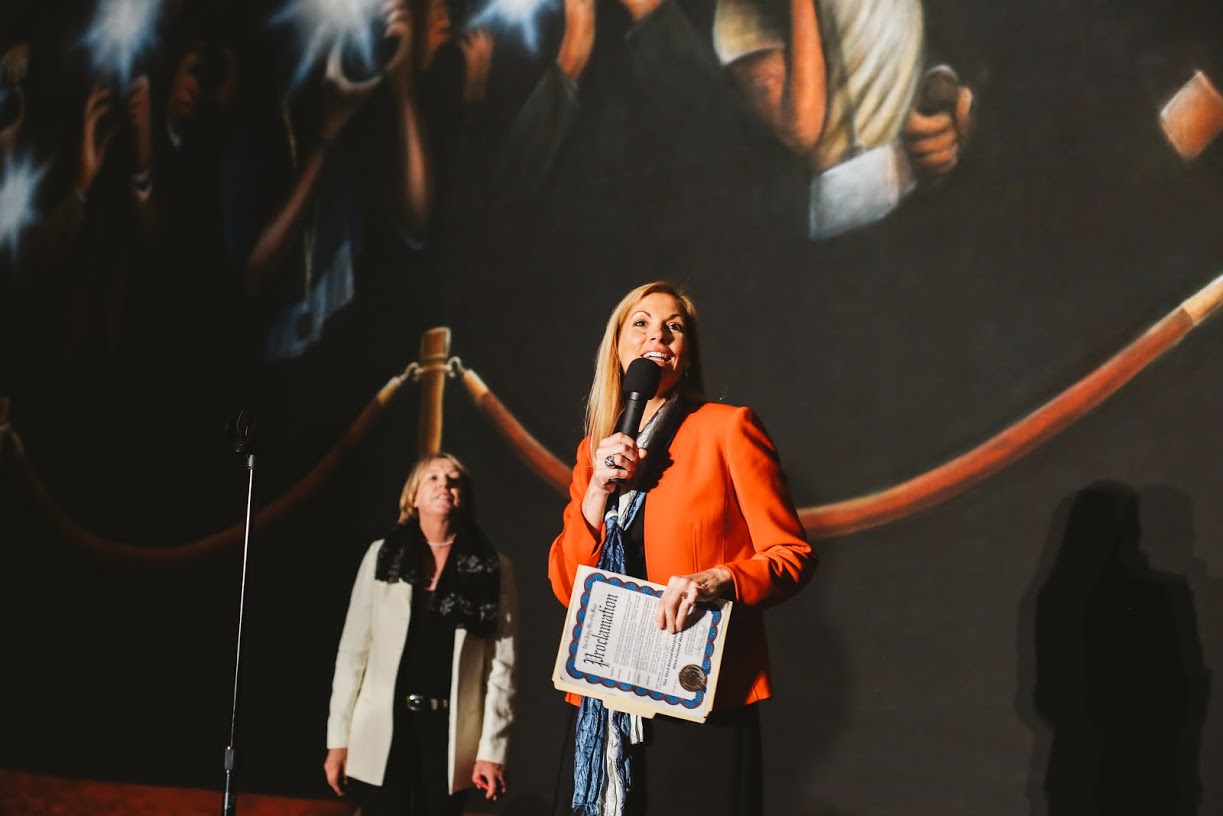 There was also a somber note–an acknowledgment of the attacks, dated exactly a week prior. This, too, was what I had wondered about.
The Consul General of France took the microphone, asking for a moment of silence in which hardly a glass clinked in what had been a boisterous room. (The man working the sound told me afterwards they usually have trouble quieting the crowd.) The Consul spoke of the "incredible displays of solidarity" he has seen. People have asked, he said, "How do you feel? What can we do?" What can you do? He ended with a reply: "Come and visit our country. Wear our fashion. Watch our movies. Eat our food. Drink our wine."
Rich Rogers of Scardello presented miniature cheese plates that included a wonderful 18-month aged Comte from Marcel Petite, whose wheels age in a Medieval fortress in France's Jura mountains. Rogers said more customers had been coming into the shop for French cheeses in the days following the Paris attacks. "I was not surprised, but then again I didn't expect it," he said.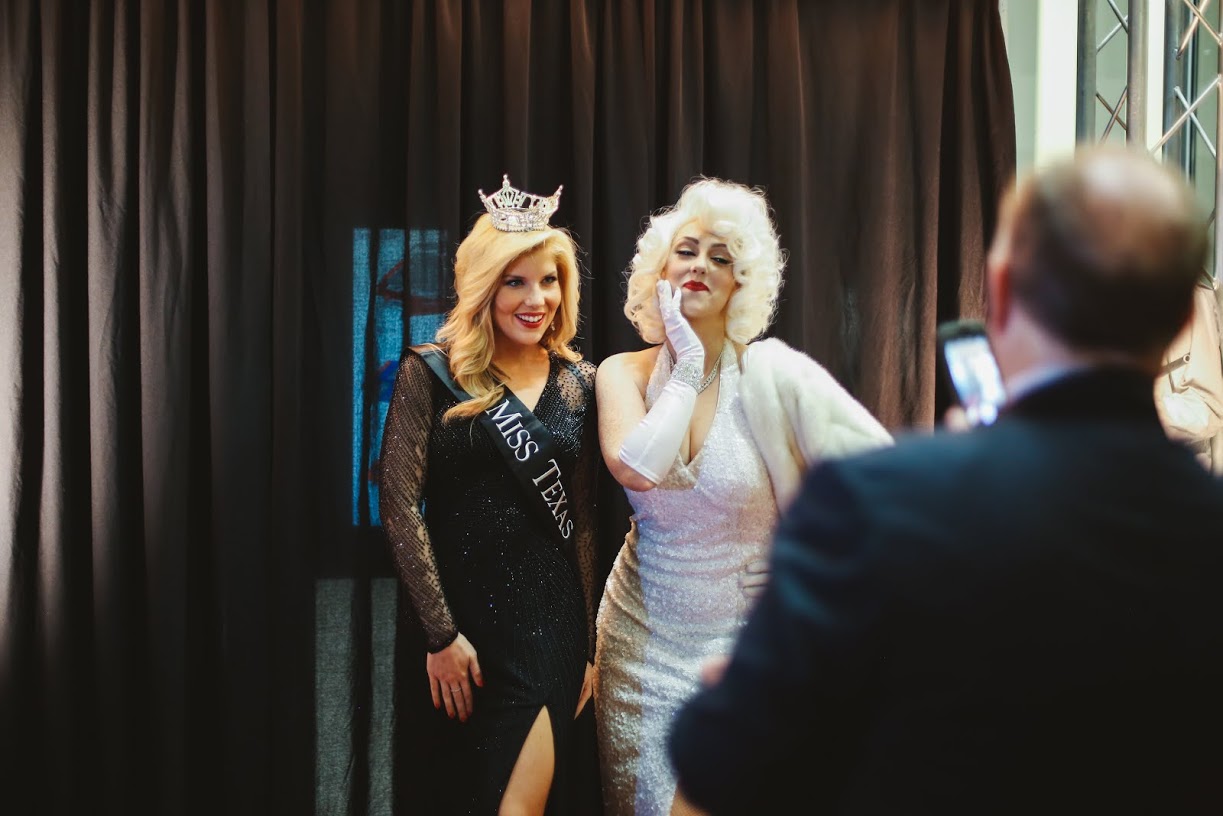 Pascal Cayet, owner of Lavendou Bistro Provencal, who has been coming to the event since 1984, was a magnet for French compatriots. ("Bonsoir … bonsoir …"; a kiss on both cheeks.) He, too, said more customers came into the restaurant the weekend after the Friday attacks — including French clients. "In solidarity," he said. He'd hung a French flag in front.
Like Cadot, Cayet has family that lives within 20 minutes of the attacks in Paris and the subsequent violent raid in Saint Denis. Everyone is well and safe.
But I heard one woman say in French to her friends gathered, wine-glasses in hand, "It's hard to be far away."
I can relate. But, I also echo what Cayet said about turning out for the event in spite of the timing: "It was good, actually." For those keeping track, this year's Beaujolais Nouveau is supposed to be one of the best recently.