When we think of California wine country our minds immediately take us to Napa…it is the premier and truly the place that put California, if not all of American wine, on the international map. However, Livermore County, just 45 minutes outside of San Francisco and a 20 minute drive from Napa, was one of the most influential regions for all of wine due to Wente Vineyards and their plantings of Chardonnay cuttings, brought over by hand by in 1912 from delicate clippings obtained at Montpellier University in the south of France.
When we think of wine we think of the place it comes from, and within each region, is the terroir.  Terroir includes the soil, the sun, the climate, the slope of the land, etc. that will influence how a grape grows and the various flavors that it will have.  However, just as important in this process is the actual grape and no two grapes are a like.  There isn't just one Cabernet grape or one Chardonnay, there are dozens and dozens of different clones that may have all started out as one single domesticated vine 8000 years ago in Turkey or Iran, but over the years these vines have morphed into a large variety of different clones.
Over the years the clones of this Wente Chardonnay, and its children including Hyde-Wente, 04, 09, 67, 79 and many more, has become one of the most planted clones throughout the Northwest, especially in California where there are over 100,000 acres of Chardonnay vines planted.  From Santa Barbara to Yakima, Wente clone Chardonnay has been used to make award winning wines for the likes of Hanzell, Stony Hill, Kistler, Ramey, Byron, Donum, Sangiacomo, and was the main clone used in the quite famous Paris Tasting 1973 Chateau Montelena Chardonnay.
Started in 1883 by Carl H Wente the winery celebrates their 130th anniversary this year.  Still family owned and operated, today run by the 4th and 5th generation Wente family members the winery itself is known for their sustainably farmed estate vineyard wines, as well as hosting one of my favorite series of winery concerts each year.
Characteristics of the clone include small berries in the bunches of fruit with thick skins, golden hay color, good mineral content, low sugar and big, bright acidity with luscious citrus fruit flavors and sweet baking spice notes. Here are a few favorites made from this legendary clone.  A few selections were sent for editorial consideration.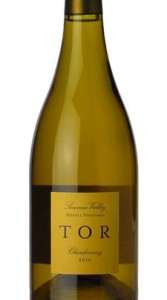 Tor 2010 Durell Vineyard Wente Clone Chardonnay -Durell Vineyard is known for their stellar Chardonnay (Kistler also sources their fruite from Durell) producing grapes filled with minerality, concentration and texture and this winemaker, Tor Kenward, relies on his 27+ years with Beringer and now 12+ years on his own to find the best sites to create his small production, high quality single vineyard wines.  Layers of ripe pear, pineapple, white flowers and honeysuckle fill this Chardonnay, followed by hints of sweet baking spice, steely minerality and fresh cream finishing.
La Rochelle 2010 Duton Ranch – Morelli Lane Vineyard Chardonnay is made from the Hyde -Wente clone from grapes grown in the Russian River Valley, an area that is known for their stellar Chardonnay.  Produced from a fellow Livermore based winemaker, Steven Kent, La Rochelle brings elegance and style to their Russian River grown Pinot Noir and Chardonnay. This one sees barrel fermentation in 40% new oak and goes through a completely malolactic secondary fermentation and is aged on the lees for 18 months, creating a creamy, toasted aroma but maintaining bright citrus, ripe pear and mineral characteristics with balanced acidity.  This is a big wine, 14.8% alcohol, high for a traditional white wine, but luscious, lively and complex.
Stony Hill Vineyard has had a practice from its origins over 60 years ago to create a Chardonnay that tastes like a Chardonnay, not taking the juice through malolactic fermentation and with little use of oak, Stony Hill has maintained its house style of creating very fresh, bright and vibrant wines.  The fruit and mineral notes really shines through creating a honeydew, pineapple and honeysuckle filled wine with balanced acidity and a lingering finish.
Kestrel Vineyards 2010 Old Vine Chardonnay from Wente clone Chardonnay vines planted in 1972 at the Kestrel Estate in Yakima Valley, the oldest Chardonnay in the state of Washington.  The concentrated characteristics of the Wente clone and the use of wild yeast for fermentation create a powerful wine that's aromas leap from the glass.  This isn't your wimpy Chardonnay, rather a luscious, full bodied wine filled with green apple, pineapple, earthy minerality and great acidity and balance, and a complete steal for $17 a bottle online.
Wente 2010 Morning Fog Chardonnay from grapes grown in the Livermore Valley, which sees very warm days and cool nights with fog rolling in from the bay in the morning.  Half the wine is barrel fermented in neutral oak, the other half in stainless steel creating a wine that really highlights the stone fruit and fresh citrus elements of the grapes.  The wine opens with pear and apricot aromas followed by ripe apple, apricot and banana notes.