Worldwide Express is relocating its Dallas headquarters from Victory Park to Deep Ellum's brand new office tower, The Stack. Founded in 1992, Worldwide Express is a fast-growing logistics and technology company supporting small-to-mid-size businesses across the United States. The move follows its merger with Phoenix-based GlobalTranz Enterprises in June.
The company signed a 10-year lease for 24,480 square feet in the 16-store mixed-use office building, joining fintech company Bestow. The Stack Deep Ellum is a joint venture between Westdale Real Estate Investment and Management, Ivanhoé Cambridge, and Hines.
In lease negotiations, Worldwide Express was represented by Transwestern and The Stack was represented by ALT+CO.
INDUSTRIAL
Stonemont Financial Group has begun construction of DFW Point35, a two-building industrial project totaling 485,680 square feet at 12901 Harmon Road in Fort Worth. Slated for delivery in Summer 2022, DFW Point35 will offer two warehouses of 218,400 square feet and 267,280 square feet. The buildings will feature a 32-foot clear height. Becky Thompson and Chris Wool of Lee & Associates DFW are the exclusive leasing agents for the project.
Mohr Capital has sold a 113,786-square-foot industrial flex building in Carrollton. The property, located at 2001 Westgate Dr., is 75 percent occupied by Frontier Communications and 25 percent occupied by Transcendia, a manufacturer and converter of custom-engineered materials based in Illinois. Mohr Capital bought the building in 2010 and made various improvements for then-tenant Verizon, including replacing the roof. Cabot Properties acquired the building through its Cabot Industrial Value Fund VI Operating Partnership. JLL's Dustin Volz and Stephen Bailey represented Mohr Capital in the transaction.
Tredit Tire & Wheel Company leased 108,480 square feet at Parkway Business Center, 3900 New York Ave. in Arlington. Becky Thompson of DFW Lee & Associates represented the tenant. The landlord is Brookfield Property Group.
Industrial Outdoor Ventures (IOV) has acquired a 57,418 square foot building located at 3636 Dan Morton Dr. in Dallas. JLL's Craig Jones and Caleb McCoy facilitated the transaction between the buyer, IOV, and the seller, Univar.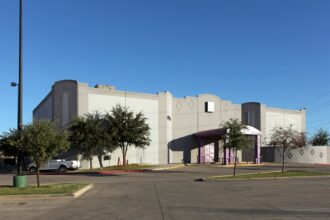 RCI Hospitality Holdings has sold 10557 Wire Way in Dallas, which hosts a  free-standing 19,468 square foot building on 4.64 acres. Troy Morgan of Structure Commercial successfully handled the disposition.
Wholesale Electric Supply Company leased a 57,679 square foot industrial space located at 5030 Anderson Boulevard, Building Two in Haltom City. Ken Wesson of DFW Lee & Associates represented the tenant.
Premier Produce Services, a 24,240-square-foot cold storage industrial property located in White Settlement, has sold. Adam Abushagur of Marcus & Millichap had the exclusive listing to market the property on behalf of the seller, a private investor. The buyer, a repeat local investor, was secured and represented by Ryan Wolf and Vincent Knipp, investment specialists at Marcus & Millichap.
Stone Dome Real Estate purchased a 20,000 square foot industrial space located at 11545 Reeder Road in Dallas. Nathan Denton of DFW Lee & Associates represented the seller, Capri International, and the buyer. The building is currently undergoing renovations and is available for lease with the option to expand or build additional outside storage.
Kennington Commercial leased its 7,136 square foot space located at 1200 Placid Avenue in Plano. Brett Lewis, Nathan Denton, and Jessica Reinhardt of DFW Lee & Associates represented the landlord.
OFFICE
Apex Capital Corp is moving its headquarters from just outside the downtown Fort Worth corridor into Fort Worth's CBD. Founded in 1995, Apex Capital is a full-service freight factor that specializes in small to medium-sized trucking companies. The company signed a 61,944 square foot lease across three floors in the Bank of America Tower. Pat McDowell and Matt Montague with JLL Fort Worth represented Apex Capital Corp. Robert Gamblin represented City Center Management.
A fully leased medical office project in southwest Fort Worth has been sold to Ridgeline Capital Partners. Completed in the spring, the 20,200-square-foot structure was built on the last commercial tract in the Edwards family's Clearfork West development. Located at 5612 Edwards Ranch Road, the two-story MOB was developed by SkyWalker Property through its tenant partnership program. The just-sold 1.8-acre property is part of an emerging MOB corridor located within the historic boundary of the former 7,000-acre Edwards Ranch. The area is master-planned for 3.2 million square feet of office, retail, and restaurant space, 2,500 multifamily units and high-end estate homes. SkyWalker's William Welder represented the seller, I Can See Clearfork Now LLC, a single-purpose entity of SkyWalker's When Opportunity Knocks investment fund. Representing the Dallas-based buyer were Elliot LaBreche and Abigail Kind of the Easton Group.
Kennington Commercial has leased a 9,545 square foot office space located at 1220 E. Campbell Road in Richardson. Brett Lewis, Nathan Denton, and Jessica Reinhardt of DFW Lee & Associates represented the landlord.
Mastek renewed its lease for 7,167 square feet at Addison Circle One, 15601 Dallas Pkwy. Ben Crancer and Brendan Zrowka of Whitebox Real Estate represented Mastek on the transaction and Chris Taylor and Trey Smith represented the landlord.
RETAIL
MDT Woods purchased a 36,068 square foot shopping center at 109–189 W. Harwood Road in Hurst. Jake Burns and Eric Deuillet of Structure Commercial negotiated the sale.
4 Wheel Parts has opened its 100th store in front of Stonebriar Mall. The store is 12,000 square feet. JLL's Joe Botzler, Rob Franks, and Katherine Carlton represented the client. The building was previously occupied by Sears Auto. 
Andreas Kostifos, the former executive chef at The Palm in Dallas, is opening Andreas Prime Steak and Seafood in Allen. Andy Anderson with Restaurant Properties Group represented Andreas Steakhouse-Allen, LP in the 10-year lease of 6,500-square-foot restaurant space at 610 West Bethany Road. Greg Fail of McNeff Commercial Real Estate represented the landlord, Bethany Crossing.
A Kansas-based LLC has acquired a 6,000-square-foot freestanding retail building located at 3132 Altamesa Blvd. near its intersection with McCart Avenue. Matthew Rosenfeld with Weitzman handled negotiations for the seller, a Texas-based LLC. The location was purchased on behalf of a user who plans to operate an automotive-related business at the site. The building, a former NAPA Auto Parts, is located along a retail corridor with concepts including Big Lots, CVS, Kroger, LA Fitness, and numerous others.
Loro Asian Smokehouse & Bar, a culinary partnership between James Beard Foundation Award-winning Pitmaster Aaron Franklin and Chef Tyson Cole, will open a location in Addison,  at 14999 Montfort Drive. Slated for Fall 2022, this will be the fourth location for the brand and the second in DFW. The planned square footage for the space is 5,200 square feet with 140 interior seats and 25 interior tables. The expansive outdoor space will feature 150 seats with 65 seats in the waiting area.
A Dallas-based LLC has acquired a 2,852-square-foot freestanding restaurant building located on .89 acres at 1608 Handley Drive near its intersection with E. Loop 820. Taylor Black and Kevin Butkus with Weitzman handled negotiations for the seller, a Pennsylvania-based LLC. The building, a former Taco Bueno, is situated along a retail corridor along Loop 820 and IH-30.
Jellico's (formerly named Seasons 114) a modern American female-chef-driven restaurant focused on shared plates and seasonality will open its doors to the public on Nov. 17. The restaurant is located on the first floor of the Westin Southlake Hotel at 1200 E. State Hwy 114 in Southlake. Headed by Executive Chef Jenna Kinard, the space boasts 2,100 square feet of interior dining with seating for 90 and a 1,500 square-foot patio with seating for 36. 
Get the D CEO Real Estate Newsletter
Get weekly updates on breaking commercial real estate news and relevant industry reports.