The future of global office demand is changing in real-time. As companies begin the re-entry process and re-engage searches for their new corporate homes, we're witnessing the reimagining of office environments designed to anticipate what the "next normal" will look like.
Health and safety are of paramount concern for employers and employees.
Health and safety have taken an abrupt leap up to the no. 1 spot on the office space priority list. North Texas tenants have become increasingly conscious and thoughtful about everything that's going into their space and how it will be utilized.
Many companies are asking a new set of questions as they strategize for a successful re-entry into the office environment. Can some divisions work from home permanently?  Which will need to get back ASAP?  How do I compare productivity? Do we need less space to accommodate the remote work trend, or do we need more space to accommodate social distancing? The responses to these questions run the gamut. According to JLL's Occupancy Benchmarking Survey, 67 percent of real estate decision-makers are currently increasing workplace mobility programs, while only 4 percent indicated they would be contracting those programs.
Recruiting and retaining top talent
Some things never change. Having an office environment that attracts and retains the top talent, re-enforces the team culture, and maximizes productivity will continue to drive the demand for quality office space and surrounding amenities. The "Class A" building criteria may soon include health and safety considerations as many more employees have become conscious of surrounding cleanliness. The janitorial section of lease documents will be propelled into a new level of scrutiny.
Many of the talented employees in major cities have abandoned the trend of living in the urban core and migrated to the suburbs since the pandemic disruption. This may inevitably cause traditionally urban-office companies to explore a regional office presence in suburban markets to maintain access to those valued employees less likely to tolerate longer commutes.
Step Forward   
The answer to re-entry for the vast majority of companies will include some combination of remote work and a return to the office. Technology has made the transition during this time a little easier for some companies. Still, research has shown many employees have remote work situations that are sub-optimal for a variety of reasons.
The key for company leadership teams will be to find the strategic balance between critical in-person moments and the continued enhancement of work-from-home options. In addition to magnifying productivity, social interaction in an office setting can be vital to supporting the vibrant culture and lifestyle that helps attract and retain talent.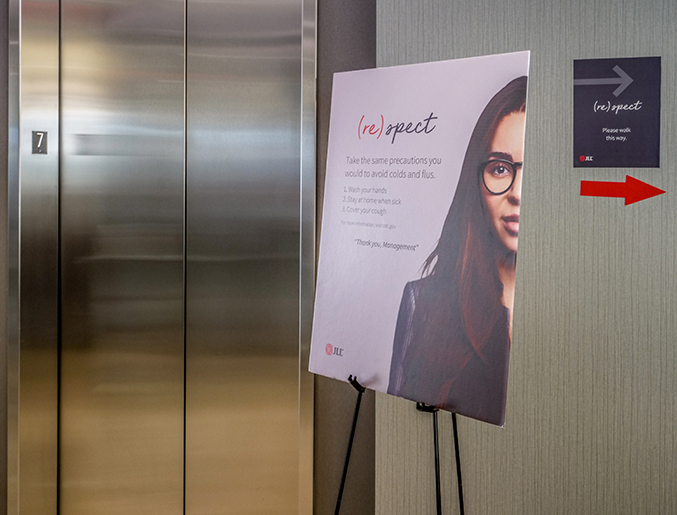 We've crafted and tested our approach and processes for promoting the health and safety of employees through the re-entry to our own offices in the U.S., China, other parts of Asia, and parts of Europe. "Step Forward" is a guide to inviting our employees back to a thriving, healthy, and safe work environment.  Physical assets like signage in our lobbies, elevators, and offices to welcome our employees back, evoke positiveness, and provide a consistent re-entry experience across offices.
Our safety practices include space plans to promote social distancing, signage that outlines safe hygiene practices, rotational shifts, cleaning protocols, and guidance on using elevators and migrating through the space. Safety protocols align with local government guidance and regulations.
This is an unprecedented time, but as Texans tend to do, we are fighting our way through it together as we learn to balance the need to drive business with the realities of our workforce health concerns.
Jeremy McGown is an Executive Vice President with JLL.
Get the D CEO Real Estate Newsletter
Get weekly updates on breaking commercial real estate news and relevant industry reports.