The COVID-19 pandemic is creating massive disruption in the food industry, according to a new CBRE report. As many consumers shelter in place, online grocery sales have increased dramatically, resulting in increased demand for industrial cold space in the United States.
"Until recently, consumers were not ordering a lot of perishables online, but that will likely change in a post-COVID-19 environment," said Matthew Walaszek, associate director of Industrial and Logistics Research for CBRE. "Now, we are seeing consumers trends toward buying foods online, such as frozen meats and poultry. To meet this new demand, we will need more temperature-controlled space."
CBRE research explored the relationship between e-commerce grocery growth and cold storage warehouse capacity in its Food on Demand Series: Cold Storage Logistics Unpacked, suggesting that an additional 75 to 100 million square feet of industrial freezer/cooler space will be needed to meet the demand generated by online grocery sales in the next five years. The COVID-19 pandemic will likely accelerate this need for space, creating five long-term impacts for the cold-storage sector.
The following was highlighted:
E-commerce grocery will become more widely adopted as consumer comfort grows with the practice. This will trigger the aforementioned heightened demand for cold storage capacity.
Public refrigerated warehouse companies will likely consolidate to gain more control of the cold storage footprint.
Since local grocery stores typically fulfill e-commerce, retail footprints will include more storage and fulfillment space, including a greater need for infill temperature-controlled facilities in proximity to consumers.
Restaurants may see a significant shift in dining formats with less dine-in options and more delivery or take-out that would require cold storage capacity. Foodservice companies that supply restaurants may look to second-generation cold storage space as a cost advantage in a limited dining environment.
Automation will increase, prompting higher-density, greater-height, and smaller-footprint buildouts that will be required for around-the-clock operations.
KDC Tops Out JPMorgan Chase's Second Legacy West Tower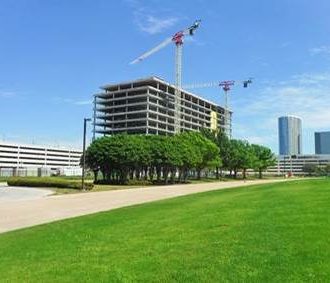 KDC has topped out Phase II of JPMorganChase's 540,000 square-foot expansion of the company's corporate campus at Legacy West. The new tower, located at 8181 Communications Pkwy in Plano, is slated for completion in May 2021. Following the completion of JPMorgan Chase's initial 1-million-square foot Legacy West campus, the company elected to build a second phase, comprised of an additional 540,000 square feet of office space and structured parking. With the inclusion of the new 12-story tower, JPMorgan Chase will be able to grow its workforce by an additional 4,000 employees.
JPMorgan Chase purchased 50 acres within the Legacy West development to build a multiple-building campus, which includes 49 acres at Headquarters Drive and Communications Parkway, as well as a one-acre parcel at the corner of Communications Parkway and Legacy Drive. Construction on the campus' first phase was completed in 2017. Designed by HKS, the corporate campus includes multiple mid-rise buildings and parking garages connected by landscaped, open areas, and water features. Phase II's new tower will be the tallest of four large buildings on the campus. Balfour Beatty is the general contractor for Phase I.
Downtown Fort Worth Building Nearly Full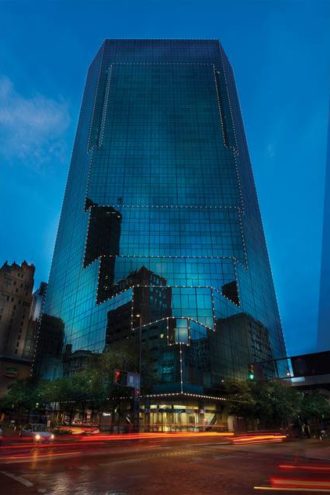 777 Main St. in downtown Fort Worth leased more than 406,000 square feet of space in 2019, bringing the 1.02 million-square-foot, Class A office building to nearly 90 percent occupied. Transwestern Principal Whit Kelly and associate Dallas Margeson provide office leasing services on behalf of the building owner, The Brookdale Group. The building underwent a $13 million upgrade in 2018.
Notable deals that contributed to the building's leasing success in 2019 include:
McDonald Sanders PC renewed its lease for 17,927 square feet. Ryan Matthews and Todd Burnette, with JLL,  represented the tenant.
Thompson Knight expanded its lease to 17,911 square feet. Steve McCoy and Kyle Poulson, with Transwestern, represented the tenant.
BGE Inc., a consulting firm, leased 14,851 square feet. Cushman & Wakefield's Scott Garlick and Travis Boothe represented the tenant.
BKD LLP leased 12,730 square feet. Michael VanBuskirk with Newmark Grubb Zimmer and Matt Heidelbaugh and Emily Hoffman, with Cushman & Wakefield, represented the tenant.
North Texas Community Foundation leased 7,492 square feet. Bill Behr and Gavin Behr, with Transwestern, represented the tenant.
Uptown Dallas Tower in the Works
Crescent Real Estate plans to build a luxury residential tower at 2811 Maple Ave. between the Stoneleigh Hotel and the Crescent. The building will have about 220 rental units, averaging about 1,200 square feet. Dallas architects GFF designed the residential tower.
Fortune 500 Company Expanding to Frisco Station
VanTrust Real Estate, office developer at Frisco Station, is adding Fortune 500 company Magellan Health to The Offices Two at Frisco Station, a 210,000-square-foot, Class A speculative office building. Located at the northwest quadrant of the Dallas North Tollway and Warren Parkway, the building is the second of five planned office buildings for the office district at Frisco Station, a 242-acre mixed-use development. Magellan Health is leasing almost 8,000 square feet of office space at the property. Currently employing more than 9,000 nationwide, the Frisco office is planned to open in late summer 2020.
Texas Homebuilder Launches COVID-19 Front Line Heroes Program for First Responders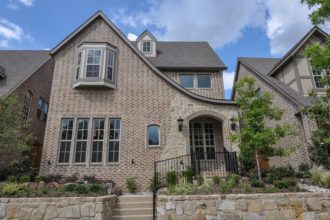 Megatel Homes has created a program to support the dream of homeownership for medical, law enforcement, and firefighting professionals on the front line of the coronavirus pandemic by crediting six months of principal and interest payments towards the purchase of a new Megatel-built home. Launched on April 17, the Megatel COVID-19 Front Line Heroes Program provides six months of mortgage relief to new homebuyers who work on the front line of the pandemic response. Specifically, this includes medical professionals, police officers, and firefighters. It applies to those who purchase a new Megatel home before May 31 and consists of both principal and interest payments.
Two DFW Industrial Assets Break Ground in East Dallas with Skyline Commerce Center
Skyline Commerce Center, a Class A industrial development, has broke ground. The 198,000-square-foot, two-building industrial development, will provide built-to-suit office space and divisible industrial space, with Building 1 offering over 135,000 square feet and Building 2 more than 62,000 square feet. Matt Dornak, along with Drew Feagin and Adam Jones of Stream's Dallas industrial team, will oversee the leasing of both buildings.
Get the D CEO Real Estate Newsletter
Get weekly updates on breaking commercial real estate news and relevant industry reports.