At DDI's annual meeting in February, we announced an amplified focus on recruiting business and investment to the center of our city, while also working every day to advance local projects in the pipeline and engage companies that have already invested in their growth in downtown. A reintroduction headlines this effort to downtown Dallas through a new campaign, Downtown Dallas, Between Now and When, which showcases the success and opportunity that is here NOW, and the chance to be a part of the future that we, as a community, will make happen WHEN.
More than a campaign, this is a call to action for all who are vested in the future of our city to help redefine Downtown Dallas' position globally.
Resting on the fundamental competitive advantages of our economics, business-friendly climate and central location, now is the time to affirm further that Downtown Dallas is the place that offers the quality of life, culture, capacity, innovation, and talent that companies need to thrive. And to communicate this all in a way that embraces the legacy upon which we've been built, while more prominently shining a light on the progressive culture and environment that exists today.
Why now? Recent big moves like Uber, the AT&T Discovery District, and even the near-win of Amazon HQ2 have proven that location decisions are being driven by more than just the bottom line.
Over the last year, we began talking, and more importantly, listening to the commercial real estate industry. We collected data, hosted focus groups, and conducted surveys and one-on-one interviews with brokers, site selectors, community leaders, industry experts, CEOs of companies who have relocated downtown, and CEOs of companies who chose to relocate elsewhere. We learned that costs and incentives are important, but they aren't the only factor in the decision.
Key to decision-making are values like the quality of life and walkable, safe neighborhoods with amenities for employees and their families. Also, talent is paramount, and today's growing companies want to be located where there is access to an existing highly-educated workforce, a deliberate focus on nurturing the growth of talent through education, and a place that will attract and retain talent because of the quality of environment and experience.
Now is the opportunity to tell the downtown Dallas story. With more than $7 billion of investment in downtown over the last 20 years, and an additional $4 billion of active private development happening today, evidence of the progress that has been made in revitalizing the core of our city is everywhere. And we're far from being "done."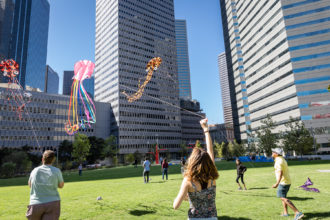 The capacity for growth here is unlike any other market, with 86 acres of development opportunity in the urban core. Downtown has access to over 1,000 acres of parks and trails. The first of four new signature parks, Pacific Plaza, opened late last year. West End Square, an innovative park in the tech-focused West End, broke ground in January. Options for housing continue to grow with 4,400 units under construction in the City Center; in fact, we're on a course to add 20,000 more residents in the City Center within the next five years and grow the center of downtown to well over 15,000.  Our Arts District is celebrated internationally, now filling in with additional housing, jobs, restaurants, and commercial office opportunities, and further growth of the Arts is infused in more than 100 venues throughout our City Center neighborhoods.
Answering the need for talent, as a city, we continue to perform in the top tier of rankings that quantify the rate at which "young professionals" are moving. And we're grooming talent right here at home. Options for quality education are growing significantly, with recent announcements like downtown's first Dallas ISD elementary school, Downtown Montessori, that will open this fall.
The PreK-3 through eighth-grade school prioritizes enrollment for downtown residents and downtown employees and will offer a curriculum that incorporates downtown parks, education, and cultural institutions into the classroom.
Dallas County Community College District passed bond funding last year to create the Dallas Education and Innovation Center, an institution of higher learning that will nurture the next generation of our workforce. As Dr. Michael Hinojosa, superintendent of Dallas ISD, said in a recent interview with DDI, "What I envision is now becoming a reality, a place where you can go from pre-K to a getting a master's degree and never leave downtown Dallas."
Finally, downtown is fast becoming a hub of innovation, with over 15,000 tech jobs and growing.
The Dallas Innovation Alliance broke ground by creating Dallas' first Innovation District in the West End and delivering the fastest to-market Smart City pilot in the country. Companies like Blue Cross Blue Shield and Sam's Club were quick to catch on, locating their innovation hubs in the neighborhood. Downtown has 600,000 square feet of coworking, accelerators, and incubators and is home to half of the city's fastest-growing tech firms.
Companies are already taking note, and over the last two years, downtown Dallas has performed at the top of the list in the region for commercial office growth–239 commercial real estate deals were done downtown last year alone, including 218 leases and 21 sales, and downtown has the largest and most diverse workforce in the region, with 135,000 employees.
Dallas is set to have the country's first high-speed rail connection, and that station will be in downtown and bridge downtown and the Cedars neighborhood to the south. Furthermore, we're making advances in mobility throughout the City Center, from major regional infrastructure projects like the DART second alignment of light rail and rethinking the way our highways interface with local neighborhoods, to walkability initiatives and bike improvements, as well as embracing technology like scooters, bike share, and micromobility to improve our ability to move within our city without a car.
We stand at a time of fundamental cultural shifts in our city, with a focus on connectivity, urbanism, culture, innovation, and quality of life. Which begs the question: How are you defining the center of our city, and how can you help us embrace the effort to redefine the perception, the position, and the future of Downtown Dallas, NOW?
Kourtny Garrett is the president and CEO of Downtown Dallas Inc. 
Get the D CEO Real Estate Newsletter
Get weekly updates on breaking commercial real estate news and relevant industry reports.