One Day In...
Allen is known for its high school sports. But with revitalization in the works, this 26.5 mile town offers shopping, dining, and events galore. Here's where to start.
Home Tours
When designer Chad Dorsey and builder Kurt Bielawski need a break from the daily grind, they fly to their getaway on San Juan Island. They take us around town and inside their home away from home.
Books
In 1970, after her parents sold their brake-repair business in Dallas,15-year-old Jane Saginaw went with her family on a monthslong trip to see the world. The journey was made more complicated by her wheelchair-bound mother, a polio survivor.
One Day In...
If you plan on spending the day in Lewisville, expect to feel transported. The town is revitalized, with the once-dead Vista Ridge Mall transformed into a bustling Asian market. Plus, a cheap date night on wheels.
One Day In...
Lake Ray Hubbard takes center stage in this former cattle town. From scenic boat rides to a slice of pie heaven, here's what you shouldn't miss on your next visit to Rockwall.
Executive Travel
In the tequila haven, the new, luxurious ocean-side resort in Cabo delivers lavish dining with a Michelin star chef, splendid poolside relaxation, dreamy yacht days, and more.
Travel
Our November cover story took place across West Texas. It's online today, and you can read it now.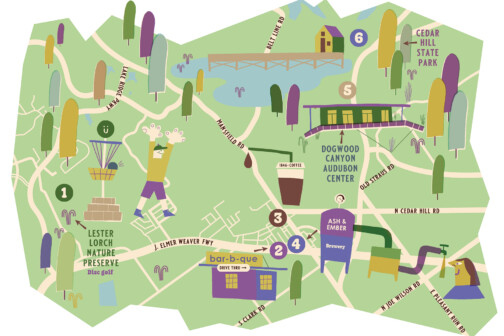 Travel
Explore this natural escape just 16 miles from downtown.
Travel
My wife and I spent six days on the road driving from Dallas to Big Bend and back again, a journey that took us through ancient rock formations, renovated boomtown hotels, and a few hundred acres of modern art.
Books
Photographer Jamie Beck fell in love with the dreamy Provençal life. Now she's sharing her experiences in her new book, An American in Provence.