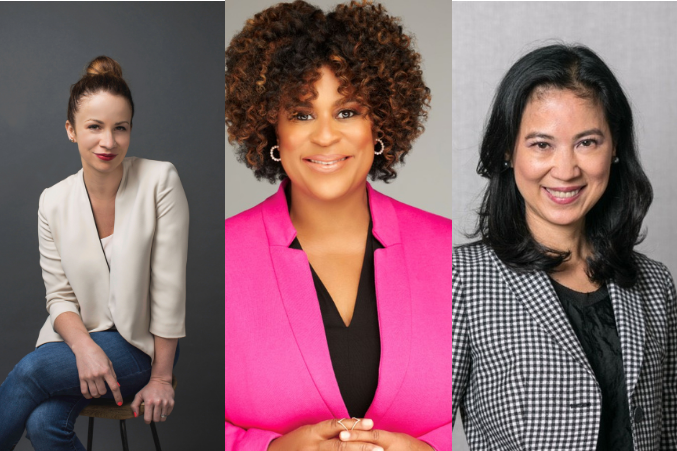 Personnel Moves: Sally Beauty Adds New Marketing Leadership Team
Plus, the Dallas Regional Chamber hires its first senior vice president of diversity, equity, and inclusion, and more.
Send your company's personnel moves to online managing editor Bianca R. Montes at [email protected]
In response to a 278 percent growth in online sales during the past quarter, Sally Beauty Holdings has hired a new marketing leadership team. Frances Lukban joins the retail company as vice president of content and media strategy, while Mindy Torrey will serve as vice president of creative, and Dorothy Jones will be vice president of category and field marketing.
Lukban will oversee the planning and development of omnichannel content, media strategy, social media, and customer acquisition engagement. She joins SBH with more than a decade of experience with Revlon, where she most recently served as VP of e-commerce and digital marketing.
Torrey will be responsible for bringing the brands to life creatively across all channels, through campaign development, digital experience, store design, and production. Torrey comes to SBH with over 18 years of experience developing campaigns for startups, political campaigns, and Fortune 500 companies. She has held leadership roles at Lane Bryant, Land's End, and MayDay Design and most recently was the head of creative at Soma Intimates.
Jones will drive category strategy, marketing calendar, and operational execution for SBH and will focus on growing SBH brands, enhancing marketing operations, field marketing, store operations, and vendor strategy. Jones has 20 years of industry experience and has held marketing leadership roles at Interstate Batteries, Susan G. Komen Breast Cancer Foundation, and Frito-Lay. Most recently, she was a principal consultant at Denneen & Company for ExxonMobil Corporation.
Jared Fitzpatrick will soon become Dallas Regional Chamber's first senior vice president for diversity, equity, and inclusion. Fitzpatrick's work will help companies improve their "ability to be more diverse, more equitable, and more inclusive at the Board level, in the C-suite, and in their workforces," according to John Olajide, 2020 DRC Chair of the Board and President and CEO of Axxess.
Fitzpatrick will also serve as the senior executive alongside the co-chairs of the board-level DEI Council and its four sub-councils.
Prior to joining the DRC, Fitzpatrick served as a senior culture and human resources strategy advisor at the Federal Reserve Bank of Dallas.
Fitzpatrick graduated from the University of Houston and earned his master's degree from the University of Alabama-Birmingham. In addition, he has a Yale School of Management certificate in Fostering Diversity and Inclusion.
Make-A-Wish North Texas has hired Daniel Sullivan as its chief development officer. In his new role, Sullivan will "advance the important work of fulfilling wishes for children undergoing treatment for critical illnesses," through partnerships with current and future donors, volunteers, and staff.
Sulllivan began his 15-year career within New York and most recently served as the Senior Philanthropic Manager with the Boy Scouts of America's national office of development.
As a Certified Fundraising Executive, Sullivan has in-depth training in philanthropic fundraising through recognized and highly accredited institutions and is active in the Association of Fundraising Professional. His experience will help the North Texas chapter significantly expand its annual fundraising revenues.
Dan Karas has been hired as executive vice president of Allied Affiliated Funding, a division of Axiom Bank.
Karas has nearly four decades of experience with national and regional banks, as well as expertise in commercial lending. Previously, he helped a Dallas-based community bank create its commercial finance businesses, expand its commercial lending platforms, and grow its profitability.
Karas earned a bachelor's degree from Temple University and a master's degree from New York University's Stern School of Business.
Droese Raney, Architecture, and Interiors has promoted Reid Mulligan and Christine Howitt to be vice presidents of the firm. Firm principal David Droese highlights that "both have been vital assets to Droese Raney, Architecture and Interiors, proving themselves as natural leaders."
Mulligan, who joined the firm in 2011, will serve as vice president of architecture, specializing in architectural design and urban revitalization.
Howitt will serve as vice president of interior design. She began at Droese Raney as an intern and has risen through the ranks. Previously, Howitt served as director of interiors and has been integral to leading the firm's interior division for the past decade.
Mulligan earned his bachelor's degree from Texas A&M University and his master's from the University of Houston. Howitt received a bachelor's degree from the University of North Texas.
The Concilio has hired Joel Durbin to be chief impact officer. He will be responsible for the organization's programming and will head its culturally responsive parent engagement programs and its work advocating for Latino families in North Texas.
Durbin is a non-profit veteran with more than 15 years of experience, specifically in education and youth development. He has served in several leadership positions at a variety of organizations including chief program officer at Equal Heart, chief operating officer at Education is Freedom and Trinity River Mission, and director of education impact at United Way of Metropolitan Dallas.
Durbin graduated from the University of North Texas with a bachelor's degree.
The Board of Directors of American Fire Sprinkler Association has selected Robert G. (Bob) Caputo to serve as its president. Caputo, who has been involved in the fire sprinkler industry for more than 41 years, will begin his tenure on November 1.
Most recently, Caputo served as the vice president for training and technical support for Fire & Life Safety America. Additionally, he is the former owner of Consolidated Fire Protection in the San Diego area and has held fire sprinkler contractor's licenses in 23 states.
In his new role, Caputo will represent the association while interacting with stakeholders and oversee the association's efforts to provide educational advancement, promotion, and utilization of automatic fire sprinkler systems globally.
Caputo attended Chapman College in Orange, California, and the University of Albuquerque.