The first night of protests against police brutality that turned violent in downtown Dallas, the final Friday in May that left windows shattered and businesses looted, Xxavier Edward Carter's piece Start Livin' in the New World debuted in the "Windows" exhibition at the Nasher Sculpture Center.
As a Black artist, Carter faced an immediate reframing—set off by the shattered window adjacent to the transparent lobby space in which his work was to be visible. (The one-week run has been extended to this Wednesday, June 10.)
Carter presents the detritus of everyday life, but now powerfully charged—almost radioactive.
What hangs in powerful suspension is a multimedia collage that descends from the ceiling and collects the flotsam and jetsam of life. Pieced together are receipts from travel; printed spreadsheets; sticky notes; institutionally issued checks; lottery ticket stubs; foreign currency; bus routes and maps. These assemblages are, Carter would say, a product of traveling frequently and of not having a home base. The recent SMU graduate student gathers fodder on trips for fellowships or collaborations, even down to the ephemera of leaflets handed to him in the street. When he gets back to a place that's stable, he grounds and assembles what becomes a palimpsest of meaning.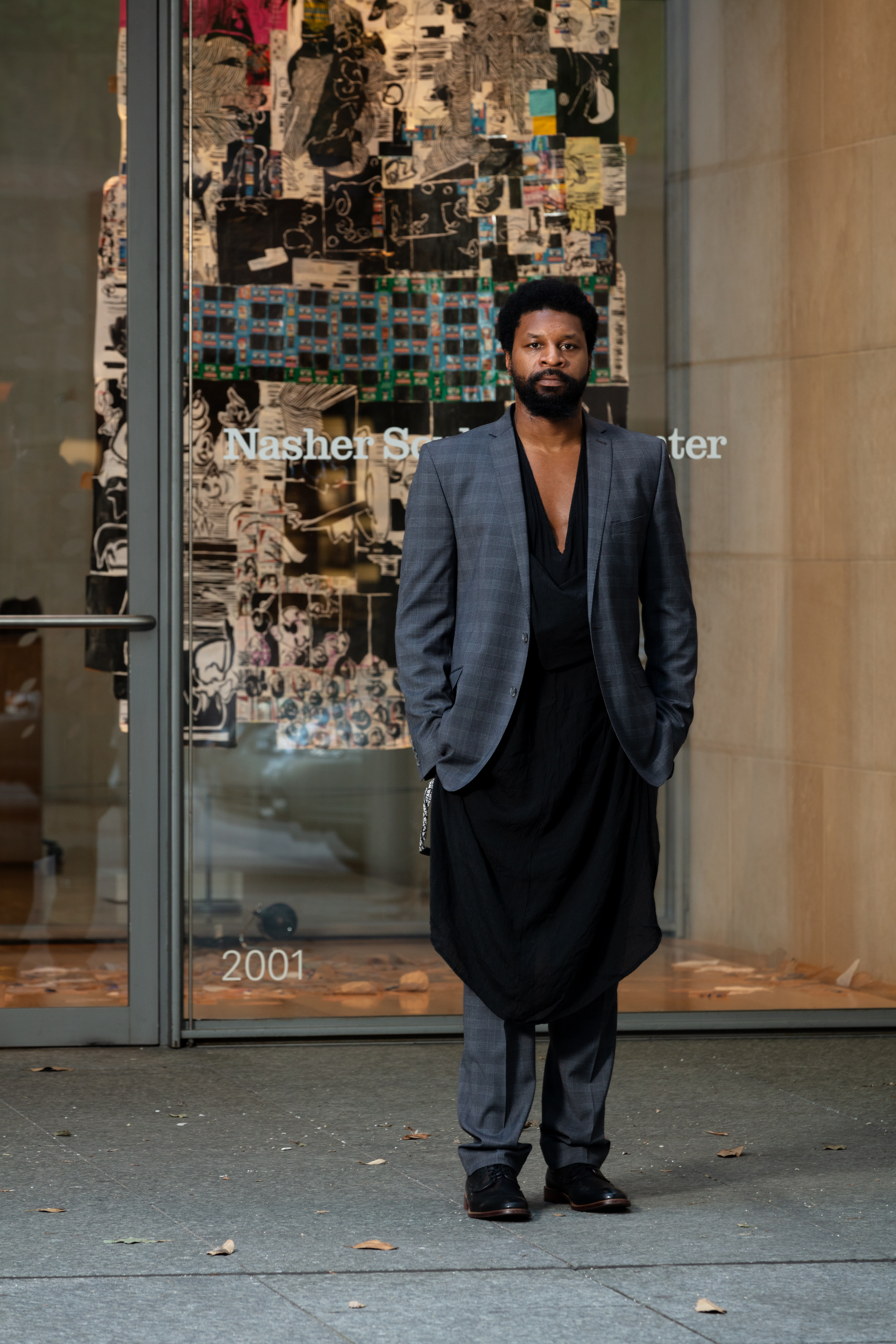 All the elements are outlined, crossed out, drawn over in ebony-black archival ink. The impulse comes from his printmaking days as an undergraduate at Stanford University, where he earned his BFA. And here, the outlining and blacking out seem even more poignant. "So much information can be used against you," he says. But the tension between boldness and vulnerability and the interplay between exposure and redaction, protection and transparency, is also mapped onto black and white dichotomies.
In returning to drawing several years ago, he says, "I wanted to do something about the systematic and structural makeup of society. So I would try to organize things with an overhead landscape view with different marks delineating different things. And I expanded it to presenting the structure of things: inside these large black spaces would be large white spaces. What's not being shown, and where the overlapping is creates this structural thing that is the world around us."
Meanwhile, as I stood before the overlaid elements, I let them create possibilities and topographies of questions. Who has financial power? Who cashes checks? Who has the privilege of ingress and egress? Who can transcend boundaries? At what cost? Who has access, and to what? Who participates in games of chance? And who gets to win?
Above all of this, a magnolia branch and white paper magnolia blossoms, folded like origami, hang, suspending the rest. The symbolism is not lost on Carter: the black and white of the printed pages, and the bitter magnolia tree.
Below are "petals," cut from plastic bags, which rustle on the floor in the slight breeze from fans. They, too, are flotsam and jetsam and flutter in the air currents.
The ties are deep to the mythology of the South, a place of violence against the body, in which behind a welcoming culture is a "fiction masking a brutality that is really human brutality."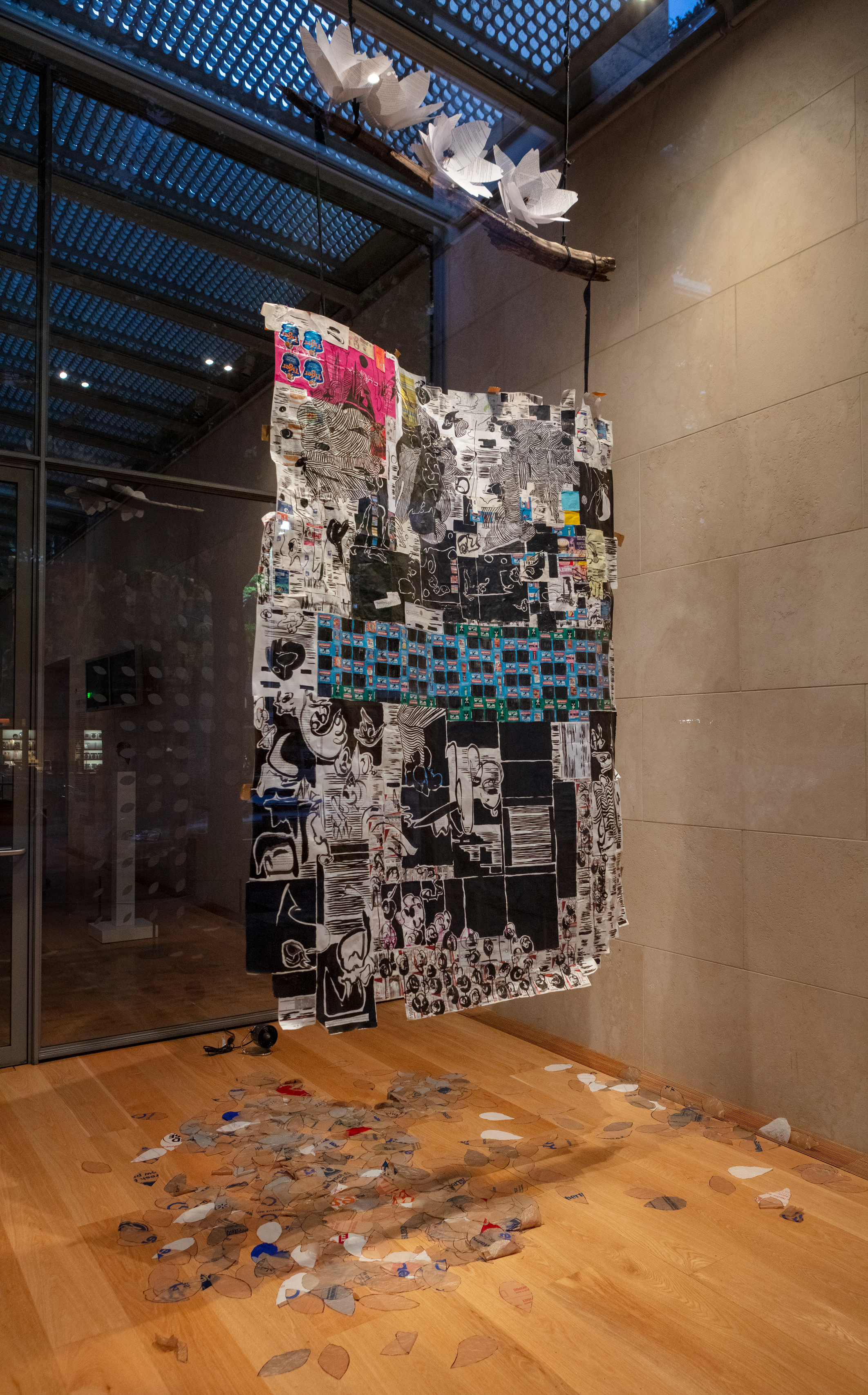 "Where I'm from, the magnolia tree being essentially a tree for lynching," he says. "Anyone who isn't white in the South can tell a tale of some kind of violence that's been perpetrated by this idea of Southern agrarian culture, this belief that is the pastoral [of] sweeping landscapes that holds behind it the really dark shadow of violence."
Does the piece become a "happening," falling as it does at this time, debuting during the throes of a response to the senseless killing of George Floyd in Minneapolis? Carter has always been a community artist and pushed boundaries—nor does he avoid provocation in the name of enlightenment.
"I don't wanna shy away from anything that happens to my work. I want it to breathe as much as I breathe. I want [viewers] to grow with it and shape it as much as I shape it," Carter says.
"I'm interested," he says, "in the movement between mediums, and when a certain form calls for a certain action or the changing of a form into another thing. Like when a song becomes a movement, or when an image demands words."
And so, the detritus he presents is newly charged. In dialogue with the time; reaching beyond it in ways we must trace.
Details: See the Nasher "Windows" exhibit through Wednesday, June 10. See more of Carter's work virtually at Cydonia Gallery (solo show May 21-July 26).
Get the FrontRow Newsletter
Get a front row seat to the best shows, arts, and things to do across North Texas. Never miss a beat.