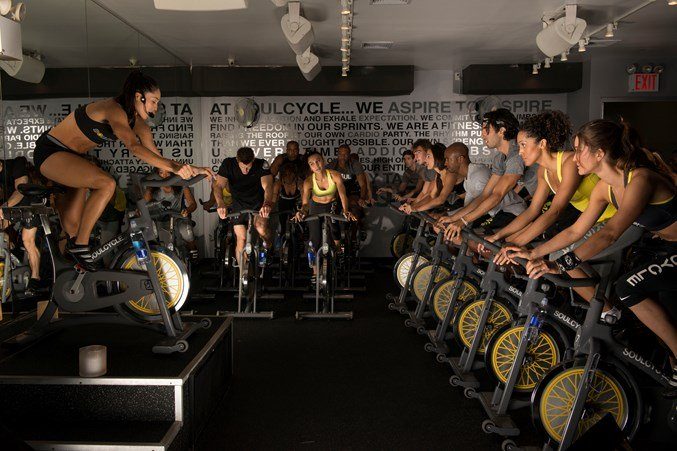 Everything You Need to Know About Dallas Fitness Studios (Eventually) Re-Opening
Do studios plan to reopen once cleared by Gov. Abbott? Will they increase their sanitation practices? How will their schedules change? Here's what we know so far.
Gov. Greg Abbott gave the go-ahead for some Texas businesses to reopen last Friday. Gyms weren't part of that initial opening, so fitness-focused Dallasites are waiting for an update on the next phase. That will include personal services like salons, barbershops, and gyms, the governor said. No date has been confirmed, but Abbott said he hopes to reopen these sectors in mid-May, barring another spike in COVID-19 cases. 
After weeks of at-home exercise, we understand the temptation to take a workout class as soon as local studios reopen. That said, before you book your spot, make sure you're informed about the potential risks. Many studio owners aren't sure it's safe to hold classes in just a few weeks, even if the governor says they can. Here's what you need to know.
Will local gyms and studios reopen?
Several studios say they won't open for business until they feel comfortable doing so, regardless of whether Gov. Abbott clears them to.
"Dallas County is still reporting its highest numbers of new infections and deaths," says Parker Williams, founder of The Ride House on Lovers Lane. "I do feel it is a bit early for gyms to open."
"I am excited at the prospect of re-opening," says Rumer Richardson, owner of BEYOND Studios. "[However], due to the lack of diagnostic testing we still face, I'm unsure [about it]. I will make our decision based on the number of new cases in Dallas County and the overall comfort [level of] myself, my staff, and my clients. Re-opening just to be open is not worth it if there is a high risk."
"We will only reopen if we believe it's safe for us to be at the studio," echoed Cyclebar in an email to members.
Others are eager to get back to business.
"I must say I was a bit disappointed in the 'soft' opening of Texas. I'm really ready to re-open [gyms and studios]," says Kay Gaskill, an instructor at Zynn22.
How will gyms and studios increase their sanitation practices?
Back in March, when the first coronavirus cases were confirmed and local businesses were responding accordingly, we asked our favorite Dallas studios to share their updated safety and sanitation practices.
"We will continue our streaming service even when we are able to open doors. We want clients near and far to feel comfortable working out as they please."

BEYOND Studios
Some studios impressed us. Many, however, did not. A handful of studios revealed they were cleaning machines just once per day. Others were relying on members to wipe down their own equipment.
It was an unprecedented situation, and we couldn't fully fault the gyms that were less stringent. After all, at the time, group gatherings were still permitted. Now, months later, we can–and should–expect more from fitness studios. Thankfully, it seems our local favorites are stepping up their cleaning practices.
BEYOND Studios, for one, has created new policies.
"While we always had stringent practices between classes for our equipment, we relied on clients to help us clean," says owner Rumer Richardson. "[Now], we will extend the time between classes and keep the doors locked as the instructors clean not only the equipment but also all door handles, bathroom fixtures, lockers, etc. We [have] always had neoprene handles that are easy to clean and have ordered more sets so we can deep-clean them more often."
Though social distancing in a small studio setting sounds difficult, every studio we spoke with has a plan in place to make sure classes are spread out. For most, it'll be blocking off equipment or marking a spot for each student.
"We plan to tape off the floor so yogis know exactly how far apart mats should be to practice in their own socially-distanced space," said Diana Rodgers, the owner of We Yogis.
Additionally, many studios have plans to minimize contact between students and instructors.
"I am making sure to get information not just from the news but also from direct contacts in healthcare, the FDA, and CDC to ensure we are providing proper protection for our studio," says Richardson at BEYOND. The studio's instructors will take their temperatures before each class, wear masks while they teach, and wear gloves while cleaning. They also won't be performing manual corrections.
One studio set a new standard by deep-cleaning the air in its classrooms. "Our HVAC systems have aggressive fresh air capabilities and we run NASA-grade air purifiers," says Brandon Hartsell, CEO of SunstoneFIT. "They completely mineralize airborne bacteria, mold, fungi, mycotoxins, viruses, allergens, VOCs, and odors. These systems run 24/7. Our rooms get complete air turnover between classes."
The bottom line: though most studios are taking sanitation seriously, don't be afraid to ask your go-to studio about its cleaning procedures before heading in. The companies we contacted all said they welcome questions and concerns. "We make an effort to make our Climbers feel heard, so if they come to us with ideas, we are all ears," said District Climb creator Tamra Michelle. "District Climb is as much ours as it is theirs."
We'll be updating our guide to safely working out once studios are cleared to open.
How will schedules change? Will studios have limited capacities?
Gov. Abbott has said he hopes to jump operational capacity to 50 percent in phase two of re-openings, which will include gyms, studios, salons, and other personal services. However, he has not yet announced official capacity restrictions.
Though most studios are taking sanitation seriously, don't be afraid to ask your go-to studio about its cleaning procedures before heading in.
Williams at The Ride House isn't sure what percentage of his clientele will be comfortable returning. "I suspect numbers will be severely affected by [our members'] understandable cautiousness," he says. "[They're worried] about being in public spaces, around other people."
For planning purposes, some studios, such as Uptown Yoga, sent out surveys to ask members whether they'll feel comfortable practicing in-studio, and if so, what days and times they prefer. 
Similarly, many of the studios we contacted plan to offer only their most popular classes and cap the occupancy at 50 percent or less. Classes at most studios will be spaced out throughout the day to accommodate regular deep cleanings.
What can ClassPass and StudioHop members expect?
StudioHop members will be able to book classes at affiliated studios as soon as they reopen. (Not ready for a group workout setting? Stay home and stream a class. StudioHop recently posted a round-up of online workouts for their members to enjoy from home.)
Meanwhile, ClassPass will allow its Dallas studios and wellness providers to opt-in to relisting classes and appointments. Each can choose how much of their capacity they would like to make available to ClassPass customers. "Our commitment is to never take a spot that the studio will fill directly," said a representative for the company.
Customers can tap into their existing bank of credits or purchase new credits to attend these classes, even while their recurring subscriptions are on pause.
Like StudioHop, ClassPass offers live stream classes so that members can support their favorite studios remotely.
How are gyms and studios faring financially?
As we've sheltered at home, many North Texas-owned gyms and studios have applied for small business loans. Unfortunately, each studio we spoke with had trouble navigating the process.
"The complete failure of the PPP loans has left us in limbo just like millions of other businesses," says Williams of The Ride House. "[We've seen] slow implementation, erratic loan processes and approvals, confusion about eligible companies, and granting of loans to publicly traded companies that have thousands of employees… [In contrast], many small business owners are uncertain of their ability to reopen.
"I know this might be a heavy, dark look, but it's the real world," Williams continues. "Nothing is more frustrating than government officials saying that the aid packages are going 'flawlessly.'"
"There has been no guidance from the government or banks regarding [loans], and when we do get guidance it is open-ended," says Richardson at BEYOND. "[We're thankful for] the loyalty of so many members. [Very few] have paused their memberships during this time."
Some studios froze their members' accounts when they closed. "Our biggest struggle [has been] that loss of revenue for an extended, unknown time period," says Rodgers, of We Yogis.
"It is possible that we will see hundreds of thousands of small businesses [close permanently as a result of lost revenue]," continues Williams. "The winners in that scenario are the corporations that will no longer have as much competition. The losers are, of course, the small business owners who have their whole lives invested. The clients who love the community feel of the locally-owned studios [lose, too]."
If you want to support your favorite studio but aren't ready to visit in person, consider subscribing to their streaming services.
Which studios still offer streaming services?
For many locally-owned gyms and studios, class streaming has been the sole source of revenue. Some studios offer members-only access as an incentive for their students to keep their memberships active. Others have held donation-based live-streams. A handful boast free, publicly accessible class libraries.
To see an extensive list of virtual workout offerings, check out our story here.
Of course, free classes are tempting–and in these uncertain economic times, we won't fault you for choosing one. Remember, though, that paid classes keep your go-to studios afloat until you're comfortable visiting in person.
"While we pivoted rather quickly to streaming, other studios have provided similar services for free or markedly less," says Richardson at BEYOND. "We have [chosen to] maintain our pricing at a rate that ensures we are able to pay the instructors adequately. We will continue our streaming service even when we are able to open doors. We want clients near and far to feel comfortable working out as they please."
If you frequent group classes because you love the energy, consider tuning in to a live-stream class for a similar feel. Many studios, like GRIT by Brit, also have virtual communities to help hold you accountable.
A few studios like TruFusion and Zyn22 are renting their equipment to members to use from home.
"Our biggest triumph [is] launching an online platform almost overnight and renting out all of our bikes to give our members as close to an in-studio experience as possible," says Kristin Krezner of TruFusion.
"We look forward to the day when we can safely operate at full capacity," continues Krezner. "The vibe and energy in our packed studios is unparalleled."