Update: U.S. citizens are now advised to avoid gatherings with 10 or more individuals. We anticipate that most (if not all) local gyms and fitness centers will temporarily close. Stay tuned for our guide to at-home workouts.
It's been a hard week, readers. We understand if you're craving a workout class or trip to the gym to unwind and clear your head. But is it safe to exercise in a class setting? Are gyms sufficiently sanitizing their machines?
We had questions, and we turned to local studios and gyms for answers. Social distancing (i.e. staying home) is always your best bet, but if you do intend to work out, here's what you need to know.
Equipment and Machines
Most fitness studios impressed us with the measures they're taking to disinfect equipment. Staff at Zyn22, BEYOND Studios, and The Ride House, for example, are cleaning every piece of equipment after every class. At TruFusion, some items (like mats, straps, bands, and bikes) are disinfected after every use. Others (like kettlebells and hand weights) are disinfected once a day.
Yoga studios are less stringent. At We Yogis, props are sanitized twice a day; at Uptown Yoga, just once.
Gyms are similarly infrequent with their sanitizing. (To be fair, cleaning machines after every use is easy for studios with set schedules, and difficult for open gyms.) Equinox says it is "disinfecting all club areas with a hospital-grade solution three times each day."
Equinox also advised patrons to "utilize the disinfectant wipes available to wipe down machines and equipment before and after each use." Meanwhile, Uptown Yoga said, "if using a borrowed mat, feel free to wash before and after."
Usually, asking patrons to wipe down their own equipment is acceptable. Right now, it's highly problematic. The average gym-goer won't know how to properly sanitize their equipment to prevent virus transmission. Staff members have access to medical-grade cleaner and are trained in proper disinfecting procedures. We hope local studios and gyms will soon take responsibility for cleaning all equipment after every use.
In the meantime, bring your own whenever possible (especially the least-cleaned items, like yoga mats and props). If you have to borrow equipment from the studio, sanitize with antibacterial wipes. And of course, don't put your face on any equipment.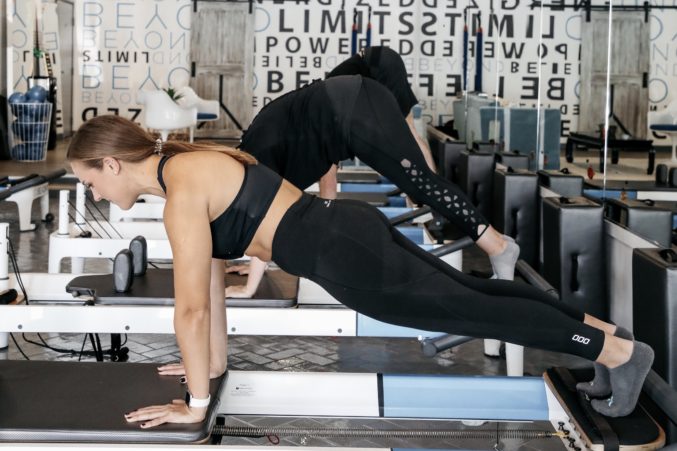 Manual Adjustments and Physical Contact
In some workout classes, instructors provide hands-on help to fix students' form as they hold a pose. Typically, at the start of class, students are asked to raise their hands if they'd prefer to not be touched. Uptown Yoga says it'll continue this method. BEYOND Studios is allowing instructors to decide whether they're comfortable with manual adjustments. CorePower Yoga simply said it is "reducing physical assists." We recommend opting out of adjustments to avoid physical contact.
At the end of a class, don't high-five your neighbor or instructor as you normally would. "Let's fist-pump or elbow-bump instead," says Zyn22.
Keeping a Distance
The CDC recommends staying six feet away from others. At a gym, choose an isolated machine; in classes, spread out and stagger yourself away from other students.
To space out students, SoulCycle and Equinox are now limiting class capacity to 50 percent.
Sweat
Coronavirus cannot be transmitted through sweat itself. However, if sweat touches a mucous membrane (like your nose or mouth) as it falls, it can become contaminated. In heated or humid classes, which are intended to get students sweating, your risk of contact with contaminated sweat increases.
Towels
Towels are already washed after each use–generally with bleach–so studios and gyms haven't modified this process. However, if you take a towel from a communal stack, other students might have handled it. We suggest you bring your own towel, especially if you plan to dry your face with it. Bring an extra to use as a barrier on your equipment, as Uptown Yoga suggests.
Showers
Most studios and gyms said they sanitize their showers twice or three times a day, not after every use. Shower at home to be safe.
Hand Sanitizer
Every studio and gym said they're providing extra hand sanitizer. Clean your hands before and after using machines and equipment, but don't forget to sanitize after touching other surfaces, like the sign-in pen or the lockers.
Schedule Changes and Class Cancellations
Most studios we spoke with haven't modified their schedules or canceled classes. "We are keeping a close eye on our daily attendance and capacity," said Zyn22. "We will absolutely make changes to the schedule if the risk merits," added The Ride House. "There is nothing more important to us than our RH community health."
Orangetheory will allow sick clients to put a hold on their accounts, and SoulCycle will honor late cancellations.
Should BEYOND Studios need to close, it will film workouts for patrons to stream. GRIT by Brit is already offering on-demand workouts and will begin live-streaming classes on Tuesday.
ClassPass is increasing its customer support resources and will offer members flexible options until they feel ready to return to class. The company has also built an internal task force to find ways to support the small fitness businesses they partner with. "[They] are most likely to take a hit from cancellations," said ClassPass. (If you're set on taking a workout class this weekend, choose one at your favorite locally-owned studio to support them.)
Get the AtHome Newsletter
Enjoy Dallas' best trends, hot properties, and tips from local designers to help you nest in style delivered weekly.