The Zlatorog Arena in Celje, the third-largest city in Slovenia, has a capacity of 5,191–smaller than most college basketball arenas in the U.S. But it was packed, loud, and rocking on this late August night. For us Slovenians, it was the last chance to watch our prodigy-turned-NBA-superstar Luka Doncic play basketball on home soil this summer, something we'll probably be deprived of for at least another year. Slovenia was off to a slow start in its 2023 World Cup Qualifier against Estonia, but as he usually does, Doncic managed to make things interesting. Down by two early in the first quarter, No. 77 got involved in a minor altercation with Kerr Kriisa, a 180-pound guard with an attitude (and bumfluff) of a rebellious teenager. And as he usually does, Doncic took it personally, scoring 25 points, pulling down 11 rebounds, and dishing out 8 assists in a 21-point win, while barking at the Estonian bench—and the refs—the rest of the night.
Having watched every Mavericks game during Doncic's first four NBA seasons, I've seen him get into it with various opponents. But seeing and hearing Doncic get emotional—he might have trash-talked in three languages—up close from the press row, with the Slovenian crowd loving every second of it, is when it hit me. In less than a week, I'll transform into one of them. I'll be a fan again.
If you follow my Mavericks coverage here at the D Magazine, you know I'm not an irrational, overly emotional kind of a guy. I try to dissect the game from an analytical perspective, attempting to be as objective as possible. I typically watch the games on delay, alone in the quiet sanctuary of my office, going through every play, rewinding and taking notes. (Yes, I'm a lunatic who has notes for every Mavericks play over the last two seasons.)
But watching Doncic and his new friend from the Baltics go at it, I couldn't help but jump out of my seat and join the taunting fans inside Zlatorog Arena. (Zlatorog, the most popular Slovenian beer, might have had something to do with that.) I remember looking at the crowd going crazy, singing, and jumping around. It gave me goosebumps thinking of what will happen this week when I join the party in Germany. Images of my childhood fan experiences flashed in front of me. Memories, almost lost and forgotten during countless hours dissecting basketball film and stats, were brought back to life. I remembered why I came to love this sport.
In 1997, two years before Doncic was born, my high school buddies and I rented a van to make the 475-mile drive to watch our team, Olimpija Ljubljana, at the Euroleague Final Four tournament in Rome. At the time, that was the biggest achievement in our country's short basketball history—Slovenia became independent in 1991—and that was one of the first exoduses of Slovenian fans. I vividly remember the moment that 1,000 of us entered the arena. The place was packed with almost 10,000 crazy Greeks, fans of European basketball powerhouse Olympiacos. All in red, singing almost an hour before tipoff. Marko Millic, the Mavericks' recently named development coach (in other words, Luka's workout buddy), and the first Slovenian drafted in the NBA, broke a backboard on a thunderous dunk during the tournament.
My pal Miha was the designated driver during the Rome trip. Three years later, he and I were on the road again, traveling 600 miles from Ljubljana to Amsterdam. This time it was for the UEFA Euro 2000 tournament, for which our football (soccer) national team had qualified for the first time. For Slovenians who were accustomed to seeing success in individual sports–skiing and ski jumps, mostly, although we've made some recent strides in cycling and skiing, mostly–this was one of the biggest sports euphorias in our history. Miha and I were among the 10,000 Slovenians at Dam Square in Amsterdam, still a record for the biggest Slovenian away crowd.
For me, nothing that happened after that could match these big moments. Life and other priorities got in the way. So I stopped going. But Miha and other Slovenians didn't. Their loyalty was rewarded in 2017, when Slovenia reached the EuroBasket finals. The country went into a state of frenzy. Everybody was looking for a finals ticket and a way to get to Istanbul; at least 10 charter planes were sold out within seconds.
After a semifinal win against Spain, Doncic's overly emotional dad, Sasha, who is pure gold as a color commentator, called for fans to get to Turkey by whatever means necessary—by ship, truck, car, and even paraglider—in what is still one of the iconic moments of our country's basketball broadcasts. Miha was among the 7,000 countrymen who answered Sasha's call. Winning the gold was the biggest achievement in Slovenian team sports history. That was also the moment 18-year-old Luka Doncic arrived on the big stage, and when the paths of fans in Slovenia and Dallas first intersected. During Doncic's rookie NBA season, in March 2019, almost 2,000 Slovenians flew halfway around the world to Miami to see our young superstar-in-the-making go against his mentor, Goran Dragic. Last summer Miha traveled almost 1,000 miles to the FIBA qualifying tournament in Kaunas, when Luka's dazzling triple-double sealed our first Olympics basketball tournament appearance. (Only COVID stopped him and other Slovenians from attending the main event in Tokyo.)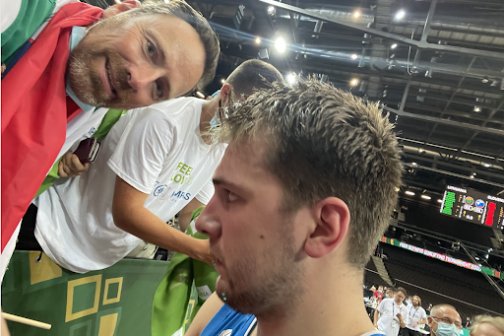 It's as simple as that for Slovenians. When our teams go places, we're right there with them. It's more difficult to explain why Slovenians, and fans from other smaller nations such as Lithuania, follow our basketball heroes around the world. My best guess is that in small countries we don't have major leagues, so our biggest sports moments typically take place elsewhere. If you want to watch them, you have to pack the flag and get there.
Missing the 2017 Eurobasket Championship run was one of the biggest regrets of my life. I promised myself that, if given the chance, I would one day atone for it. But I couldn't imagine that opportunity would come so soon, along with the gift of watching Luka dominating the international competition. Back in 2017, it was difficult to envision Slovenia going home with the trophy, as our EuroBasket runs mostly ended in disappointing fashion. We did have plenty of good teams and players along with Dragic. NBA junkies might remember names like Beno Udrih, Rasho Nesterovic, Sasha Vujacic, Primoz Brezec, and Bostjan Nachbar. But Slovenia was always the underdog trying to win with discipline, a fighting spirit, and outworking opponents. Makes sense for a country with one-third the population of North Texas.
Luka changed everything. He is Slovenia's first global superstar. As Mavericks (and Phoenix Suns) fans know well, he is a player who makes you confident going into every game. A player who makes the country of only two million an instant favorite for a medal. A player who makes you feel as big as Rudy Gobert's France, and a player who relegates Germany, a country of 83 million, to the underdog role.
For us, seeing one of the most exciting players in the world play in person is a privilege. It's something Mavericks fans can do almost 50 times a year, but we Slovenians were deprived of it when Doncic left for Spain at the age of 13. Even the national team opportunities were fleeting: until last summer, Luka didn't play for Slovenia for almost four years. That's why everything is magnified for us, why each game is a rare opportunity to be cherished. It's why Slovenians will be on the move again.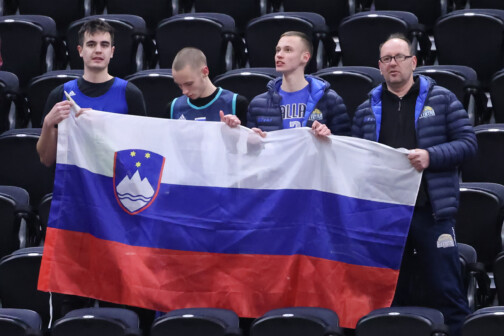 The feeling is mutual, as Luka loves playing for his country. Some stars aren't interested in sacrificing their summer, but Luka is built differently. All of his NBA highlights and accolades aside, the sweat and blood in the jersey with Triglav—our iconic "three-headed mountain"—on his chest, is what takes our love for Luka off the charts.
I won't admit this to my wife, but for me, a big part of the trip to Cologne is trying to relive those youthful moments from Rome and Amsterdam. We won't sleep in a van this time, but it's the same idea of getting lost in the crowd, forgetting the everyday worries while having fun with my high school buddies. In an odd way, I think it's the reason why Luka loves playing for our national team. He's way too young to have my kind of midlife crisis moments, but if you think it over, he was a 13-year-old boy who left everything behind to chase his basketball dream. Just as Slovenians were deprived of watching him grow up and play basketball, he sacrificed his youth to become a pro with Real Madrid. Summers spent competing for his country while having fun with his buddies might be his way of getting some of those lost years back.
As a Slovenian, the amazing thing for me is seeing how many fans from Texas are with us on this journey the same way we are with them during the NBA season. So many Mavericks fans adopted the Slovenian national team, or as my friend and ESPN NBA reporter Tim MacMahon told me, more people in Texas might be cheering for Slovenia than for Team USA. I don't think he is exaggerating, as many asked me for links to see Slovenia play an exhibition game in the middle of August. In a way, we're like two separated overprotective parents watching over our son as he grows up.
So if you watch Luka play in Eurobasket this month—all games will be broadcast on ESPN+—and fret about something bad might happen to him before he comes back for Mavericks' training camp, don't worry. He'll be alright, because Miha, me, and thousands of Slovenians will be in the building. Watching over him.
Get the ItList Newsletter
Be the first to know about Dallas' best events, contests, giveaways, and happenings each month.
Author
Iztok Franko covers the Mavericks for StrongSide. He is an analyst that uncovers stories hidden in NBA data and basketball…