The Mavericks have undergone a number of changes since we last caught up with StrongSide's own Brian Dameris, the team's former director of basketball development. (You can hear him on The Ticket and with Mavs play-by-play man Mark Followill on the Take Dat Wit You pod, and you can watch him on Bally Sports Southwest.) What better time than the All-Star break to run everything down with Brian?
He gives his take on the Kristaps Porzingis trade and the Dorian Finney-Smith extension, plus gives a referendum on my bold All-Star game prediction. Finally, I put him on the hot seat: now that this roster is set, what is he expecting the rest of this regular season and in the playoffs?
This conversation has been edited for length and clarity. We'll catch up with him again prior to the postseason.
---
We have to start with the trade. How did you feel about what went down?
I've tried to break it down into three questions. Number one, do you think Porzingis is going to be a long-term option on a championship team? And I think that, simply because of his availability, you just have to question if that's something you can rely on. He's played 60 percent of the possible games while a Mav, and there didn't seem to be any indication that was going to change. This summer was his healthiest summer. He came in feeling the best he's felt in five years. And yet he still missed chunks of games several times and is currently still out. So can you rely on him to be a factor when you play four seven-game series over two months? And I think the answer to that is "no." So taking any off-court issues out or even on-court meshing, just that alone would signify that you have to make a move.
That takes you to question No. 2: when do you move him? This past summer, we talked about him being untradeable to the point of having to attach a first-round pick to him and you're looking at getting Kemba Walker and people like that back if you're doing that. Obviously, his play increased his value to a level where you're having to do that. Of course, you're running the risk of, if you say, "Well, let's give it the rest of the year and try again this summer," that the value drops again because he becomes unavailable because he stops playing as effectively. I think you strike while the iron's hot and move now if you can.
So we've decided then that we do need to move him and now's the time. Question No. 3: what's the best offer you can get? And, frankly, I think Nico [Harrison] and Mark [Cuban] scoured the market, and there were two teams: Toronto and Washington. And one of them backed out. So you're left with Washington. They wanted get off contracts. You wanted to get off a contract and break it into two smaller pieces that could potentially be moveable or, hopefully, are players you use in your rotation: a playmaking guard and a knockdown shooter.
So I'm honestly surprised at a lot of the angst and handwringing I've seen over the trade. I was more bullish than most the day it happened and continue to be that way. I think people are intrigued by the possibility of who Porzingis is rather than the reality of what he is, and maybe there's some disappointment it didn't work. But I'm overall positive about it.
Well that's a nice, upbeat way to start this thing. Let's take the return out of this deal for a moment. How will Kristaps Porzingis be remembered in Dallas?
As a missed opportunity. This was supposed to be the Nash-Nowitzki Era 2.0 for the next 15 years. And we just didn't see it, through no fault of his own. He's too big for his body—too big for his legs. We just haven't seen the consistency. When he played well for 10 games, you're in the back of your mind waiting for the other shoe to drop, wondering when he's going to be out with right soreness or something like that. He was a class act through and through. He obviously liked the adjustments made to how he was being used this year under Jason Kidd. We saw that elevate his play to, I think, possibly the best he's played in his career because he was playing not only kind of an inside style he was playing in New York but an outside style he played under Carlisle. He kind of mixed both those together.
But I think people kind of come away with a sense of disappointment that it didn't work. You took a swing at something that I think everybody—me included—was excited about. But you have to come to a realization that it's not working, and I think that's what the Mavs did.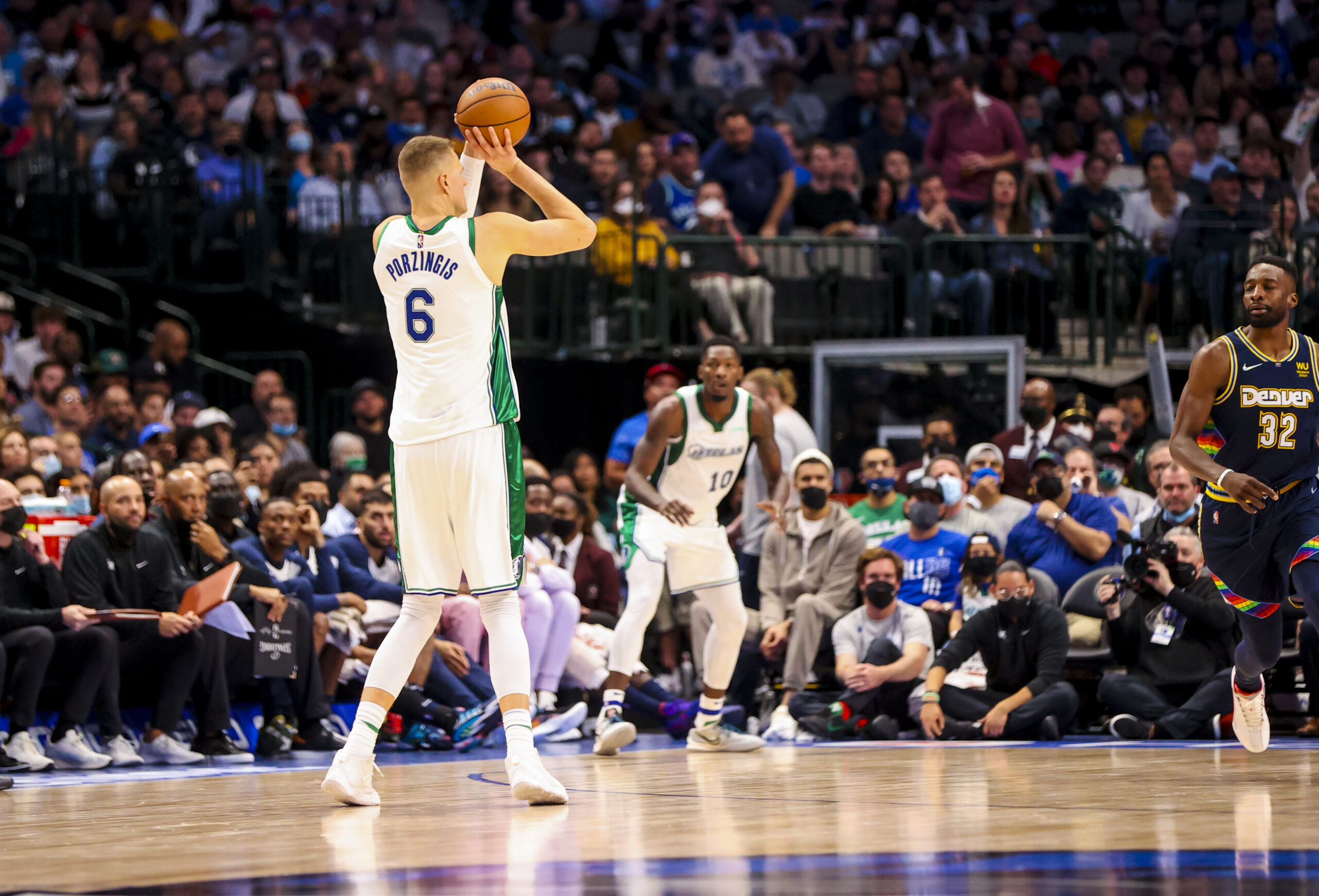 The other piece of business that went down on deadline day was Dorian Finney-Smith's extension. When you look at the dollar figure and the years, was this too much, too little, or just right?
I think it was just right. Honestly, if he'd gotten out on the open market, he'd probably have gotten more, maybe up to $15 million a year. So I think it's smart they did it when they did it. They obviously did it after the deadline because you never know if he was a piece, as an expiring contract, who could have been used in a larger deal that would have been something you're getting a significant piece back. But that didn't happen. They wanted to lock him up and not let him get to free agency. He got his security now. It's a win-win on both sides.
You have not only what he is on the court, which is basically guarding your opponent's best player every single night, but he shot more threes in the Luka era on the Mavs than anyone, and he's absolutely transformed from being a guy that was an absolute liability on offense early in his career to someone who can knock down that shot and stay on the floor because of his defensive ability. And then off the court, he's absolutely beloved and works hard and is great in the locker room. So I was absolutely thrilled they were able to get that done, and I think that's a reasonable price.
The big on-court story of the month is, of course, Luka. The last 10 games have been absurd. How much of this is sustainable, and, more important, how much of this do you even want to be sustainable given the workload he's taking on to make this happen?
That's an interesting question because I don't think you can sustain this over multiple playoff series. We've seen this movie, and we know he'll wear out, and it's not feasible for one person to do everything. That's not winning basketball.
Jalen Brunson was actually asked about this after the game Thursday night, and it's like, what do you do when a guy's on a heater? You don't want to take the ball out of his hands, but you also want to continue to play your game and stay aggressive and not just be an onlooker. It's that Catch-22 you have to keep in mind. Yeah, he's going off for 49, but other players can't just be satisfied and say, "Well, I'll just do my small role then." It's a matter of everybody stepping up and recognizing when to make the smart read out of the double team, and when to look for his own shot.
I don't think it's a coincidence that the three-point shooting as a team has increased because of how he's playing because he's a magnet for the defense. Once he gets in the paint, you literally see five defenders fill up the paint, which obviously is going to leave those shooters more open, and when they're more open, those shots are more likely to fall. So I think that coincides really well.
I think now, with Porzingis out and Tim Hardaway out, you fill that scoring. Luka's filled all of it. Reggie Bullock will fill some when he's available. But everybody is going to have to step up and carry some of that load. There's only one other player in the league who's scored over 45 points, and that's Steph Curry. Luka's done it three out of the last four games.
It's absurd. And that leads into a prediction I want to bounce off you, because you're here for the Vibe Check, and sometimes that means checking mine and telling me if you think I'm crazy. I think when the regular season is over, and the dust has settled, and we're looking at a full season's worth of work from Luka, I think he's going to be first-team All-NBA again and everyone is going to forget all the handwringing of the rough early season, him coming in out of shape—all of it. Am I way off here?
Oh, absolutely not. I think he's in the top five of the MVP discussion now. You're talking about a guy who just had player of the week and will probably be player of the month if he continues anywhere close to what he's been doing so far. It's a laugh that he's not starting the All-Star game now. It looks silly for those who voted that way on the media side and on the players' side; I understand what the fans were doing.
I think that's a no-brainer. Look, on the guard side, you've got Ja Morant and DeMar DeRozan are probably his main competition if you look at the main players.
I wouldn't rule out Steph getting back in there before the end of the year.
I agree, but he's really fallen off.
Oh, he has, but it's Steph. You can't rule him out. I also don't think it would happen, but because he's the best player on the best team, it wouldn't shock me if Chris Paul were in some frame of conversation given the way he's played. Having said that, in terms of who is the best player in that group, it's Luka. It's just a matter of if the numbers give everyone cause to say he has to be up there.
And you're talking about, with Ja and DeRozan, players on teams that will be higher seeds, so he's going to have to have significantly better numbers to overcome that hurdle.
Last one for you. Nico Harrison said this is their roster. This is what they're rolling with, and we probably shouldn't be expecting anything on the buyout market. So given that, what is your realistic expectation for the team you see today, both in terms of how they finish the regular season and how far they go in the playoffs?
I think the four seed would be satisfactory. They've got three games with Utah in the next 16, which are going to be huge as they're a game and a half back of the four seed. I'd love to get the three seed, but it's going to be tough being that far back, and we're not playing Memphis. Three-six matchups are historically won by the three seed 80 percent of the time. Four-fives are essentially tossups since it went to seven games in the first round. So you really want to get to a three seed, but I'm willing to roll the dice with Utah. I would want to be the four seed to get that seventh game at home.
And in terms of playoffs, I think anything short of winning in the first round—you've just got to get past the first round this year. I do think the offense is moving the ball a lot better. I think that Spencer Dinwiddie will start getting comfortable with his role as the season progresses, which is slashing, cutting, and finding guys, playing with Luka and Jalen Brunson on the floor, and being a catch-and-shoot guy as well. Bertans—for all the handwringing about him shooting 32 percent, realize he's shooting 59 percent this year from the corners, and that's where he's living a lot. The new additions will help improve the offense. It's going to be a tall order after the first round because you most likely play Phoenix or Golden State, but we'll cross that bridge when we get to that.
Get the ItList Newsletter
Be the first to know about Dallas' best events, contests, giveaways, and happenings each month.
Author
Mike Piellucci is D Magazine's sports editor. He is a former staffer at The Athletic and VICE, and his freelance…