The Cowboys got one in the win column on Sunday, and they did it with a game plan that couldn't have been more different than Week 1. Dak Prescott got to rest his arm a bit, throwing only 27 passes—fewer than half of his whopping 58 pass attempts from the opening night game against the Tampa Bay Buccaneers. It was the largest drop in pass rate of any team between Weeks 1 and 2, and the fifth-largest week-to-week drop in pass rate since the start of the 2020 season.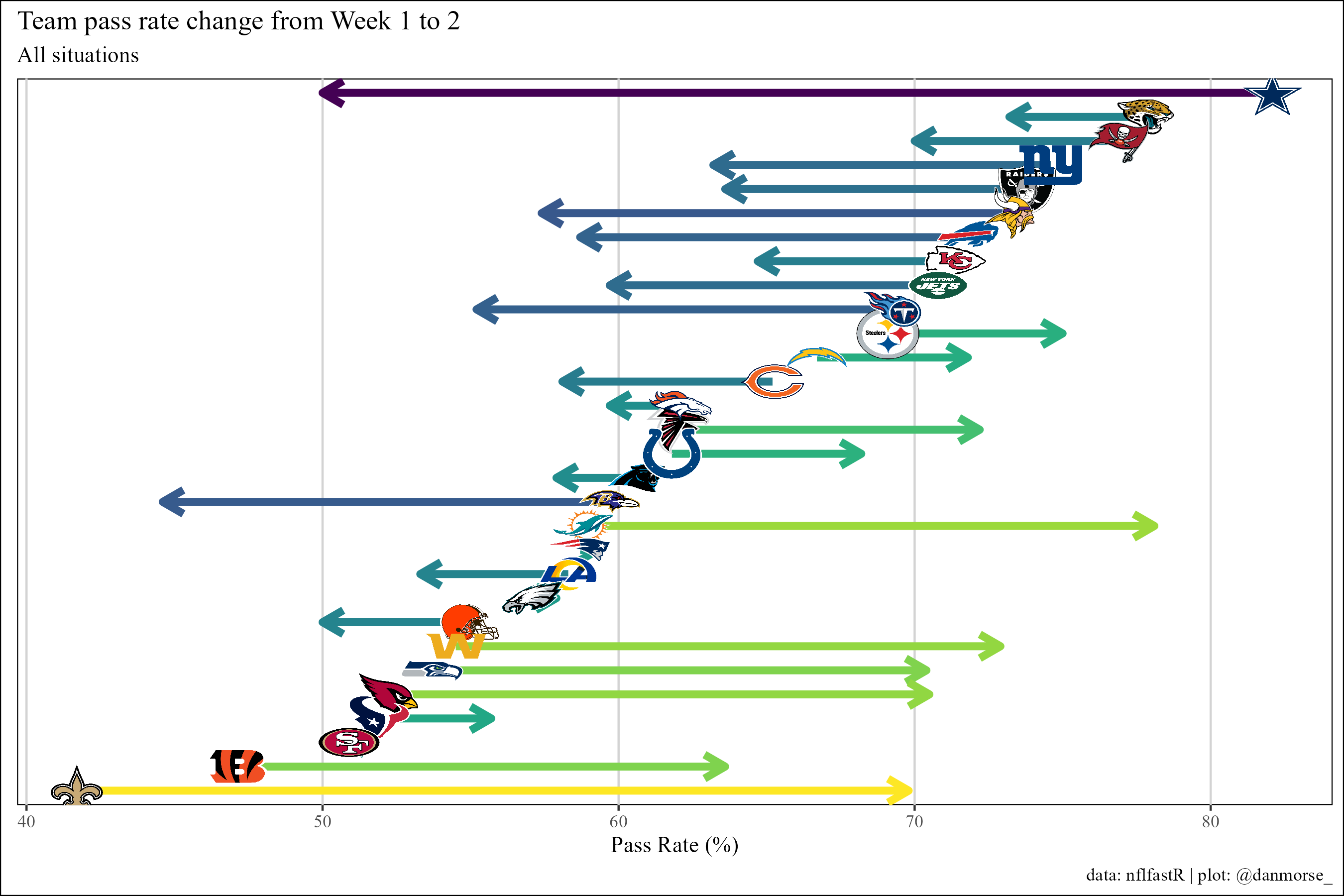 But that's not the number you need to know this week. That's more indicative of offensive coordinator Kellen Moore knowing that running the ball against the Chargers is far easier than running the ball against the Tampa Bay Buccaneers. 
Instead, we'll dig a little deeper into the emerging run game, starting with another very simple number: 4.
That's the difference in yards per carry between "backup" running back Tony Pollard and "starting" running back Ezekiel Elliott.
Overall, it was a phenomenal day for the Cowboys running backs as a whole. They combined for 180 yards on the ground on 29 carries, and they were responsible for Dallas' only two touchdowns on the day. Elliott had a good, if not spectacular, day on the ground, but it was Pollard who stole the spotlight in Los Angeles. Pollard looked quicker, more elusive, and, frankly, like a running back who isn't carrying the weight of nearly 1,800 NFL carries on his back.
so tony pollard huh pic.twitter.com/ZqNATpTV3a

— Dan (@danmorse_) September 20, 2021
The backs had nearly a 50/50 split with the carries against L.A., with 16 handoffs to Elliott and 13 to Pollard. It's the most even the backfield split has been with a healthy Ezekiel Elliott since he came to Dallas, in 2016. The early returns were good enough that it seems more likely than not that the split continues going forward. The question then becomes: should Pollard start getting the majority of the carries?
Well, before we get too carried (pun intended) away here, we need to acknowledge that these two running backs have different skill sets and are used in significantly different situations. It's still to be determined whether Pollard would be as effective as he has been if he were put in Elliott's situation. We've got a small sample size to work with so far this year, but the early results are telling.
Elliott has been Dallas' primary short-yardage back so far. On 3rd and short (<4 yards to go for a first-down conversion), Elliott has received the handoff 22 times to Pollard's 13. Elliott has converted a first down on 72.7% of those opportunities, while Pollard converted only 61.5% of short-yardage 3rd downs. Elliott sure doesn't look like he deserves to lose that job just yet.
Zeke finds the hole for 6! Dallas now leads by 10. #DallasCowboys #NFL #DALvsLAC #NFLTwitter pic.twitter.com/M3MfcPERjX

— Football Outsiders (@fboutsiders) September 19, 2021
Circling back on our number to know, though, Pollard had 4 more yards per carry on Sunday than Elliott, but perhaps that number doesn't fully represent the situations they have been put into. Through two games, Elliott has faced nearly twice the loaded boxes as Pollard — meaning the defense brings an extra defender down low to stop the run more often with Elliott on the field than with Pollard. When both backs faced lighter boxes against the Chargers, they produced at nearly identical levels.
The Cowboys took advantage rushing into light boxes against the Chargers gaining 128 yards on 21 carries (6.1 YPC).

Cowboys RBs (vs Light Boxes)

🔹 Ezekiel Elliott: 11 carries, 55 yards (5.0 YPC)
🔹 Tony Pollard: 8 carries, 55 yards (6.9 YPC)#DALvsLAC | #DallasCowboys pic.twitter.com/DGwt7Ns0gm

— Next Gen Stats (@NextGenStats) September 20, 2021
So although on the surface it looked like Pollard was the better back on Sunday — and to the eye test, as well, to be honest — much of the difference in production was due to a difference in deployment. Elliott faces more defenders down low and more short-yardage situations while Pollard generally gets to work in more space initially. 
That's backed up by the NFL's Next Gen Stats, which tracks the location of every player on the field at the time of a handoff and uses that data to predict how many yards a running back will gain on the play. According to their model, Pollard has the highest expected yards per carry in the NFL among players with at least 10 carries. That's got nothing to do with his ability as a rusher; it's simply that, when he is handed the ball, the position of his blockers and the alignment of defenders give him more room to work with than any other running back in the league.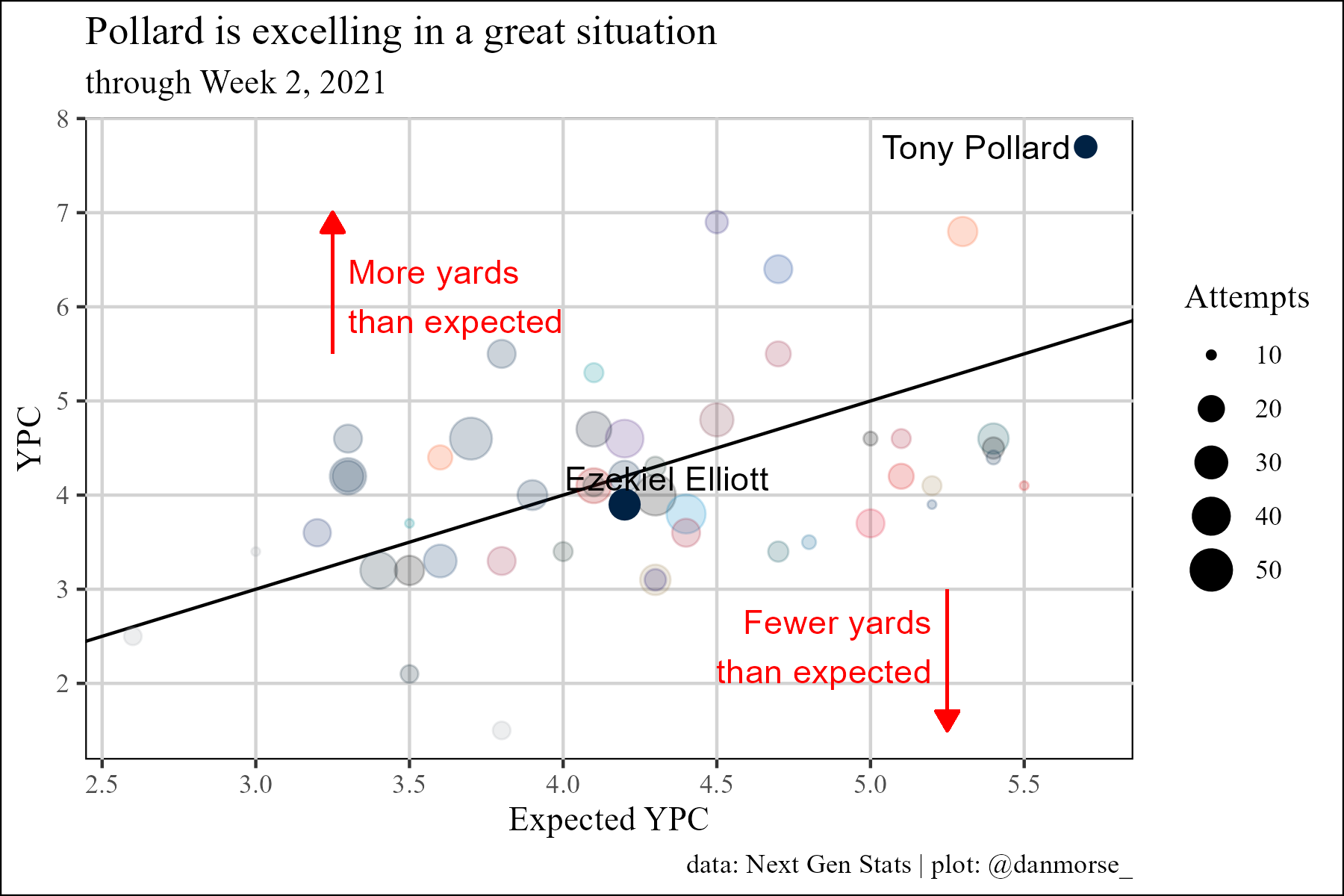 But while Pollard's success thus far can in large part be explained simply by favorable situations, there are other aspects of a football game where he has done things Elliott has not.
As a receiver in 2021, Pollard has gained an average of 8.5 yards per target. And, wouldn't you know it, that's also 4 more than Elliott's yards per target. That efficiency is not as easily explained away by loaded boxes or short-yardage situations. The fact is Pollard is a more dangerous player as a route runner out of the backfield and on the line of scrimmage. That threat he provides also gives the Cowboys a bit more flexibility to be creative with their playbook, as evidenced by the jet sweep they dialed up for him on the opening drive of Sunday's game.
Tony Pollard is across for a #DallasCowboys touchdown 🙌 @Tp__5

📺: #DALvsLAC on CBS
📱: NFL app pic.twitter.com/29bOBTvsKG

— NFL (@NFL) September 19, 2021
So if you're searching for a clear answer as to which Dallas Cowboys running back deserves the lion's share of the carries, I'm sorry to disappoint you by saying the answer likely lies somewhere in the middle. Pollard has proven that he can handle an increased workload, especially on passing plays and on plays when the defense doesn't load up to stop the run. But on the occasions when they do, Elliott still looks like the better player. It really comes down to how creative Kellen Moore wants to get with the run game, and Pollard opens more options up in that sense.
We probably won't have a clearer idea after next week, when Dallas takes on a Philadelphia Eagles secondary that's not exactly the most intimidating in the league. All this talk of running backs could very well be shelved if Dak Prescott drops back to pass another 60 times. As the season goes on, however, the running back situation will remain interesting to watch, both for what each player can do as well as whether one pulls away from the other in time.