Perhaps because I've written a number of critical articles and posts about the construction of the Trinity Forest Golf Club, going back five years, I have found it difficult to get on to the course for a round. Let's not go too deeply into that. Not in anyone's best interest. But, anyway, yesterday I got to play in a media event organized by the club to give local and national outfits a preview of what PGA players will encounter next year at the Nelson. Here is what you need to know: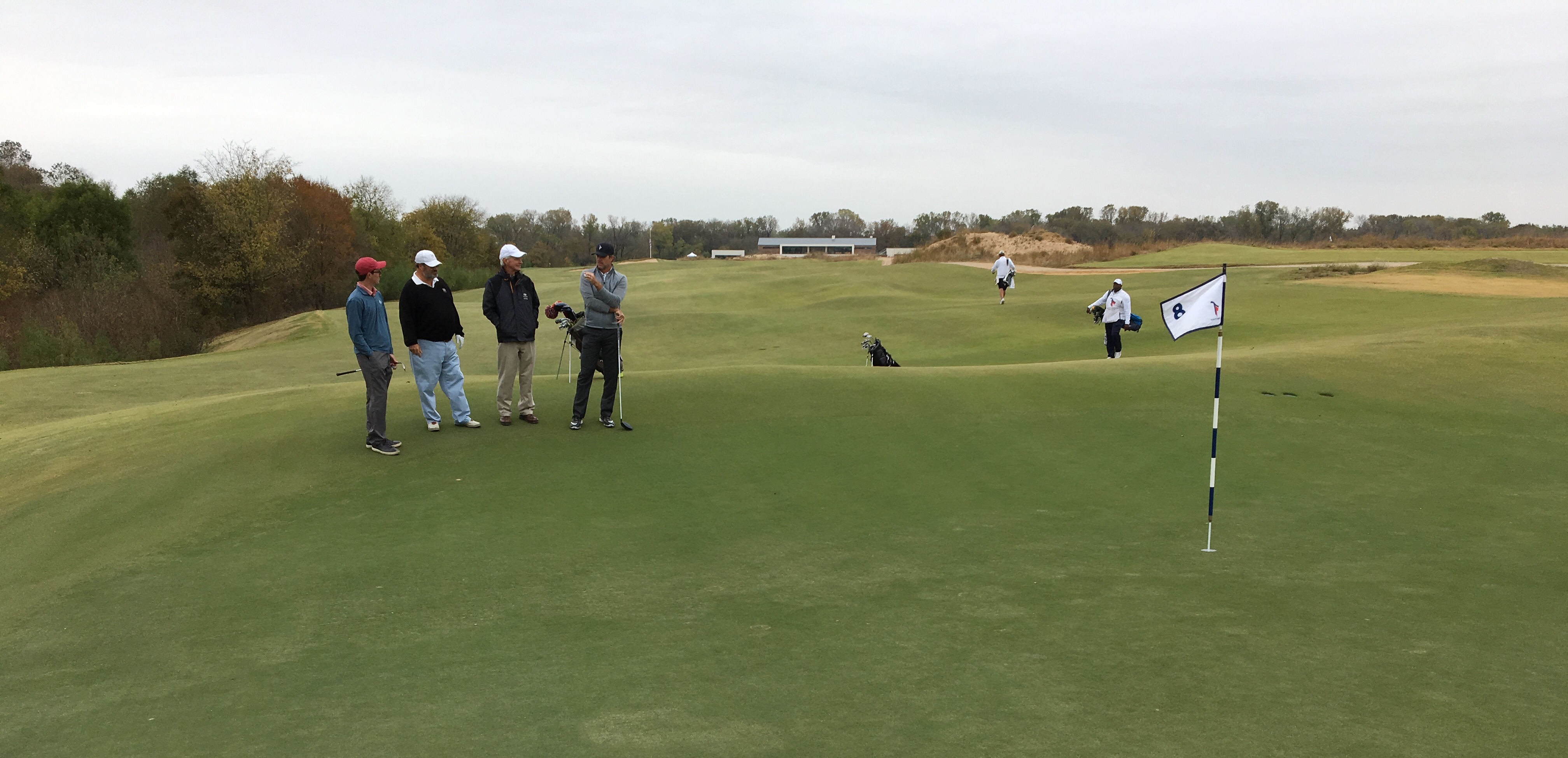 1. I was paired up for the round with two national golf writers, course developer Jonas Woods, and course architect Bill Coore. (You should be laughing at this point.) I'm not sure whether this pairing was an accident or done by design.
2. Woods is really good at golf — and not just because he was the best-dressed player on the course yesterday. The tournament (if you want to call it that) was best score for each hole. Our group used Woods' score for, I think, 14 holes. Your correspondent did contribute one hole to the scorecard, No. 9, but otherwise played horrible, embarrassing golf. I owe everyone an apology.
3. For whatever reason, my bag tag IDed me as Tom Rogers. I'd appreciate it if everyone addressed me that way from now on.
4. To the mind of this golf idiot, the course is pretty dang cool. I've played a couple of the courses at Bandon Dunes, another place where Coore has done some work. Trinity Forest, if you ignore the sounds of cars on nearby Loop 12, sorta kinda feels like Bandon (it's a stretch, I know). Trinity has no water and no trees (to speak of), but its undulating fairways, framed by sandy waste areas and natural grasses, and its goofy, hilly, often shouldered greens all seem very not Dallas. There really is no other place like this in North Texas or, for that matter, on the stateside tour. I can't imagine a more drastic golf shift than going from the Four Seasons to this joint. Seriously. From a soft-green target course in Irving with million-dollar houses looming over every hole to a links course in the middle of southern Dallas with bump-and-run hard turf and nothing but forest on the horizon. Crazy.
5. Nelson spectators will love Trinity Forest. I haven't yet seen the PGA's plans for the 2018 tournament's grandstands and hospitality suites, but there is way more space at Trinity than there was at the Four Seasons, and there will be spots where people can watch action on three or four holes without moving.
6. Some pros will hate Trinity Forest. Bill Coore himself acknowledged this. These people earn their living by minimizing uncertainty, trying to put a golf ball in places where results are predictable. Trinity Forest will introduce a lot of uncertainty into their paychecks.
7. Coore and Crenshaw will never again build a course like this. As you might know, Trinity Forest was built atop an old city of Dallas landfill. That presented certain challenges. Short version: you can't dig down because that would comprise the cap on the landfill. So you have to build up. Plus, lots of federal and state regulations that you have to respect. After the round, Coore was asked if he'd ever again take a commission that involved building atop a landfill. This was the first time he'd done it. Coore said: "One and done." He said it was a fascinating project and he was grateful to have been involved, but he'd never again try it. That's like Golf Jesus saying, "I know I turned water into wine. But never again. It was too hard."
8. The AT&T Byron Nelson is May 14, and it benefits the Momentous Institute, which is a rock-solid organization that does great work. Let's see what happens.
Get the D Brief Newsletter
Dallas' most important news stories of the week, delivered to your inbox each Sunday.