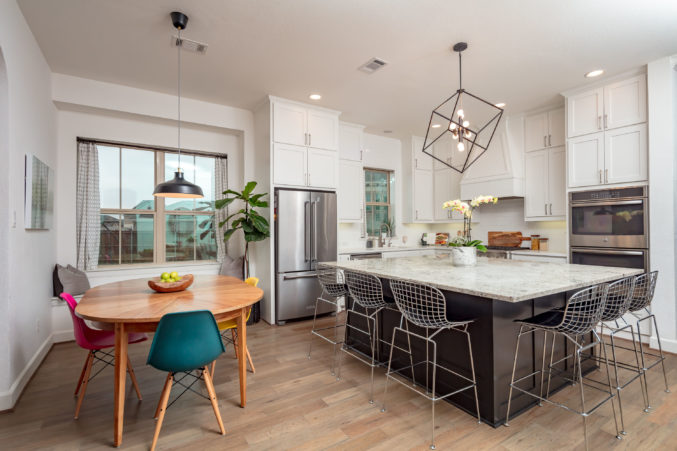 This Hill Country-Inspired Home is Smack Dab in the Middle of the Metroplex
Perhaps a compromise if you have central Texas ties but work in DFW?
By D Partner Studio
Published in Sponsored
March 7, 2019
7:00 am
The listing agent for this home in Arlington's Viridian neighborhood is describing 4211 Whispering Willow Way as better than new. And given that it was built in 2017, we are going to guess that it's because in just two years it has already gotten tasteful upgrades in addition to its lengthy list of custom amenities.
We must agree that this Hill Country-inspired home does not fit the mold of a typical new construction. For starters, it is located on an oversized corner lot. And while one might not be able to truly understand the benefit from the front of the home, it takes just one quick peek into the backyard to realize how much extra space you are getting with this particular lot. The extended covered patio has a gas drop and is just waiting for an outdoor kitchen, and there is more than enough room for a picturesque pool.
But back to the interior of the home. We are going to guess that most people looking to move into a five-bedroom property are raising a family. And if we are correct in that assumption, the open concept floorplan is almost essential for family togetherness. The chef's kitchen has a large granite island, quartz counters, stainless steel appliances, and custom cabinetry. The downstairs also boasts a study, master, and guest suite.
The master has a sitting area, dual-vanity bathroom with walk-in shower, freestanding soaking tub, and a walk-in closet. The upstairs area has a game room and three bedrooms. It really is a great floor plan for raising children because while there is adequate space for everyone to have a little something of their own, the common spaces are where the family is going to spend the majority of their time together.
Perhaps the most important aspect of this home is that it is still under warranty. And coming from a writer who may or may not be rebuilding their chimney due to an expired warranty on a "new-ish" construction, we can guarantee that this is going to come in very handy when something needs a fixin'.
__________________________________________________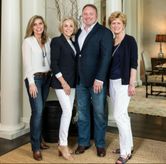 Magazzine Cunningham Group
817-654-8589
[email protected]
LINDA MAGAZZINE didn't set out to become a successful and award-winning real estate professional, but her previous career kept pointing her in that direction. She was a field editor for Better Homes and Garden Magazine for the Texas Region and that is where she found her love of homes and realized she could do what she really enjoyed.
In 1978 Linda changed career paths and in rapid fashion turned The Magazzine Cunningham Group of Ebby Halliday, REALTORS® into one of the region's premier real estate entities.
The Magazzine Cunningham Group specializes in luxury living. Its production over the past ten years has exceeded $150 million in sales, and Linda continues to stack up accomplishments, including being named Ebby Halliday's Top Individual or Group Producer for the Arlington office for more than 10 years, earning No. 7 company-wide in sales in 2004, and being ranked in the top 5 percent nationwide for nearly two and a half decades.
The Magazzine Cunningham Group is a full-service operation, offering their clients premier service in either buying, selling or renting. The group includes Susan Daniels who is Linda's showing agent and Traci Bellomy as the team's administrative manager, who team with Magazzine to embrace a professional philosophy founded on providing superior customer service.
"The best interests of our clients will always come first, and we will place the clients' concerns ahead of our own in each and every transaction, as we are dedicated to the development of long-term client relationships. Our team-approach philosophy ensures your needs are important to each and every member of our organization."
Linda Magazzine has now been in the real estate industry for 38 years, but it's where she
conducts business that gives her special pride. "I live in Arlington, I work in Arlington and I believe in my city and community.  Giving back is very important to me. I have built wonderful relationships over the years, and I truly feel our clients are our best asset."