Spring is on the brink. Soon, comfy, cozy closed-toed boots will be stashed away in closets and swapped out for strappy stilettos and breezy flip-flops, rendering open-toe readiness equally as (if not more) important than a bikini body.
To welcome in the warmer weather, and to lend an assist to any future spring breakers, we've rounded up five over-the-top pedicures in town for a luxurious way to summon spring.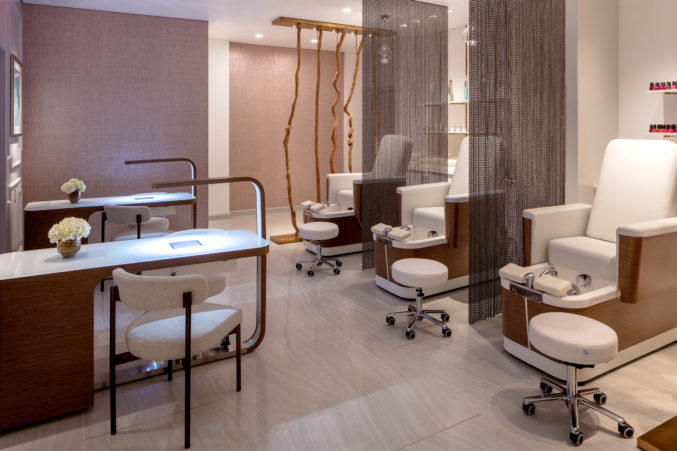 Intravenous (IV) drips are becoming more mainstream outside of hospitals. Though they're often associated with a quickie hangover cure, even the well-hydrated can benefit from majorly from the treatment, which floods the body with nourishment on a cellular level. The Spa at the Crescent integrates IV therapy with their Signature Crescent Spa Pedicure. So while you're relaxing with your IV drip, your feet are enjoying a complete sensory experience bringing deep relief to the soles. The two treatments time out perfectly to keep your day on track.
This pedicure will have you defying gravity. Er, you'll at least enjoy a zero-gravity chair. Once you settle into your high-tech chair, the Hiatus team envelops you in a cozy blanket with a warm neck wrap. Next, you'll experience a little sensory deprivation with an eye pillow and noise-canceling headphones, spilling soft peaceful sounds into your ears while your mani pedi takes place. If you fall asleep during the experience, fret not. You wouldn't be the first to do so.
You may be thinking Valentine's Day-only with this one, but the limited edition treatment on their menu until the end of March. Vivian's Boutique Spa likes to keep it fresh and rotate it seasonal offerings through out the year, but for a few more weeks, you can indulge in the decadence of a chocolate mask applied to your skin with nourishing cocoa enzymes. (An excellent, guilt-free way to enjoy chocolate without comprising your spring break bod.)
Oak Cliff's Pink Pedi Salon is an all-natural nail salon and apothecary boutique where they take natural splurging to all new heights. Their most luxe pedicure involves a large, handmade bath bomb. (A bath bomb! Just for your feet!) The fizzy indulgence is followed by a sugar scrub and body butter flavor of your choice. Although the legs and feet are the main attraction, they don't neglect your neck and shoulders. You'll be spoiled with 15 minutes of an upper body massage while your feet are drinking up the bubbly bath bomb. After your feet have relaxed in collagen booties, you'll enjoy a sugar scrub and tea-infused feet-facial mud mask. It gets better. An extended 30-minute massage is next accompanied by an essential oil blend. And they top the entire experience off with a mini bottle of pink sparkling wine.
Soaking your feet among crushed salts begins your 80-minute journey to indulgence. After your foot soak, warm stones massage your skin and your feet are dipped in paraffin to soften and restore. To ensure the ultimate nourishment, the experience will be sealed with an application of agave body oil to sooth muscles and promote circulation. Because the Hot Stone Pedi's luxuriousness is   lengthy, the spa team can also apply optional skin care and facial enhancements — just to make sure your face doesn't feel left out, of course. You can simultaneously enjoy an eye, lip, facemask, or even spring for a NuFace Mini-Lift. Your body may melt into a puddle of tranquility on the floor after this one.
Get the AtHome Newsletter
Enjoy Dallas' best trends, hot properties, and tips from local designers to help you nest in style delivered weekly.