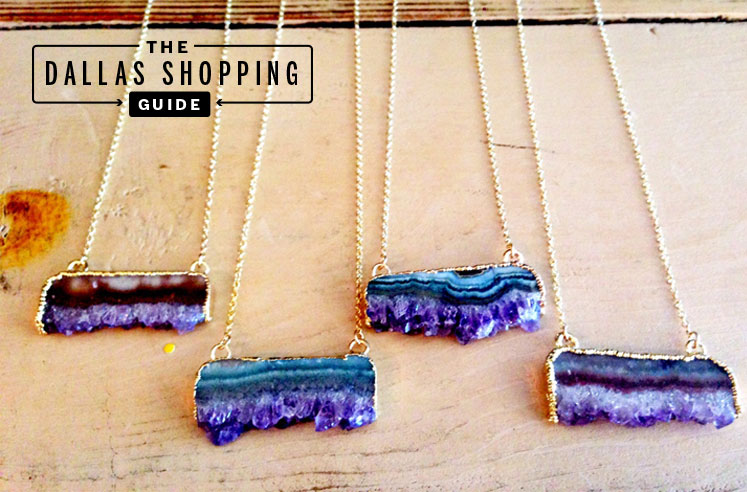 Where to Shop for Statement Jewelry in Dallas
Your guide to finding baubles that speak for themselves in Dallas.
Normally, I'm a "pile-it-on" kind of girl when it comes to jewelry. My arm parties are heavily attended, my earlobes are always adorned, and I typically wear (at least) one necklace every day. But once in a while, I'll find a showstopper that is a star all on its own. If you're in the market for one of these conversation-starting pieces that give your outfit an oh-so-cool edge, (and with the holidays coming up, you might be), look no further. Here, five Dallas stores and designers that offer baubles at every price point.
1Mal Malouf
It doesn't matter what color, size, or style of jewelry you're looking for—this shop has it. Bring in your outfit and get expert advice on how to accessorize it. We're lusting after the gold-dipped shark tooth necklaces that are equally edgy and ladylike.
2 Gresham Hodges
This Dallas native may not have a store of her own, but her gemstone-heavy designs can be found at The Gypsy Wagon, Hallie B., and the Pilates Barre. We're lusting after the Helen necklace. Who can resist purple agate?
3 Five and Ten
The sister store to Forty Five Ten, this Highland Park Village shop has a little bit of everything. We're lusting after the ultra-beaded and bejeweled Assad Mounser necklaces.
4 Rory Ashton
Known for her cluster earrings, Ashton's dramatic designs have been seen on celebrities and local stylemakers alike. Stop by Bask Boutique or her Etsy store to check out the designs. We're lusting after the rosary harem bracelets.
5 F is for Frank
These pieces don't have sparkle, but they still make a statement, and the brushed rose gold Jefferson necklace always gets compliments. We're lusting after the King Ring, which will look perfect when wrapped around a French 75.