A Field Guide to Dallas
Dallas artist Cynthia Mulcahy sketched the fauna she found in the Trinity Forest. Here's what it all looks like.
By D Magazine
Published in D Magazine 2020
Images courtesy of Cynthia Mulcahy and Talley Dunn Gallery, Photos of Painted Lady Butterfly and Twelve-spotted Skimmer by Kevin Todora, all others by Chad Redmon
Several years ago, Dallas artist Cynthia Mulcahy was looking for places to observe fauna in action while she was working on War Garden, her ongoing body of work exploring American militarism through paintings of insects and birds of prey. She thought she might have to travel far afield. But armed with a cheap pair of binoculars, Mulcahy was shocked to find a world of wildlife right here at home.
The resulting sketches from her explorations became the basis for a public art project funded by a grant from the City of Dallas Office of Arts and Culture and the Texas Commission on the Arts. Its most recent iteration is titled A Field Guide to Wild Fauna of Dallas, Texas, and copies are available for free on the fifth floor of the J. Erik Jonsson Central Library, when it opens back up.
You can't go there now because of coronavirus, so here's the next best thing: a sampling, with her commentary.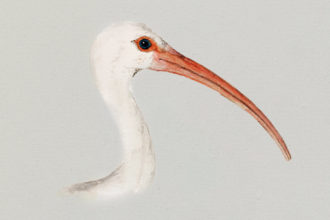 White Ibis
Eudocimus albus, Trinity River, Dallas
Highly sociable wading birds, white ibises are often seen in warmer months in groups foraging for food all along the Trinity River floodplain's seasonal wetland ponds, the Upper and Lower Chains of Wetland Cells, and Little Lemmon Lake in the Great Trinity Forest.
Roseate Spoonbill
Platalea ajaja (after J.J.)
I captioned this portrait "after J.J." in homage to John James Audubon, the greatest bird painter in art history. These pink-plumaged wonders are perhaps the most elusive migratory wild birds to spot in Dallas and are mostly found deep within the Great Trinity Forest or flying high above the Trinity River channel in giant flocks.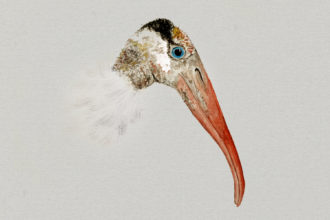 Wood Stork
Mycteria americana, Trinity River, Dallas
Wood storks are another favorite migrating large wading bird and the only stork native to North America.
Insect Study
(after J van K)
From tiny-winged yellow-legged mud dauber wasps and differential grasshoppers to every kind of beetle imaginable, Texas has more insect species than any other state. But studies in recent months point to the possibility of radical insect population declines worldwide. (The "after J van K" is for 17th-century Flemish painter Jan van Kessel, known for his still lifes.)
Painted Lady Butterfly
Vanessa cardui (after M)
I titled the painted lady butterfly "after M" in a nod to Maria Sibylla Merian, the 17th-century German botanist and botanical artist who discovered metamorphosis 150 years before Darwin. In mating practices, butterflies engage in what is known as "hilltopping," wherein male butterflies will take up positions on hilly land to attract female butterflies that fly up to meet them. It's my theory that the man-made Trinity River levees offer the perfect sloped terrain, and it's why I see this butterfly mating behavior occurring in warmer months everywhere along the levees.
Twelve-spotted Skimmer
Libellula pulchella, Trinity River, Dallas
Texas has more species of dragonflies than any other state in the country. In warmer months, you can observe them most often near bodies of water like vegetated ponds, rivers, creeks, and lakes. My favorite viewing spots include Leonhardt Lagoon in Fair Park in South Dallas, the pond dam area of Kidd Springs Park in Oak Cliff, and the Trinity Skyline Trail between Eloise Lundy and Moore parks.
Legs of the Black-necked Stilt
Himantopus mexicanus
Their impossibly long legs are pure poetry in flight. Black-necked stilts can be easily spotted from nature trails all along the Trinity River. Look for them foraging for aquatic invertebrates in wetland ponds that emerge seasonally.