Music genres ebb and flow in popularity in North Texas, much like anywhere else, as styles change and bands come and go. For example: five years ago, folk was king, and clubs were full of beards and banjos. But now psychedelic rock is ascendant, steadily gaining momentum, mirroring a national and international trend.
"Music itself, especially rock and roll, tends to go in what seems like 10- to 15-year cycles," says Jeff Brown, who runs King Camel Productions, which is responsible for booking the majority of local psych shows. He says the number of psych bands in the area has tripled in the last five years. To name just a few: Acid Carousel and Monoculture in Dallas; Pearl Earl, Sunbuzzed, and Mother Tongues in Denton; Native Fox in Garland.
To meet the increased demand, psych festivals have started to appear regularly around North Texas. In July, the two-day Acid Koolaid Festival debuted in Denton. Before that, in June, Paisley Maze popped up at Club Dada in Deep Ellum. Paisley Maze's creation was inspired by the void left by a much larger psych festival—Levitation in Austin. Originally the Austin Psych Fest, it was canceled in 2016 due to weather and again in 2017 for reorganization.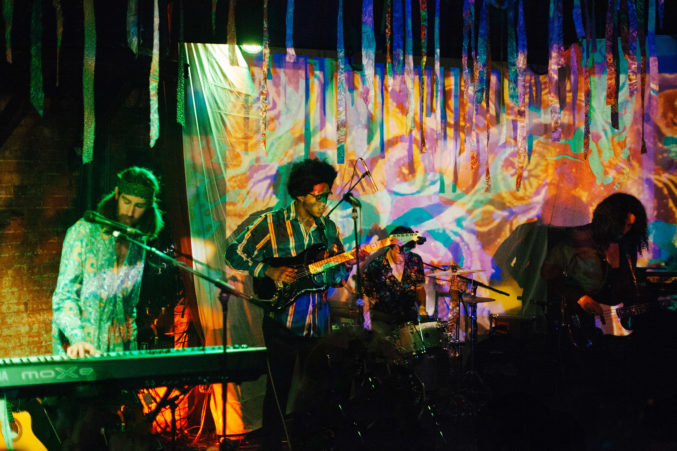 Brown thinks it's mostly young bands that are pushing for a psych comeback, and his theory has some weight. Olan Mijana, the frontman of Monoculture, organized Paisley Maze with his bandmates; he's only 24. (Full disclosure: Mijana's bandmate, drummer Nick Leibold, works for D Magazine as a graphic designer.) And one of the most talented area psych groups is Acid Carousel. At 19 and 21, respectively, the band's founders, Gus Baldwin and John Kuzmick, are precocious musicians holding their own alongside older and more experienced bands.
"There's a rebel spirit to psych music," Brown says. "It feels like a safe space where you're allowed to push boundaries and explore new things. There's a comfort in that. It helps unite a lot of people. If you have a certain type of music that advertises openness, togetherness, and new ideas, especially with the youth, that's a recipe for a win."
Ariel Hartley, 26, moonlights on vocals in Acid Carousel from time to time, but her main outfit is Pearl Earl, the all-female psych band she started three years ago. A graduate of the University of North Texas and a Denton resident, Hartley acknowledges that psychedelia has long been tied to drug culture, but says that's not the point of the music.
"For people in my generation, psych music is a nostalgia thing and an evolving thing; it's pretty timeless," she says. "When people think of psychedelia, they think of the '60s, but it goes back to the '50s and up through the '80s, '90s, 2000s. There are different takes on a certain idea and the lifestyle. It's music that makes you feel a little trippy. I know for me, it's the mindset and the messages in it—creating a headspace that feels otherworldly, that draws on the past and future, and reflection."
Get the FrontRow Newsletter
Get a front row seat to the best shows, arts, and things to do across North Texas. Never miss a beat.