This year, a single artwork dominated the attention of the entire city: the statue of Robert E. Lee in Oak Lawn Park. Crowds and news crews and drones watched its removal in September, and the mayor set up a special task force to consider its fate, as well as that of a Confederate war monument adjacent to the Kay Bailey Hutchison Convention Center, streets named after Confederate veterans, and depictions of Confederate history in Fair Park. The mayor's swift action, he said, was to avoid a repeat of protests in Charlottesville, Virginia, which ended in horror when a white nationalist rammed his car into a crowd of marchers, killing a young woman and injuring dozens.
If the mayor's intent was to avoid violence, then it was a success. But the statue's swift departure left more than an empty pedestal—it engendered a certain amount of confusion. The task force ultimately decided that the statues must go, but that didn't stop the vitriolic, derogatory, and racist voicemails left for some city council members, nor did it prevent the parade of disgruntled speakers at public meetings who decried attacks on their heritage, repeated lies about the causes of old wars, and stomped their feet over perceived historical revisionism.
The confusion didn't stop there. In the pages of the Dallas Morning News, the city's preeminent art critic, Rick Brettell, UTD professor and former director of the Dallas Museum of Art, appeared perplexed by the hubbub. At first, Brettell—who joined with a group called the Dallas Citizens for Unity and Reconciliation to oppose the removal of the statue—argued that the aesthetic and art historical merit of the work by noted equestrian sculptor Alexander Phimister Proctor warranted preservation. Then he suggested that if the Lee monument couldn't stay in Oak Lawn, it should be placed in Fair Park.
All of this suggested that, even after the statue was gone, the city had failed to grasp its real meaning for Dallas—both as a historical artifact and a work of art.
To understand what the Lee statue means, you need to understand its origins. As Brettell pointed out, Proctor was a respected sculptor in his day, Canadian-born and by no means a Southern zealot. Not only did he make a horse for Lee, he made one for Gen. William Tecumseh Sherman in New York's Central Park. By all accounts, he was more forward-thinking about racial relations than most men of his day.
But public sculpture—and monuments in particular—is never the product of a singular artistic mind, and Proctor's work cannot be understood without or untangled from the motivations that led to its commissioning. They were all on display, albeit in somewhat coded fashion, during the statue's dedication on June 12, 1936.
The event was loaded with dignitaries. Not only was President Franklin D. Roosevelt in attendance, but also other prominent politicians, pastors, patrons, and even the great-grandson of Robert E. Lee. One conspicuous attendee was celebrated filmmaker D.W. Griffith, whose distorted portrayal of the Civil War and Reconstruction in 1915's The Birth of a Nation managed to both invent new cinematic language and inspire a resurgence of the Ku Klux Klan. The American, Confederate, and Lone Star flags flew as speakers praised Lee broadly and with affection.
Through a certain set of eyes, this may seem benign. But in its unadulterated praise, the event exemplified the "Cult of Lee." During the 66 years between the general's death and the statue's erection, Lee had become in the minds of many a hero out of a storybook tale. And like a storybook character, all of his contradictions, misconceptions, and complications were sanded down to leave the towering figure of grandeur and gentlemanliness in its place.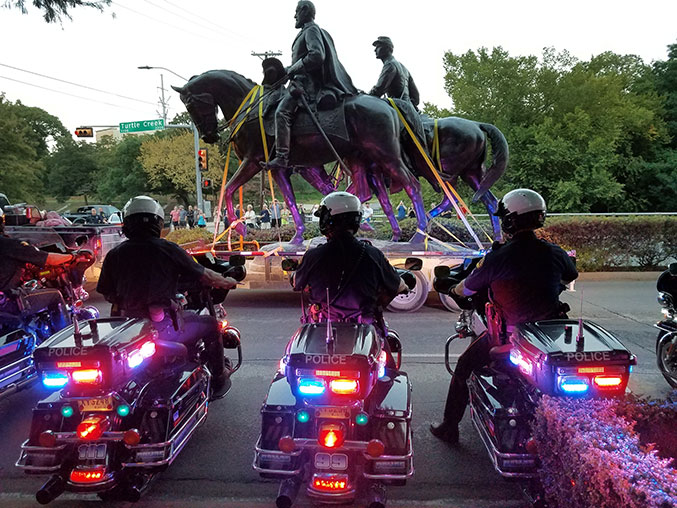 By most historical accounts, Lee was an able tactician and a devout Christian. For the sake of the restoration of the Union, he didn't want statues erected to Confederate heroes. But Lee was also a slave owner and a brutal taskmaster who deliberately broke up his slaves' families. He justified his harsh handling of his slaves as necessary "for their instruction as a race." He didn't free his slaves until a Virginia court forced his hand, and he turned a blind eye when his soldiers—and later his students at Washington and Lee University—massacred or beat or raped or abducted black soldiers or students.
In his writings, Lee expressed opposition to the idea of slavery, but not for the slaves' sake. Rather, he argued, it was out of Christian charity that white men held slaves, keeping them in bondage to protect them from the race's perceived inclination toward insubordination, ignorance, and incompetence. What he didn't like was how slavery threatened the morality of white men, and when he spoke generously of blacks, he added the caveat that nonetheless "our material, societal, and political interests are naturally with the whites." In short, it was a worldview that understood white men as naturally superior to people of color, the vision of a true, pure, Christian trajectory of American history. None of this made Lee extraordinary. In fact, they were characteristics that qualified him as a Southern gentleman.
Whether Robert E. Lee is the kind of historical figure Dallas wants to honor in 2017, however, isn't really the point. The statue in the former Lee Park, and hundreds like it, must be understood in the context of the Lost Cause movement, which sought to erase slavery as a cause of the Civil War and reframe Southern secession as a noble effort to preserve the South's cultural heritage. The Dallas Southern Memorial Association erected the statue to reassert the ideals Lee represented to the Lost Cause: white Southern pride, honor, gentlemanliness, strength, and supremacy. Standing beneath the statue during the hours before its removal, feeling the artwork's weight, presence, and grandeur, it was impossible to disagree with the assertion that Proctor masterfully captured these qualities in his sculpture. That he did such a good job, however, makes the Lee statue all the more potent and horrifying. Its quality is a testament to the power of art as well as art's susceptibility to be co-opted into the service of propaganda.
Those who argued that the removal represented historical revisionism failed to see the statue's duplicitous assault on history. Those who argued that its presence was benign, or that its aesthetic merit trumps any unfortunate associations, dismissed the power of art. The statue enshrines and perpetuates an assertion of a false historical ideal, one that invalidates the humanity of African-Americans and erases their experience from history. That erasure is at the very heart of what racism is. The only way to correct the historical record was to bring the old general down.
Get the FrontRow Newsletter
Get a front row seat to the best shows, arts, and things to do across North Texas. Never miss a beat.