It's impossible to know whether all of the dozens of people gathered at Robert E. Lee Park on Thursday evening got what they were looking for — catharsis, maybe an opening to argue with their neighbors in the flesh, definitely a chance to photograph a sometimes surreal scene. They did get a show, of sorts.
After weeks of debate, a near-unanimous City Council vote, one removal attempt gone sideways, a brief court battle, and a statewide crane search, it almost felt anticlimactic.
The crane rolled in a little after 4 p.m, escorted by police and accompanied by TV news choppers buzzing overhead. A crew set to work with saws, crowbars, heavy equipment, and harnesses. By 7 o'clock, the bronze statue of the Confederate general, his horse, and his companion was hoisted onto a trailer. By 7:45, the sun setting, what must be the world's sturdiest pickup truck was pulling Lee away from the Oak Lawn park that, for now, bears his name. Police and airborne news cameras joined Lee for the slow ride to the storage facility where he will remain until he is placed in a museum, or in some rich person's backyard, or in whatever place fate and the task force weighing the future of Dallas' Confederate monuments deem appropriate.
Some onlookers cheered as the truck drove off with Lee. Others booed. One tried to start a singalong. Another exhorted the crowd to care for "their history," tied to a trailer bed heading south down Hall Street. Both were largely ignored, most content to watch the strangely muted spectacle of the 81-year-old statue's disappearance.
Somebody must have thought, "What now?"
A few people went to take photos of Lee's pedestal, now empty.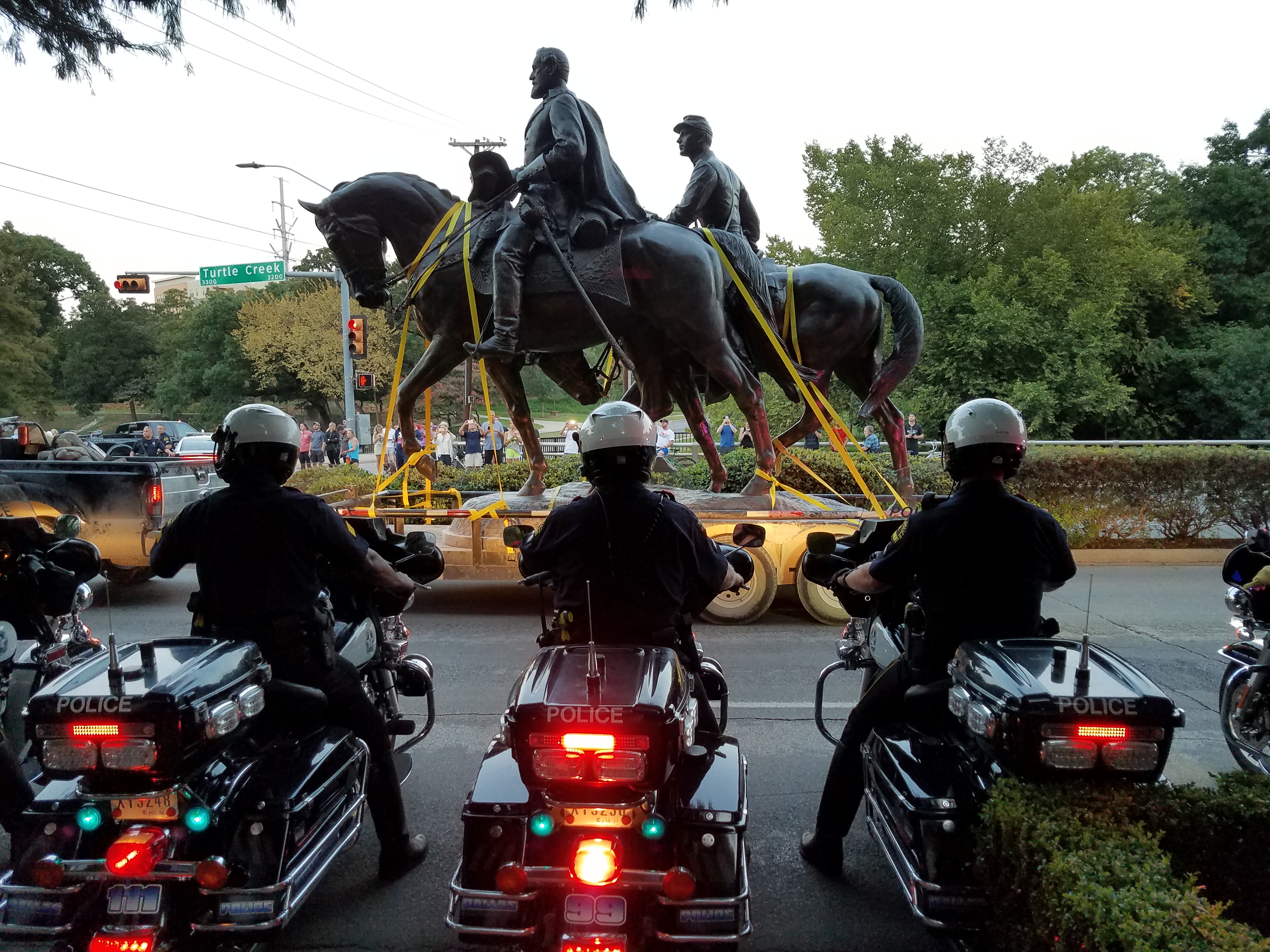 Get the D Brief Newsletter
Dallas' most important news stories of the week, delivered to your inbox each Sunday.