Reagan wasn't the one Jesus Martinez wanted.
He wanted the dog in the kennel next to her, the one that looked up at him calmly, with just a slight wag of his tail. That one seemed to fit Jesus' laid-back personality better.
It's not like Reagan would have picked Jesus, either. He wore an old, black baseball cap. If there was anything she truly hated, it was baseball caps. And men. But mainly baseball caps.
But the trainer pointed at her, pointed at him, and the match was made. At the time, she was 18 months old, with a shiny black coat, big brown eyes, and a ferocious bark. There's not much known about the first year or so of her life. She was abandoned and ended up at Southern Star Ranch, outside of Austin, where she trained with Wayne Booth. She didn't realize it, but she was quickly going from a disregarded, unwanted puppy to a highly trained, very expensive tool for the Dallas Police Department. And she'd be working with Jesus.
"Here's the leash," Booth said, handing it to Jesus. "Hook her up, so you can get her outside, so you can pet her." As Jesus eyed her nervously, she took her barking up a notch, and added a few growls. That stupid hat. Though he's 5-foot-9, 205 pounds, and has faced down some of the baddest drug dealers in Dallas, Jesus was leery of crawling into a pen with the crazed dog. He gingerly got into the cage. Reagan growled. Jesus slowly clipped the leash to her collar. She barked. He pulled her out. Freedom! She tried to break away, but he reined her in, and looked at the trainer. "Wayne, are you sure this is the dog for me?" The trainer assured him, that, yes, this was the dog for him, and encouraged him to take her on a walk.
The pair set off down a long country road. It was a hot August day, and Reagan was determined to make the walk as difficult as possible. She pulled at the end of the leash and used every ounce of her every muscle to make Jesus break into a run. Try to keep up now! Trying to slow down the eager Lab took its toll on the seasoned detective. Jesus began to sweat. He took off his hat to wipe his brow. Without the cap, the bald man didn't bother Reagan as much. He put the cap away and sat down on the grass. Reagan picked a spot next to the worn-out and nervous man and sat down, too. She started licking him. It was easy to tell he was uncomfortable. Truth be told, Jesus isn't a dog person. Never was. As Reagan began to think she could get used to this stranger, Jesus began to wonder if he'd made a mistake.
•••
Jesus Martinez always wanted to be a cop. He joined the force in 1985 and started out on patrol in South Dallas. That's when he met Arleen Esther. They patrolled together, and, a year-and-a-half later, they married. Jesus then went to the gang unit and did undercover work in narcotics for 11 years, over the course of which he served 1,500 search warrants. Tom Smith (whose name has been changed because of his undercover work) joined the narcotics division a few years after Jesus.
"Narcotics is one of the toughest things for someone to train you to do," Smith says. "There's a term for it. It's called 'knocking the blue off of you.' Your trainer has to train you to not be a cop anymore." As Jesus taught Smith to lose the control in his voice and stop monitoring the restaurant door while eating dinner, the two formed a tight bond. They've survived a gun fight (wherein Jesus shot and killed a man and Smith lost a finger) and several seasons of The Bachelor (who says tough guys aren't sensitive?). "He's one of the best undercover officers we've ever had," Smith says of Jesus. "There are the guys who buy the $10 bag of weed, and there are the guys who buy kilos of cocaine and heroin, and that was the level Jesus was at."
While Jesus worked his way through DPD, his wife did, too, trying to land her dream job. When Arleen was 13, she met a cop with a canine, and from there, she knew she wanted to be in the canine unit. When Arleen applied for the department in the late '80s, she was turned down. Twice. "They didn't want a woman in there was what you kind of got the sense of," she says. At the time, DPD's policy was that if they turned down a candidate three times, they had to tell her why; otherwise, they had to accept her. Arleen applied for a third time and was finally accepted.
She was given a 9-month-old golden retriever named Zak. She worked him for seven years, making some of the greatest hits the department had seen and breaking down barriers not only for women in the unit but also for the use of dogs in narcotics. In his seventh year, Zak had to retire due to a spinal disease. Arleen tried to work another dog, but her affection for Zak was too strong, and she transferred out of the unit. As his disease fused his spine together, Zak had to be put down, but his legacy lives on in the couple's 21-year-old son. "Mom had always said that if he was a person, he'd be the coolest person ever," says Zak, the couple's firstborn.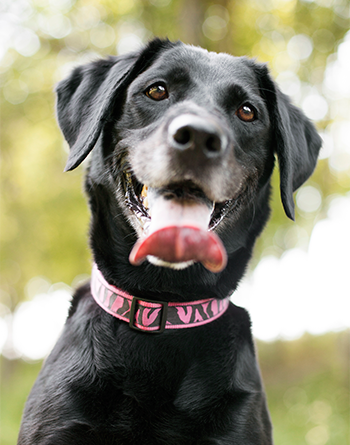 When Arleen got pregnant with the couple's second child, Brooke, Jesus decided to make a change and followed in his wife's footsteps. While it had been Arleen's dream to work with police dogs, Jesus hadn't given it much thought. Though there are many photos from Arleen and Jesus' time in the department lining the family's second-floor hallway, there's one in particular that motivated Jesus. It's of Arleen and Zak, the dog. It was sent to them by the DA's office, and it was taken after the pair found $1 million in the gas tank of a car. "She got great hits, and that's what I wanted, too," Jesus says. But his wife warned him that it would take a lot of time and a lot of patience. "I told her, 'You were a great dog handler. I don't understand.' She said, 'But it's a lot of work to get to that point at the beginning. I didn't think I was going to be able to get there.' "
There have been times in the past 11 years that Jesus didn't think he would, either.
•••
When Jesus got Reagan home, he introduced her to his family and their house. There was a pool, which she immediately hated. Not only would she not go near it, but she was nervous anytime anyone in the family did. There were white ceramic turtles around the pool. Must be destroyed! A cooler the city bought Reagan as a welcome gift. Destroy! And shrubs that were irresistibly pristine. Destroy! Destroy! Destroy! Reagan was wearing on Jesus.
"I actually called one of the other detectives and said, 'I think I made a mistake,' because I was going crazy," Jesus says. "  'This ain't working. I'm not connecting with her.'  " He found that while they did great at the ranch, once they got to the real world, with real smells and real distractions, Reagan forgot her training and Jesus forgot his.
Reagan made it apparent from the beginning that she wouldn't be a cuddly, loving pet for the family. Anytime they tried to show her affection, she ran to fetch her ball. Play? She wasn't a fan of the other pets in the house. There were fears that she may eat one of them if given the chance.
There were other issues, too. Reagan is a big dog. She's not fat; she's just muscular. The 84-pound dog has always been lean and slick, with long legs and big paws. Because of her size, she has never liked getting in cars. She has never enjoyed getting in and out of crates in the back of the police-issued SUVs. When Jesus was teaching Reagan how to search buses for drugs, he literally had to show her how to do it. While buses loaded and unloaded passengers and luggage, Jesus shrunk himself down and sat in the luggage compartment, playing with his dog by throwing a ball. "I looked pretty stupid," he says. It amused her.
Reagan was conscious of her size, but Jesus was always a bit concerned about her strength. If he handed the leash off to someone else, she would take advantage of the unsuspecting person and bolt before they realized her power. Sucker! Once, Reagan pulled Jesus into an open bay door of a bus. "I wasn't ready," he says. "I should have been." Reagan felt awful and sat beside him, licking the blood off his face. Nine staples and several years later, Jesus' bald head now sports a jagged 4-inch scar.
Another thing the two had to figure out was how to communicate. For a dog to become successful in the interdiction unit at DPD, it has to continually be trained. Reagan was first taught to find drugs with the use of a PVC pipe. Jesus quickly realized that was not working for her, so he switched to the bright red toy called the Kong. It's so chewy! He soaked cotton with the various narcotics and shoved it in the middle of the Kong. Then he played catch with Reagan. She loved the hide-and-seek game they played: Jesus would pretend to throw the Kong into a pile of luggage or around a few cars, and Reagan tried to find it. If she succeeded, she got to play. If not, she went back to the crate or they'd start again. When most dogs think they've found the toy, they scratch aggressively. Look! It's here! I know it's here! I want to play! I found it! Here! Here! Jesus learned that wouldn't be Reagan's style. When she hit on a smell, she would sit down and look right into Jesus' eyes. Hey, you, pay attention. Then she would lift one paw and give one swipe where she thought her beloved Kong was. That was it. The look, the raised eyebrows, and the single paw swipe. That was all it took to find millions of dollars carefully hidden behind car panels.
•••
It took awhile for Reagan to overcome her size insecurities and for Jesus to figure out what she was saying. But after about a year of training and dry runs, the pair got their first call.
Police had been following a major offender, who they knew trafficked narcotics and weapons. They pulled him over on an outstanding warrant and searched his car. They found nothing. Jesus' friend Tom Smith, who was working the case, called him up. "I was nervous," Jesus says. "I was really nervous." An informant told the police that there was a secret compartment in the white Cadillac the suspect was driving. Though he'd been working with Reagan on getting in and out of cars, Jesus wasn't sure how she'd react. He threw the Kong inside the car. She jumped in—nope, don't like it—and promptly jumped out. Jesus threw the Kong again. This time, Reagan decided to give it a go. She sniffed around the glove box, looked at Jesus, lifted her paw, and swiped. Jesus called her out and rewarded her with playtime while Smith pried open the air bag compartment above the glove box. Inside, they found a kilo of cocaine and a stolen 9 mm pistol. "It was the most gratifying feeling," Jesus says. "I could not stop hugging her, playing with her. This is it. We clicked."
Then there was the time the pair was called in 2009 to check a coffin. Detectives had followed a van to a known drug house. The van had come from a funeral home in Arkansas and was transporting a coffin. Police pulled the man over for not wearing a seatbelt. They suspected drugs. Jesus got the call. "We didn't want to move the coffin out of the van, because we weren't sure if there was a body in it." Jesus ran Reagan on the coffin.
No body.
Lots of drugs.
She lifted her paw and swiped. They opened it up and found 100 pounds of marijuana. The story got so much attention that, later in the week, Jimmy Fallon included it in his monologue.
As the hits kept coming, detectives took notice. Reagan was not only great at finding drugs, she also had a nose that could smell drugs on money. A Chevy SSR had been sitting in the police pound since July 2011. In December of that year, the DA's office called Jesus and said someone had described the vehicle and said there was money somewhere in it. Jesus took Reagan to the pickup. She jumped in, sniffed around, looked at Jesus, and lifted one paw to the spot between the tailgate and where the hardtop roof retracted. Something's here. In that concealed spot were two bags with $50,000.
But then there were the misses. "It's very stressful, because you depend on your dog," Jesus says. "Your dog can be the hero one day or be the lowest of the low the next day because she didn't hit on something or she didn't act right. She's not on her best day, or you're not on your best day, and you miss something, and then your dog's got a bad name."
Jesus was taught that the leash was a direct connection between Reagan and him. If Jesus was in a bad mood, Reagan was in a bad mood. If Jesus was not feeling well, Reagan was not feeling well. And there were the elements: heat tired Reagan—any dog, for that matter—quickly. If Reagan started to pant, she could no longer smell. When it was cold, the scent was harder to pick up. There was also the fact that the smell of narcotics can remain long after the narcotics have been removed. So Reagan sometimes reacted to something that existed two weeks ago.
"When that happens, you lose a little confidence in your dog. You don't apologize for the dog. I apologize for putting the detectives through that work." The first thing Jesus did after a false hit was call his friend Smith, who transitioned to the same unit a few years ago and works his own dog, to talk through what happened, what went wrong, and where to go from there. "We're each other's support system," Jesus says.
While misses are a part of a narcotic dog's daily life, there came a time in January 2012 when Reagan's misses began to pile up. There would be times when Reagan was working, and then suddenly stop. She froze up and stared at the wall in front of her. A little shake would make its way through her muscular body. Reagan started spending more time in the closet at the top of the steps in the family's home, a place she went only when she was really afraid (such as the night when Jesus and Smith got into the gun fight, while Reagan was nearby in the SUV). She became forgetful. Her eyes were empty. Her once perfectly black coat had white spots near her elbows and around her muzzle.
Eventually, Jesus packed up Reagan and drove her to the Casa Linda Animal Clinic in East Dallas to see their longtime vet, Debora Charles.
Charles knows Reagan well. "Everyone that walks in here has my best interest at heart," she says of her DPD clients and their handlers. "I know they're here to take care of us, and I know they put their life on the line every day to take care of us." She remembers charting Reagan's demise. Among the years' worth of notes about bouts of diarrhea and hot spots, there's a letter Charles wrote on August 7, 2012. "I'm writing this letter in regards of Reagan, an 11-and-a-half-year-old black Lab," it reads. The letter says that Reagan was diagnosed as having psychomotor seizures, and was referred to a neurologist. After several months of tests, it was determined that Reagan had dementia. "She will continue to deteriorate with time," Charles wrote in her letter. "I recommend retirement due to lack of dependability that is necessary for her work."
Jesus remembers the day the specialist broke the news to him. During the appointment, he sat with Reagan and hugged her close. When they went out to the car, he sat down with her and cried.
•••
"You don't want to work them until the day they're gone," says Smith, who inherited an older dog when he joined the interdiction unit and retired him shortly after. "You want them to retire and be a dog."
Reagan took the news about as well as her handler. The first few months after she retired, she became very depressed, walking slowly around the house and sleeping her days away. Her once alert eyes turned dull. She had problems walking down the steps, and the gray on her muzzle grew more prominent on her dark, shiny coat. When Jesus left for work, she would sit at the front door and put her nose through the blinds to watch him go.
Then Weez appeared.
Weez is a high-energy chocolate Lab. He was surrendered by an elderly man who couldn't handle the dog's erratic behavior. When Reagan retired, Jesus debated whether he should get a new dog. The 49-year-old had six years left in the department. If he got an old enough dog, they could time their retirements together. But there's the whole aspect of getting another dog. "Reagan and Jesus were a good canine-handler team," Smith says. "I hated to see them broken up." Jesus struggled with training the new dog. Though eager to please, sometimes Weez was a little too eager, running into gates before they were opened and trying to jump into the back of Jesus' SUV before the hatch was opened. It took a few months, but the two have started to figure out their system.
"Now, thank goodness, Jesus and Weez are doing great," Smith says. "It's probably the most frustrated I've seen him. I've seen him in stressful situations before, but he was more stressed out about this. It's not that Weez or Reagan are better dogs. They're just different. You have to get used to a dog's personality, like people."
Reagan didn't like Weez. But the new member of the family had an interesting effect on her. If Zak, Arleen, or Brooke wanted to throw the ball for Weez in the backyard, Reagan begrudgingly allowed it, watching from her sunny spot at the top of a hill. Stupid dog. If she saw Jesus playing with the new dog, she rammed her head into the door until he stopped. Stupid, stupid, stupid dog! There's a little spot on the beige carpet in the family room that has an outline of Weez's crate. He is brought in only when it's cold or too hot outside. While Weez sits in his crate for the evening, Reagan wanders freely through her house, often passing close to Weez. Ha! You're in there, and I'm out here. You sleep in a crate, and I sleep with the humans. With a rookie in the house, Reagan began to perk up.
Now, she has almost fully adjusted to her new life as a retiree. She wears her pink-and-black, zebra-print collar proudly and is now bossy, pushy, and a bit demanding. Where's my dinner? She's still not a fan of other animals. It has gotten to the point that when she goes to the vet, the waiting room is cleared, Arleen runs her in, Reagan is given her shots, and Arleen runs her back to the car. Then, Arleen has to run back in to pay the bill.
"This shows you how resilient she is to age," Zak says. "She's the same now as when she came. She'll give as much energy as she has. She'll give it all."
Though she has cataracts growing on her eyes, and her steps have slowed down, Reagan has some fight left in her. Much has changed about her (she doesn't mind baseball caps as much), but some things have stayed the same. She still prefers to chase a ball over getting a belly rub.
"She looked really sick when I retired her," Jesus says. "As soon as I brought the dog home, she got so much energy."
Hey, throw the Kong already!

Get the D Brief Newsletter
Dallas' most important news stories of the week, delivered to your inbox each Sunday.