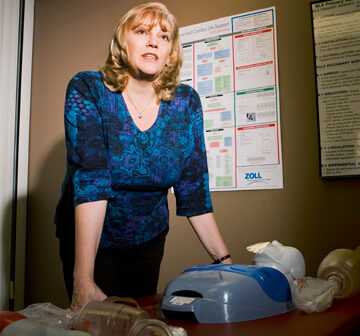 According to her, the chief was part of the problem: his idea of a recruit pep talk in 2008 was to tell the troops, "Go be a PIMP!" (using the word as an acronym for success, he said) and he sang lines from the hip-hop song "It's Hard out Here for a Pimp" outside Siri's office door. The department had budgeted $175,000 for training on racism and sexual discrimination, but Burns refused to spend it, Siri says. (They used some of the money to buy an embroidery machine.)
Siri lost even more respect for the chief when she found evidence of his possible romantic liaisons with city staff. One day, he left his phone behind and asked her to retrieve it. She discovered a deluge of sexually explicit messages with a city employee, whom the chief had sent a sexy photo of himself titled "just for you." Burns eventually hired the woman as the department's equal opportunity compliance manager. He has denied having an inappropriate relationship with the employee. The chief, a man known to pull out his Bible and quote from it, also had a sexual relationship with another city employee, Siri claims in her lawsuit. She and her lawyer, Amy Davis, are fighting with the city's legal team to obtain their phone records.
Making matters worse, the chief's weaknesses weren't just limited to the flesh. According to Siri, Burns' job was too much for him, and he delegated many of his duties to her, including writing his e-mails and speeches. "I'll handle the fire side, and you do the management," she says the chief told her. Word got out that she was running the fire department. The blow back singed them both. During a meeting once, City Manager Mary Suhm asked Burns a question, Siri says, but the chief stopped in midreply and turned to Siri to finish his sentence. According to Siri, Suhm warned Chief Burns: "That's why they think you are weak." After that, Siri claims she was ordered to be seen and not heard at fire meetings. Chief Burns once kicked her under the table—hard—to make sure she didn't forget.
Contrary to Siri's account, Chief Burns says the first time the city heard about some—if not all—of her claims was when she sent a 37-page demand letter to the city manager and then abruptly filed suit, before the Texas Workforce Commission and the U.S. Equal Employment Opportunity Commission finished reviewing her allegations. Even if his department is male dominated, Burns says, he does not believe that Dallas Fire-Rescue is a difficult place for women to work, much less openly hostile or degrading.
So what should one make of Siri's complaints? Is she simply overwrought, or out of touch, or a gold-digging liar? Siri has had trouble with another fire department. Before she was hired in Dallas, she conducted leadership training for Richardson's firefighters. But she apparently couldn't establish good rapport with them, and the next time they needed to do the training, they hired someone else (another female civilian). And this champion for women's rights included in her original lawsuit two of the four female chiefs leading Dallas Fire-Rescue: Assistant Chief and Fire Marshal Debra Carlin, a respected administrator and trailblazer in her own right, whose father, husband, and son all fought fire; and Cynthia Michaels, whom Siri accused of leering at the breasts of subordinates and Siri herself. (Both declined to comment.)
===Wilson ripped off her mask and inhaled syrupy smoke. Outside the burning house, she fell to her knees. After the blaze was contained, the other firefighters circled her, yelling, "Women don't belong here! You should have taken care of your equipment!" "I know I checked every little thing. I had been
sabotaged," Wilson says.!==
Dallas Fire-Rescue began its struggle to integrate women into the ranks in 1977 with Sherrie Wilson. Wilson was 20 years old when she walked into the firehouse to begin work as the department's first female firefighter. "Good morning!" she said, flashing her brightest Duncanville Pantherette cheerleader smile. The guys beamed back at the 6-foot-tall woman, but no one said a word. Then the captain walked over and started humping her leg.
Wilson didn't know what to say. Finally she asked, still smiling, "Are you finished?"
"I just wanted to find out what kind of a sport you are," the captain said.
After that, the men of Fire Station 3 taught her everything they knew about fighting fire and riding the box. "They treated me like a sister," Wilson says. Of course, there were more scrapes after that. One time, the guys cuffed her to a tree and set off the sprinklers. But she gave as good as she got. If a guy popped her on the butt with a towel, it didn't bother her. "I might turn around and slug him on the arm, but I'm not going to run to the chief and go, 'Waaah, he sexually harassed me!' That's not how we play," says Wilson, who is 51 now and still works for the department, in dispatch.
But there was one incident with her fellow firefighters more frightening than horseplay. Wilson was just a rookie swinging to a shift at an unfamiliar station. The guys seemed as nice as could be. Too nice, she thinks, looking back.
At the beginning of her shift, she walked through her ceremony of preparations. She checked for water leaks. She set her boots facing the engine so she could grab the rail, step in, and throw her suspenders on. She laid out her coat so she could find it in the dark, and she gave special attention to her air mask. She strapped it on to test its seal. She swiveled it a three-quarter turn and purged the air valve.
At 10 that morning, the bell hit, and they raced to a burning frame house. Wilson pulled her mask on, stretched her fingers into her gloves, and hunkered inside the inferno with the water hose. The air was thick with black smoke from a burning baby mattress. Someone stumbled into her. Then she heard the base of her mask hiss. She tried to take a breath, but no air came, and she started to suffocate. Wilson ripped off her mask and inhaled syrupy smoke. Then she broke the cardinal rule: she handed the nozzle off and abandoned her partner.
Outside the burning house, Wilson fell to her knees. Thick strands of black snot spewed from her nose as she hacked her lungs clear. Through her reddened, half-blinded eyes, she saw the engine driver standing over her, cursing. After the blaze was contained, the other firefighters circled her, yelling, "Women don't belong here! You should have taken care of your equipment!"
"I know I checked every little thing. I had been sabotaged," Wilson says. Afterward, she was out two weeks with pneumonia. But she never said a word. "It was me against this crew of men. I knew I wasn't going to win."
Since Wilson joined the ranks more than three decades ago, Dallas Fire-Rescue hasn't changed as much as one might expect. Today about 1,700 uniformed troops (plus a couple hundred civilians) in one of the largest fire departments in the country respond to more than 500 calls a day. Well over 100 in the ranks today were hired before women were allowed to join, and there are a dozen who have been on since the '60s. Minorities are underrepresented, especially Hispanics and Latinos, who account for just 15 percent of the uniformed ranks despite constituting 36 percent of Dallas' population. But women fare the worst. Less than 6 percent of uniformed fire personnel are female. By comparison, about 17 percent of Dallas police officers are women.
Chief Burns made history as the department's first black chief in 2006, but he landed in a deeply divided department. Each of the major ethnic groups has its own fire association, and their leaders were hardly speaking. In 2005, the department was shaken by a cheating scandal, when the current president of the Dallas Black Fire Fighters Association, James Hunter, was suspended for three days without pay and booted from his post as an academy instructor under allegations that he fed black recruits exam answers during a private study session at his home. (Hunter, as well as his counterparts at the other two fire associations, would not comment for this story.)
Soon after Chief Burns took over, outside consultants released an efficiency study of the department. The study found that response times were generally good, but "undercurrents of racism and sexism are prevalent" and "attitudes ranging from antipathy to hostility with regard to female employees are barely disguised in some areas (especially fire suppression)." The Berkshire study found that all racial groups felt resentful, and 44 percent of women surveyed did not think they were treated with as much respect as their colleagues. The consultants cautioned in their 2007 report that "given the unique environment in which fire and EMS professionals operate—they essentially live together when on duty—addressing these tensions is extremely important."
Now the department expects to lose some 60 percent of its force to retirement or attrition by 2012. But with a new, rigorous agility test (replacing one that Rosie O'Donnell could ace, firefighters had complained), the percentage of women among the uniformed ranks hired under Chief Burns' watch has fallen to 4 percent, according to a roster released to D Magazine.
These problems are not unique to Dallas. A 2008 study partially funded by the Ford Foundation titled "A National Report Card on Women in Firefighting" found that women comprise just 3.7 percent of the force on average, up from approximately zero percent in 1980—far lower than the 184 other dirty and dangerous occupations studied, including bus mechanics, soldiers, road crews, loggers, garbage collectors, roofers, and septic tank servicers, where women averaged 17 percent of the workforce. Decades of all-male staffing had allowed an Animal House atmosphere to take root in many firehouses, the researchers found, where sexually oriented conversation, pornography, and homophobia were common, and women reported being subjected to "pranks" that included putting human feces in boots and cutting off their water supply at fires. Some also reported a male expectation that women would date their fellow firefighters and stations where until recently the only women around had serviced on-duty male firefighters, which was so common that it had been nicknamed "getting laid and getting paid." More than 80 percent of the women surveyed in fire departments nationwide reported they had been treated differently because of their gender, 51 percent had been shunned or isolated at work, almost 43 percent had been verbally harassed, and 6 percent had been assaulted—though most had not reported the incidents for fear of retaliation.
If senior fire managers don't address these problems, they'll be forced to by expensive and disruptive litigation, concluded Marc Bendick Jr., who co-authored the study. "Gender inclusion is the new standard to which departments are likely to be held by the courts, the elected officials to whom they report, and the citizens they serve," he wrote.

Get our weekly recap
Brings new meaning to the phrase Sunday Funday. No spam, ever.