It felt like fate, the events that led Leanne Siri to work for Dallas Fire-Rescue. She was about to snorkel off Grand Cayman during a Caribbean cruise three years ago when she got word that her 20-year-old son, an engineering college student, had crashed his Camaro. The fire chief of Lewisville, Richard Lasky, heard the collision while relaxing at home and leaped from his recliner to help, pulling Siri's son from the mangled car. The boy's brainstem was torn. His friend in the passenger seat was dead. It seemed pointless, but Lasky held his airway open until paramedics arrived.
A month later, as Siri camped at her son's bedside in the hospital, she called Chief Lasky. He said, "I'm so sorry you lost your son."
"Oh no, no, no," Siri said. "He's alive. Thanks to you." Thanks to an off-duty fireman who cared enough to stand up and help a stranger.
Two months after the accident, Eddie Burns Sr., then a deputy fire chief in Fort Worth, told Siri he had been selected to lead Dallas Fire-Rescue. He asked if she'd come onboard. As a corporate coach, Siri had worked with Burns before. Now he wanted to create a job for her as an executive officer in charge of organizational development for the entire Dallas department. It would be a tough assignment. She'd be an outsider working for the department's first black chief. And the position would pay her only about a third of her current income. But the job would require less travel and allow her to stick close to her son, who had just surfaced from a coma. What's more, she had a debt to repay. "A fireman gave me my son back," Siri says, her voice trembling. How could she say no?
If fate led her to the department, something less poetic drove her from it. Three years after signing up, in April, she filed complaints with state and federal workforce commissions and sued the city and several fire chiefs, alleging that she had been sexually harassed and discriminated against repeatedly during her tenure as the highest-ranking civilian woman in the department. Siri even accused her onetime benefactor, Chief Burns, of perpetuating a long tradition of hostility toward women in the fire service by ignoring complaints and promoting known offenders. "You can talk passionately about equality, diversity, and leadership," she says. "But when it came down to having the guts to do something about it, he went the other way."
Siri isn't alone. Six other female employees of Dallas Fire-Rescue have stepped forward recently complaining of sexual harassment or discrimination. Their stories and a review of hundreds of pages of internal affairs reports reveal a deeply troubled fire department in which women have been marginalized and, in a couple of instances, even assaulted as supervisors allegedly took no action. Whatever becomes of their cases, these women and their accounts of decades of mistreatment have blown the doors right off the fire station.

===To those critical of Chief Burns, Siri was the embodiment of his missteps. She may have walked the walk of an executive leader in suits and long skirts, but many of the troops saw this buxom blonde intruder as "Satan in heels."!==
Chief Eddie Burns was supposed to be the face of change for Dallas Fire-Rescue. The charismatic, handsome new chief with the gleaming smile, the clipped moustache, and the "Leadership Under Fire" mantra set out to put his mark on the department. A week after he was sworn in as chief in April 2006, Burns looked out into a conference room of the World Trade Center packed for the department's annual awards ceremony and promised to turn Dallas Fire-Rescue into a "world-class" establishment. "Together we will blaze the trail into the future," he said. "This is going to be a fire department we can all be proud of."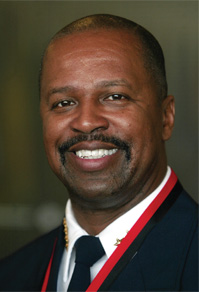 Burns did go on to make notable progress. He opened training opportunities to the entire department that were once reserved for a select few. He relieved some of the pressure on the EMS division by adding a new rescue station, and he increased the department's CPR survival rate by 55 percent. He secured $3 million in grants for the urban search and rescue team. He even got the presidents of the three squabbling firefighters' unions to sit at the table together, and he has diversified the command staff as fire departments across the country are striving to do.
But Chief Burns' first impression on the department wasn't good. His remarks that day at the World Trade Center were not well received by many of the firefighters sizing up their new boss. "We were all looking at each other, scratching our heads, saying, 'Did he just—?'" says one firefighter with more than 20 years of experience. "It was very insulting." Another firefighter puts it this way: "What the hell were we before [he got the job]?"
Burns' supporters say the resistance was to be expected. "The man is trying to do something with this department that has never been done before," says James Hill, a firefighter with 34 years of experience who is press secretary for the Dallas Black Fire Fighters' Association. "But people are comfortable in their own lounge chairs."
Burns refused to be interviewed for this story. But he told D Magazine in writing: "Changing perceptions takes time, but it is possible to do so. I am proud to be a member of this department, and, as a team, we will overcome the past misperceptions."
Burns wanted Leanne Siri, a white woman with a corporate background, to round out his "rainbow coalition" and serve as his right hand as he shook up the old guard, Siri says. Instead, to those critical of Burns, she was the embodiment of his missteps. Siri may have walked the walk of an executive leader in suits and long skirts, speaking with confidence and authority, but many of the troops saw this buxom blonde intruder as "Satan in heels." D.D. Pierce, the president of Dallas' most powerful firefighters' union (who was once punished for choking out a female firefighter during a firehouse spat) led the charge against the "fluff" and Mount High. He and the other rank-and-file firefighters were furious that the new chief wasted money hiring an outsider to do his job when what they really needed was more mechanics and backup equipment not held together with baling wire. Their view of Siri wasn't personal, one veteran firefighter says. "It could have been Joe Montana," he says; they still would have rejected him.
Siri was incredulous when she heard their murmurings of revolt those first days at work. Macho culture she could handle. She has navigated the world of corporate boardrooms, raised three sons, and married a police sergeant. But the attacks at Dallas Fire-Rescue continued, Siri says, behind her back in the hallway or spat right to her face in command staff meetings, until the effort to fight them off became physically and emotionally exhausting. They would say it under their breath after she walked into the room, loud enough so she could hear. "She's the one f—ing the chief," Siri repeats, cringing. Or, even worse: "n—er lover."
In her previous career as a Leadership Management International franchisee, Siri won contracts with the federal government, Dell, and Citigroup. She served on President George W. Bush's business advisory council, was Texas Businesswoman of the Year, and received the Congressional Gold Medal of Leadership. But many firemen and paramedics assumed that she had slept her way into the job with Dallas Fire-Rescue. A strong leader would have swept the soot out of the chimney before it caught fire. But the rumor spread, and, after WFAA submitted an open records request, Burns and Siri were forced to share their e-mails and phone records. The reporters found nothing, but the attacks and outrageous behavior continued.
Joel Lavender, the beaming face of the Dallas fire department for years when he worked as a public information officer, e-mailed her a message portraying a naked woman, Siri says. When she walked into the office of James Adams, then head of internal affairs, to discuss diversity and harassment issues, she was startled to see a large photograph propped on his desk of a nude woman bearing a rifle. And then there was the time a male medical presenter flashed Siri and a room full of mostly men a slide of a woman with her legs spread during a breech birth. His title for the slide: "Pucker Up."
The command staff—the leaders expected to set the tone for the department—treated her with the same lewd disdain, she says. Assistant Chief Robert Bailey summoned her by making an hourglass shape with his hands. Battalion Chief Max Kirk allegedly announced, "We'd be better off if she stayed in the kitchen." And Deputy Chief Kenneth Johnson told her at a commanders meeting in front of Chief Burns and everyone: "I don't think a woman should be in your position." When she protested, "This is sexual harassment," Johnson refused to apologize. Instead, he offered her a hug.
Most bosses would consider the behavior Siri describes in her lawsuit as firing offenses. Not Dallas Fire-Rescue. When Siri complained about all this, Chief Burns just shook his head and said, "That's firefighters," Siri claims.

Get our weekly recap
Brings new meaning to the phrase Sunday Funday. No spam, ever.