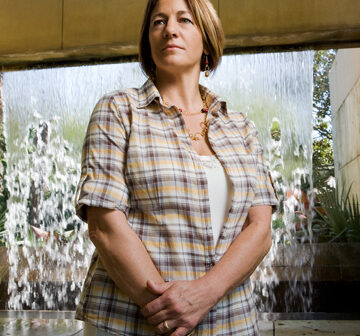 Long before Chief Burns arrived in Dallas, fire department supervisors often looked the other way or covered up ugly incidents, according to
D Magazine's
interviews with current and former firefighters and a review of disciplinary files. After Burns took control of the department, Siri and others allege, he continued the tradition, promoting commanders widely viewed as incompetent or perverted. Leanne Siri wondered: "I'm an executive woman. I dress professionally. I act professionally. I come in with the chief as a team. If people see this, and they are still brazen and bold enough to have said and done the things they did to me, as a top executive, think what's happening in the firehouse."
Exhibit A: Deputy Chief Bobby Ross. In her lawsuit, Siri accuses him of repeatedly trying to hug her after she asked him not to touch her. She also describes two incidents that other firefighters have verified: Ross allegedly took a liking to a rookie's girlfriend and had his fire service driver take him to her house to proposition her; in another incident, he allegedly made a female rookie lie on the ground and roll an abs wheel back and forth, forcing her to thrust her buttocks into the air while he stood behind her and licked his lips and made dirty comments until she ran from the room in tears. The woman got her father, a lawyer, involved, but there is no mention of it in Ross' personnel files, released to D Magazine under open records law.
Another item absent from his official disciplinary report is a complaint alleging that Chief Ross looked the other way while a veteran firefighter regularly had sex with his mistress while on duty, spending hours in the firehouse parking lot, in the backseat of her car. Other firefighters complained that they had to wait as long as five minutes when the bell hit for the guy to pull up his pants and get in the engine. "Their investigation consisted of 'Did you do this?' And he said no," an officer with more than 20 years of experience says.
Chief Ross' personnel file does mention that he was rebuked in 2002 for asking a firefighter sitting at the station's kitchen table, "Where do you think your girlfriend is right now? Do you think she is faithful? I bet she is sucking a big c–k right now or riding one." That firefighter also complained that Ross had tried to intimidate him by twice driving by his house unannounced, but the guy who spoke up was warned in a severely worded letter: "Members who make false and malicious allegations of workplace violence will be subject to disciplinary action."
Promotions like Ross' have cost Chief Burns the confidence of the troops in the field, the veteran officer says. "Your loyalty should be to the citizens of Dallas, not your buddies," he says. "You know: protect and serve, all that good stuff."
Next exhibit: Clyde B. Sherpell Jr. He had been warned repeatedly by his ambulance partner to stop hitting on patients they transported to the hospital. Sherpell was accused of sexual assault in 2006 for allegedly massaging a woman's nipples and offering her $10 to perform oral sex on him en route to the hospital. The woman didn't want to press charges, so the department treated it as a "he said, she said" matter. Sherpell was fired in 2008 only after he admitted he told another patient that the reason she couldn't keep a man is because she didn't swallow.
Then there's Michael D. Howard. He had been in the department less than three years as a fire prevention officer when commanders received two complaints about him in August 2008, one from a civilian and another indicating he had been stalking his female co-workers. According to Howard's disciplinary records, he was inspecting a woman's apartment when he began flirting with her. He later returned to her apartment in uniform and, after a few pleasantries, asked, "When are we going to do something?" By "something," he explained, he meant rub her down with baby oil and have sex, according to the woman's account. When she told him he had the wrong idea, he said, "Whatever. I don't need some ghetto bitch. I was just trying to help you out, but you can't get nothing without giving something."
That incident could not be proven. However, investigators eventually discovered that Howard had asked out at least five of the women he worked with. "He hits on us," they reported, but they didn't want Howard to "get mad at them" so they asked a supervisor not to pursue the matter.
The firewoman who eventually made an official complaint about Howard said he repeatedly called her personal cellphone to ask her out, even after she told him to stop. More than once during field training, he reached back to her in the fire engine to touch her leg or her knee. Afterward he kept at it, sending her text messages saying "hey sexy," creeping up behind her as she stood in parade stance to run a finger down her forearm. Howard refuted the allegations but was reprimanded for sexual harassment in January after a months-long investigation. What's remarkable about his case is that the woman endured his unwanted advances for nine months before she turned to internal affairs.
Making a complaint through official channels in the fire department is useless or worse, according to Helen Watts, a firefighter who sued last year, alleging sexual harassment. Watts says she tried to tune out Lingburge Williams, a popular former president of the black firefighters union she worked with after transferring to dispatch in 2004. "He was beyond vulgar," she says. Williams frequently gave detailed accounts of his sexual accomplishments and described how he liked to suck on women's toes, Watts says. (Williams declined to comment. Another female firefighter who works with him said she is not bothered by the way Williams talks and considers him a big, harmless teddy bear.)
What disturbed Watts most was the message Williams left her saying, "I know you have a thing for me." She had never given him any reason to think she wanted to date him, Watts says. Later, when Williams cornered her coming out of the restroom at a party at the Black Fire Fighters Association headquarters, Watts told him off, she says.
It might have ended there but for a late-night incident at the dispatch center. Williams was flipping through the channels on the TV at about 3 a.m. while on a graveyard shift when he stopped on The Entity, the '80s movie about a woman raped by a ghost. When Watts suggested he should change the channel, he came unglued, she says. "He started screaming at me, saying there's nothing wrong with this effing movie, you need to get an effing life, and on and on." At the end of Watts' shift, Williams was waiting for her in the parking garage under City Hall, she says. She saw him and ducked into a restroom, but after five minutes she came out, and he was still there. Watts tried to reason with him, saying, "What if the movie was Mississippi Burning?" Finally, she walked away as Williams raged: "This isn't about a movie! This is personal!"
Watts is a no-nonsense blonde with blue eyes. But her best friend is a black woman, and Watts herself is a member of the black firefighters' association. She asked a former union president to intervene, but it didn't help. "Going through the formal complaint process is very painful, and most of the time there is no result," she says.
When Watts did complain to an officer she trusted, Williams countered with a complaint of racial discrimination. Today Watts is still waiting for the department to open a formal investigation, almost two years after she submitted her written complaint. Watts reported her grievances to state and federal workforce commissions in May and sued in September 2008. Trial is set for February 2010. "No one should have turned on a rape movie," she says. "No one should be talking about their genitals and sex positions at work. All they had to do was the right thing: tell someone to stop. It's that simple."
Poring over personnel files, reading complaint after complaint against men in Dallas Fire-Rescue can desensitize you to the details. Maybe that's how Chief Eddie Burns feels. But in almost every case the women made their official complaints with extreme reluctance because "the fire department's internal complaint system was ineffective," says attorney Aaron Ramirez, summarizing what he considers to be the root of the problem for all six of his Dallas Fire-Rescue clients.
That is certainly true of Sherrie Lopez. The fire service is often called a family, and sometimes that is literally true. Dallas has fourth-generation firefighters in its ranks. Lopez, a 47-year-old firefighter with 17 years of experience, is married to a retired firefighter and her stepson is on the force, too. She used to hang out at her local Dallas station as a kid and watch the firemen suit up and race off in the engine. She joined after a stint in the Army but found the fire service to be tougher on women than the military.
"You know you're always going to have to work harder to prove yourself," Lopez says. "There's a lot of good people out there who will take you under their wing. But there's a lot of guys who want to see the women fail."

Get our weekly recap
Brings new meaning to the phrase Sunday Funday. No spam, ever.