JOIN THE CLUB: Just a few turns off the Silverado Trail in St. Helena, Meadowood Napa Valley is nestled on a hillside above a sprawling estate vineyard. The lodge, suites, and cottages are tucked in discreet pockets surrounded by mossy oak trees and massive redwoods. Once you've checked in, there is no reason to leave. The 250-acre valley property has a health club, nine-hole walking golf course, tennis courts, croquet lawn, and hiking trails. All of the amenities are open to hotel guests, but Meadowood is also a private club where local big-name winemakers and proprietors take their business meetings or play a round between tastings. We don't like to name drop (okay, we do) but we bumped in to John Shafer, founder of Shafer Vineyards, at one of the hotel's restaurants and chatted with Meadowood architect Howard Backen on the golf course.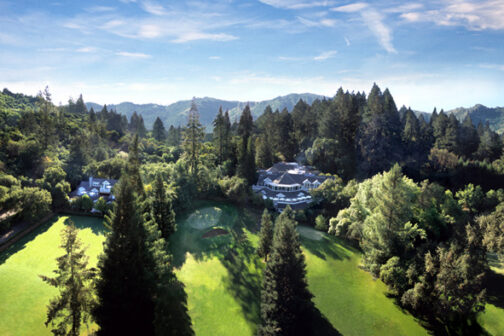 LEARN FROM THE MASTERS:
This summer Meadowood is offering two
International Dining and Wine Etiquette
weekends led by master sommelier Gilles de Chambure and etiquette coach Deborah King. Chambure will wine and dine you for two days. At one dinner at the property's Michelin two-star The Restaurant, we feasted on chef Christopher Kostow's cuisine and delighted our palates with a 1997 Chateau Mouton Rothschild. Kostow uses fresh local ingredients and produce grown in the estate garden. While your foodie fantasies are coming true, Chambure also leads conversations about decanting techniques, proper wine temperature, regional wines, and how changing climate conditions will change the wine industry. King politely drops hints to hone your social graces. She'll show you how to hold a cocktail plate, fork, napkin, and wine glass and still have one hand free to pass out a business card (see sidebar for more).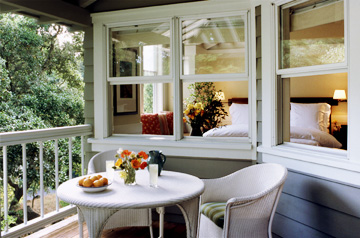 A DATE WITH DELIA:
High atop Howell Mountain you'll have lunch and a private winery and vineyard tour with Viader (pronounced Via-dare), founder and owner
Delia Viader
. Lunch is served with a view of sloping hillsides covered in rows of lush vines catching the afternoon sun. Viader will lead a tasting and point out areas of the vineyard sourced for the wine in your glass. Leave room in your suitcase for the 2004 Syrah ($50).
GET YOUR GAME ON: It's not all about food and wine at Meadowood. You can get a Cascading Stone Massage, take a restorative yoga class, play tennis, or work on your short game with resident golf pro Doug Pike. Make sure to take a croquet lesson with Jerry Stark. He has won five national titles and can show you how to jump a ball and knock your opponent away from the wicket. Don't forget to wear your whites—and to stick to white wine.
GROW YOUR OWN: The founder of Harlan Winery, Bill Harlan, is also the owner of Meadowood and offers an exclusive club for oenophiles. How exclusive? Memberships start at $150,000 a year, and if you want your own row of vines, you can pay $165,000 for the privilege. And we're not suppose to "sip and tell" the names of the famous members, but we did spy a Lance Armstrong plaque hanging at the end of a row of vines. The Napa Valley Reserve is located just adjacent to Meadowood and gives members access to their own a row of vines. Members can be a part of the entire winemaking process from harvest to the barrel to the bottle. Or just design a custom label and collect your cases in two years, after bottle aging. Don't worry; you don't have to rely on your own winemaking skills. Harlan Estate winemaker Bob Levy and resident winemaker Frederick Ammons handle the blending and quality control.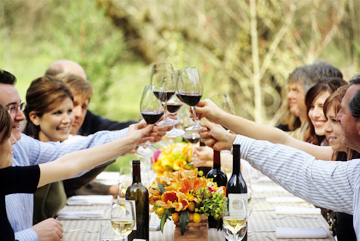 MIND YOUR MANNERS

Your parents did their best. You keep your elbows off the table and chew with your mouth closed. Well done. Now let's work on those smears of red lipstick on your crystal wine glass and white linen napkin. Etiquette coach Deborah King will give you a handful of insights that you can put into action at your next event. She'll cover the basics—what a handshake says about you, who should pick up the tab (no fighting), and the appropriate time to give a toast. In case you're going to a formal banquet or dinner with the Queen of England, you will learn the proper way to sit at a table (it's boy/girl) and who should seat you (a lady never seats herself). For those international travelers, King will touch on regional traditions and take the mystery out of bowing in Japan. One of the group dinners is set up to test your skills at a dinner table. Should you use your fingers when you eat squab? What about the tablespoon method when eating fettuccine? King keeps the potentially ho-hum topic interesting with real-world tips and applications. Go to dmagazine.com/manners to see a video with more tips.
Fast Facts
WHERE TO STAY
Meadowood Napa Valley
900 Meadowood Lane
St. Helena, CA 94574
707-963-3646
meadowood.com
napavalleyreserve.com

HOW TO GET THERE
US Airways (usairways.com) flies directly to Sacramento, which will save you the time you'd spend stalled in traffic if you flew into Oakland or San Francisco.

WHAT IT COSTS
The details for the International Dining and Wine Etiquette
Dates: June 12-14; July 17-19
Cost: $3,800 per couple or $2,450 for individual (includes two nights at Meadowood and group meals and winery tour)
Get the TravelClub Newsletter
Explore the best deals, inspiration, and opportunities for your next travel destination to escape in style.