Review: Cowboy Chow
Deep Ellum gets a shot of culinary courage from chef Jason Boso's Cowboy Chow.
Cookie, clang the dinner bell. The cattle have all been counted, and the vittles are getting cold. Yee-haw, little doggies, Cowboy Chow, the brave new restaurant in the ghost town known as Deep Ellum is open for business. If you love Texas kitsch, you won't be disappointed. If you head in at high noon with great expectations, like I did, you may want to keep your gun in your holster and give the food more than one try before you pull the trigger.
Forgive me for getting carried away with the cowboy way, but Cowboy Chow's head honcho, Jason Boso, is holding a loaded gourmet gun to my head and I have to choose a side. Boso is the dude who started Twisted Root Burger Company, the chef-driven burger joint just down Commerce Street. Since "the Root" opened in June 2006 ("The Dallas Burger Goes Gourmet," January 2008), it's been a popular place for foodies who love great burgers, appreciate the difference between a frozen fry and one made from a hand-cut potato, and swirl home-spun root beer like a fine Bordeaux.
Local foodies are flocking to Cowboy Chow, Boso's funky take on "open range dining inspired by chuck wagon cooking." The menu has a heart of gold—slow-cooked meats braised in a variety of liquids such as Lone Star beer, beef stock, jalapeño juice, tequila, chicken stock, red wine, bourbon, and Dr Pepper. And although Boso, the chef, has created some satisfying meals, he at times gets carried away with his own kitsch. Instead of showcasing his gourmet goodness, he has tricked up some dishes to the point of distraction.
Especially the soft taco selections. Instead of keeping them simple, Boso goes berserk. He takes a flour tortilla, stuffs it with brisket, pico de gallo, sharp cheddar, and finishes it with too much avocado-lime sour cream sauce and a stiff pinch of salt. The result is a soggy green mush that soaks through the tortilla and makes it almost impossible to pick up, much less taste the meat.
On a subsequent visit, we asked for less avocado cream sauce but were ignored, which is a problem considering that seven of the eight soft tacos offered at Cowboy Chow are served with it. To avoid the overkill, we ordered the "taco" as a "bowl," with the sauce on the side. Instead of filling tortillas, the kitchen plops the taco ingredients into a wobbly hammered silver bowl filled with deliciously spicy rice. If you must have a taco, try the pulled peppered chicken with a thick slice of bacon, a handful of cheddar cheese, and go light on the ranch dressing.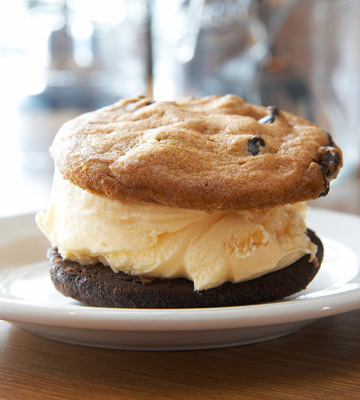 Back to the kitsch. Fried green tomatoes are coated in cornmeal and served "lollipop-style," on a stick. Oh, they're cute, but for the presentation to work, the tomato has to be as hard and round as a wagon wheel, and both times we tried them, they were. Of course, diners all around us seemed delighted with them. I wouldn't be surprised to see them sold at the State Fair next year.
Boso's signature dish, Mash Tater Parfait, takes the blue ribbon. Boso layers brisket, mashed potatoes, melting cheddar cheese, and "cowboy caviar" (black beans and corn), stuffs them into a pickling jar, and tops the concoction with strips of crispy red tortilla chips. It ain't the purdiest dish you'll ever see, but—don't tell Jenny Craig—I ate the whole thing. As I did with the chicken pot pie served in a tiny little Dutch oven filled with chunks of plump chicken, carrots, and peas in a soupy (in a good way) béchamel sauce, topped with a puck-sized puffy pastry shell.
It took me three visits to "get" Cowboy Chow. The brick building provides the perfect backdrop for a saloon-style set. Old black-and-white photos of cowpokes squatting beside the chuck wagon, an elaborate mural announcing "The Great Pawnee Bill Show with live dangerous chefs and Indians," and mounted buffalo heads adorn the walls.
The service gets a deep Deep Ellum discount—they're friendly, flaky, and, for the most part, efficient. And fun-loving: one Wednesday afternoon, as the lunch rush was coming to an end, I lingered over a glass of some of the best iced tea in town and chatted with a friend. As the dining room emptied, the manager walked out from the kitchen with a half gallon of whiskey and a couple of glasses. He set down a pack of Camels and whipped off his Cowboy Chow shirt. The other servers gathered around, and, like the cowpokes on the wall, the group started shooting the breeze. Willie Nelson's "Whiskey River" blared over the speakers.
I glanced from the cowpokes in the pictures on the wall to the group of tattooed whiskey drinkers sitting around their urban campfire, and the concept clicked.
It won't be long before the DART train will stop down the street, and Boso and his posse will be in prime position. That's when the dinner menu will roll and the booze will flow. Don't be surprised to find Boso walking down Commerce with a tin badge on his chest and Miss Kitty on his arm.
Get contact information for Cowboy Chow.