Kenny Bowers must have been one obnoxious kid at the dinner table. You know, the one who was always playing with his food. Fast forward 38 years to a bustling strip mall on Belt Line Road and the Tollway, and you'll find the affable chef still tinkering with recipes, presentations, and menu writing. "I like to do things differently," he says. "I like to take things all the way. You'll either love it or hate it."
Frankly, I'm floating somewhere in the middle. For the most part, Bowers' "fun and edgy" creations make you smile, while others, like a bad joke told in a rundown lounge in the Poconos, force you to roll your eyes as you await the ta-dum drum roll followed by a comedian who deadpans, "I've got a million of these. I'll be here all week."
Take the menu, please. At the bottom of one page, a huge quote—"Don't get saucy with me, Bearnaise"—is Bowers' attempt to make you feel comfortable modifying any dish to your specs. On the flip side, under "The Lawyers Made Us Do It," Bowers writes, "Consuming raw or undercooked meats, poultry, seafood, shellfish, or eggs may be dangerous to your health, especially if you have certain medical conditions (duh)." Not funny to the millions of people walking around with immune systems weakened by diseases such as hepatitis C, multiple sclerosis, or AIDS. Especially not funny when, in 2002, a man died after eating contaminated oysters at Rockfish while Bowers was the corporate chef. Triple not funny when, four months later, another diner digested a raw oyster at a different Rockfish location and died two days later. You'd think somebody would have taken them off the menu. Ta-dum. Duh.
But that was then. Now, Bowers and his partner, Bob "Front of the House" Stegall, who both left the corporate offices of Rockfish to get back into the face-to-face restaurant business, are at the helm of Kenny's Wood Fired Grill. The atmosphere of their new digs is clubby. The service is friendly—at times, overly so. Once our waiter greeted us with, "My name is Chris. What's yours?" They're still looking for the right vibe. On one night Billy Joel and the Bee Gees blared; other nights jazz soothed the room. The food is just as quirky—New England-style with a twist of American-kid kitsch.
And that's not necessarily a bad thing.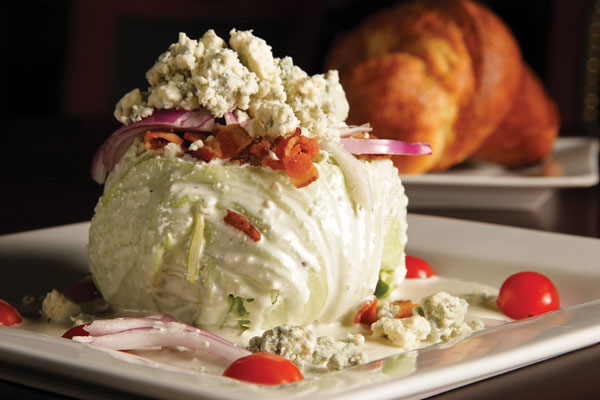 Originally from Boston, Bowers, who in 1993 partnered with Jack Chaplain to open Daddy Jacks on Greenville, brings a touch of Bean Town authenticity to Dallas. Each meal starts with a freshly baked popover—can you say Anthony's Pier 4?—accompanied by a pat of Plugra (read: high fat content) butter. His clam chowder (thin on one trip, chunky another) is thickened with heavy cream and crammed with littleneck clams. (The inclusion of whole clamshells seemed unusual and dangerous to some of my fellow diners, but others claimed they've been served shells in their soup while visiting the East Coast.) Red Sox fans will cheer for Bowers' voluptuously lumpy crab cake served on a painter's palate-shaped plate with colorful dollops of wasabi aïoli, remoulade, and béarnaise for dipping. And, true to form, Bowers' lobster roll overflows with chilled lobster salad—he admits the dish loses money—and, yes, it's mixed only with Hellman's mayonnaise.
However, not all of Bowers' odes to "all things New England," like the love affair with Ritz crackers, fare as well. Everything may taste great when it sits on a Ritz, but when several strips of tilapia are buried under a pile of crumbled crackers, crab, shrimp, and scallops loosely bound with lemon butter, the end result is something altogether awful. Same for the creamed spinach, which resembled, well, let's just say it was too ugly to eat.
But the jokes stop there: Bowers' St. Louis pork ribs are the bomb. Instead of the usual baby backs, he uses spare ribs and cooks them long and slow before cutting them into individual ribs. Somewhere, Sonny Bryan is smiling.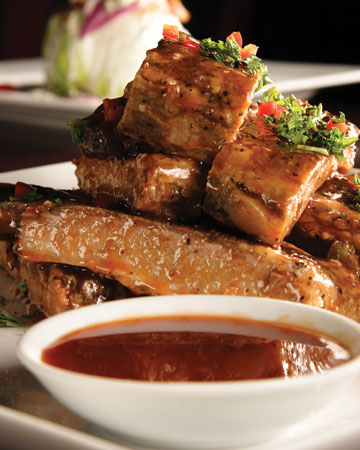 Bowers also excels at making, of all things, a brilliant wood-grilled cheeseburger. Patties are hand-formed from Sterling Silver beef with a 75/25 blend of meat to fat content. He also makes his fries the old-fashioned McDonald's way—fried in beef tallow and salted with special seasoning. Other notable dishes include juicy wood-grilled pork tenderloin served with a mango jalapeño sauce, hot-smoked chunk of salmon served chilled with caper-dill aïoli, and a killer onion soup thick with melted aged Gruyère and popover pieces.
Desserts are tricky treats. Obviously Bowers and local sweets expert Shari Carlson of Dessert Dreams have tapped into their inner upscale child for inspiration. The PB&J sandwich is fun to look at and eat: white chocolate cake is cut into bread-like slices and layered with peanut butter cream and raspberry marmalade. The two triangular halves are served with two shot glasses of dipping sauces—one chocolate, one banana. A chocolate cigar—really an elongated chocolate truffle with one end dipped in a silver powder and a scoop of vanilla ice cream—is served on a chunky glass ashtray. It's really hokey—you can't help but pick it up and try your best Groucho routine: "Time flies like an arrow. Fruit flies like a banana."
"I get a kick out of making people happy," Bowers says. "I don't care if they are laughing with me or at me."
Hah! Kenny Bowers has a million ideas. He'll be around for a long time.
Get contact information for Kenny's Wood Fired Grill.

Get the SideDish Newsletter
Dallas' hottest dining news, recipes, and reviews served up fresh to your inbox each week.