Growing up in a family of six kids, Milan, Aaron, and Ariel Bender amused themselves for years with drawing games at the dinner table. Their father built miniature models in his free time, while their mother worked with stained glass and pottery—so it was natural for the Benders to embrace craftsmanship in their own careers.
For years, Aaron and Ariel played with their glam-meets-punk band, while Milan worked as an independent artist in Austin. When Aaron's now-wife (fashion stylist Stephanie Quadri) saw the crafts he did for fun, she encouraged him to build fashion sets—a move that led him and Ari to create fixtures for Bishop Arts kitchen boutique Set & Co.
"I had years of hands-on experience working at a furniture shop and a custom frame shop," says Milan, who was then considering a move back to Dallas. "When I saw their Set & Co. stuff, I thought, 'If we're doing the same thing, let's all do it together."
Thus, Built by Bender was born. The nearly 3-year-old company has grown slowly but steadily, as the brothers expand their supply of tools and their skill sets: A video set for Eyemart Express led to a "space console" reminiscent of Star Trek for a mortgage company office; and a giant, interactive sculpture for the city of Plano led them to create the Instagram-famous Sweet Tooth Hotel.
They use their all-for- one mentality to develop a creative solution. "We're all self-taught, and we take all that knowledge and transfer it to whatever projects we're doing," Ari says.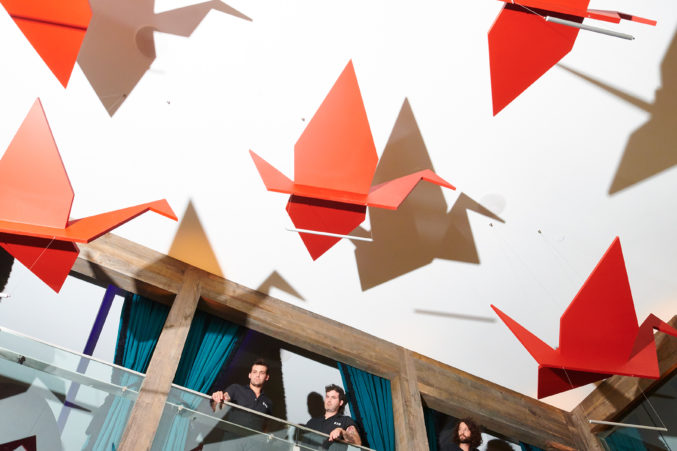 The brothers are just getting started: They recently made LED-lit origami cranes for the new Japanese restaurant Imoto and some "heavily relic-ed" furnishings for its Victory Park neighbor Billy Can Can Saloon.
And there's a good chance the next group of Benders will carry on their creative name—all the brothers are fathers or fathers-to-be. "It would be awesome if we could hand something down to future generations," says Aaron, whose first son will arrive in September.
Get the D Brief Newsletter
Dallas' most important news stories of the week, delivered to your inbox each Sunday.