Assessing her decades-long career with the City of Irving, Convention and Visitors Bureau Executive Director Maura Allen Gast uses the French term, "Cherchez le creneau," which, translated into English means, "Search for the hole." Not long ago, Irving quite literally had such a hole—a massive crater spanning some 80 acres, created by the April 2010 implosion of Texas Stadium. Two years earlier, the Dallas Cowboys, which stood as Irving's most visible tenant for more than 35 years, had moved to a sparkling new temple in Arlington.
Then, in 2016, the Cowboys shifted its headquarters from Irving's Valley Ranch to The Star in Frisco. A year later, the PGA Tour's Byron Nelson Classic, an Irving sports staple for 35 years, moved to southern Dallas. And just like that, the city long known for its high-profile, nationally televised sports landmarks was forced to look for a new identity—and sources of revenue.
It would come, civic and business leaders decided, from conventions and entertainment. The shift in focus made sense. Irving could leverage the strength of its corporate headquarters core, its growing multifamily base, its proximity to Dallas-Fort Worth International Airport, and the new Irving Convention Center, which opened in 2011.
"I think Las Colinas is finally waking up, after a very long siesta."

Randy Cooper Vice Chairman, Cushman & Wakefield
The March 2019 debut of the Westin Irving Convention Center at Las Colinas is the latest of three new high-profile projects that are helping the city execute on its new mission. It follows the late 2017 opening of the Irving Entertainment District, anchored by Toyota Music Factory, and Gables Water Street, a luxury apartment community with more than 60,000 square feet of restaurant and retail amenities.
Irving is better off financially since the Cowboys and the PGA tournament left town, city officials say. Its commercial taxable value has gone from $17.93 million in 2009-2010 to $26.02 million for 2018-2019, with commercial tax value making up a large part of that increase.
Toyota Music Factory, which opened after a series of court battles and delays, was projected to do 60 shows in 2018, its first full year in business. Instead, it hosted 100 performances, which are booked by Hollywood's Live Nation. According to Noah Lazes, president of The ARK Group, which developed and manages the facility, Toyota Music Factory drew three million people to Irving for the various shows.
Texas Stadium would draw 800,000 for a mixture of Cowboys preseason, regular season, and playoff games. Fans would arrive in droves, but just as quickly depart the city after the game. The Byron Nelson would draw 250,000 people—filling the course, the Four Seasons Resort, and nearby restaurants and hotels, but would leave after a single week.
The sports departures weren't a true loss, says Four Seasons General Manager Dirk Burghartz. "We don't accept defeat," he says. "We just reinvented ourselves. So the Cowboys left. So? We just moved on to other areas of our group business."
"I was here for 2017, the last year of the Byron Nelson, and the hotel was busy and the catering was great, but the meeting rooms sat empty and the ballrooms were empty," Burghartz continues. "The year after [the PGA tournament] left, we increased our total revenue in 2018 and increased it again in 2019. I feel comfortable in saying our revenue is up 10 percent since the tournament left, because everything is full now."
Lazes knew the city had to make some changes if it wanted to stop others from following the Cowboys out the door. "We had some forthright talks [with Irving officials]," he says. "They knew they needed to fill the gap." But losing its sports stars wasn't the only reason Irving needed to change. It also had to up its office tenant game.
The city has long been a corporate headquarters stronghold. Thirteen Fortune 1000 companies call Irving home—about one-third of all those located in Dallas-Fort Worth, according to JLL. But the city was seeing increased competition from amenity-rich office playgrounds in Plano and Frisco. "We certainly had to make changes to attract companies," says Beth Bowman, president of the Irving-Las Colinas Chamber of Commerce. "It's a challenge, when a company says they're starting a new chapter and it doesn't include Irving, but we all know it's part of the business."
Changing Dynamics
For decades, self-contained corporate silos were the rage. But more recently, office tenants have been demanding mixed-use campuses, with a premium on walkability. Las Colinas, which bills itself as the "ultimate urban center," has been slower than some of its DFW counterparts to catch on. There was no demand for walkable urbanism in the 1970s and 1980s, when Las Colinas was initially developed, says Chris Leinberger, who recently completed an in-depth study of walkable urban places in North Texas. "Las Colinas has been trying for years to be downtown San Antonio," Leinberger says. "It will eventually get there, with projects like Water Street being added."
Water Street acts as an extension of "downtown" Las Colinas, building upon the somewhat drawn-out nature of the place and adding substance to it. The Music Factory, though, is a more isolated, urban entertainment center. "There is certainly a market for this," Leinberger says. "However, it turns its back on the surrounding drivable sub-urban location, looking inward. … It would have been far better shoehorned into the center of Las Colinas, increasing the urbanity of both."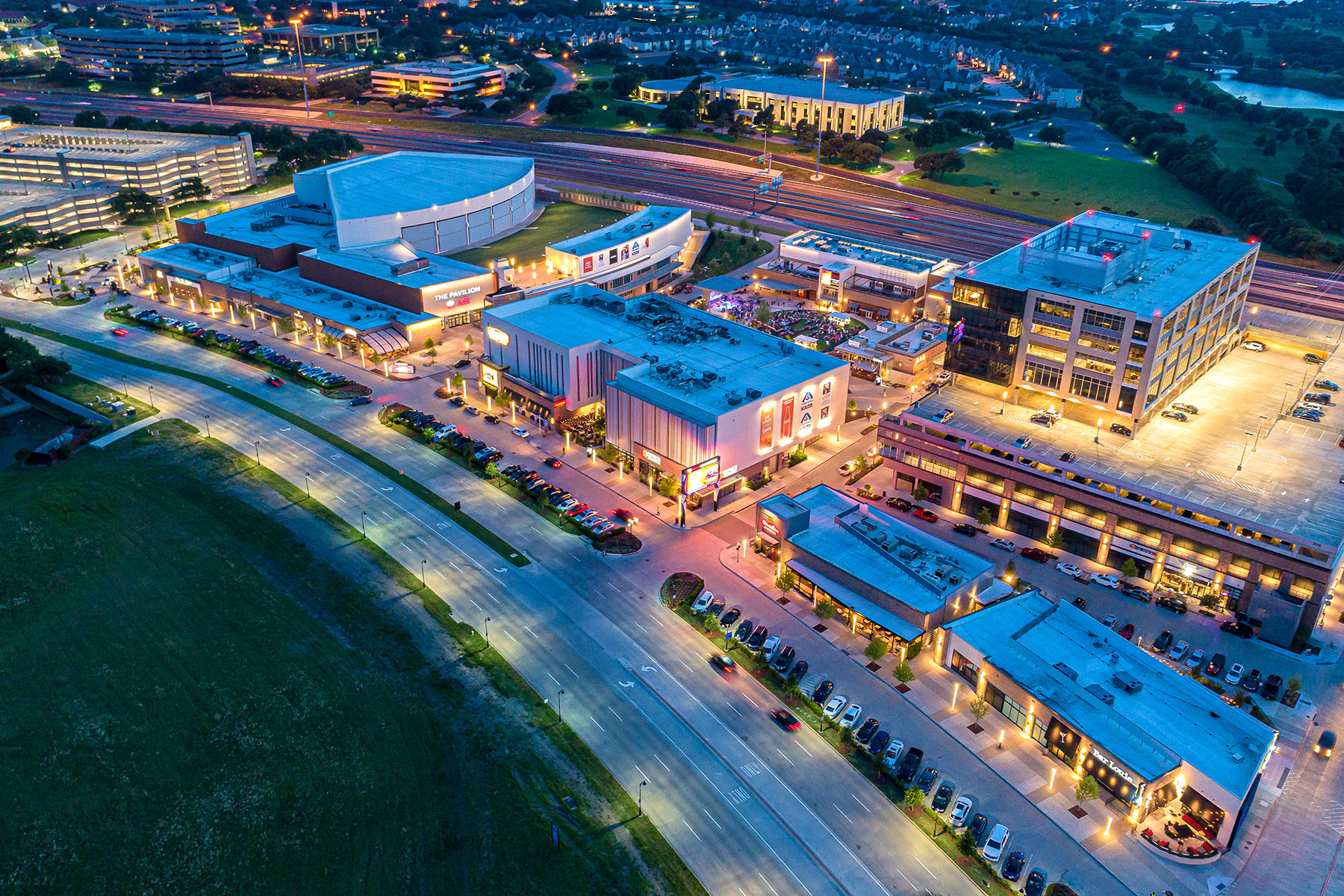 Left: The 350-room Westin Irving Convention Center at Las Colinas, part of Marriott International, opened its doors in early 2019. Right: Toyota Music Factory includes 500,000 square feet of mixed-use entertainment and lifestyle space.
What it does do is provide an entertainment district and huge amenity base for residents, office tenants, and visitors, especially those who stay at the new Westin hotel. It completes a big missing piece of the puzzle, says Randy Cooper, a vice chairman at Cushman & Wakefield who has represented some of the region's largest office tenants. "I think Las Colinas is finally waking up after a very long siesta," he says. "The lifestyle retail has been a huge reason for its success. Las Colinas needed—and now has—retail similar to West Plano and Frisco, with an emphasis on thoughtful and creative retail architecture. The new Westin hotel is beautiful, and the Valencia Texican is very unique." Cooper also cites the quality of office property ownership and Irving's recent road and infrastructure improvements, as well as a new urban park that's coming to the landmark Williams Square Plaza. "Of course, what was really important in the past is still important today, and that's great access to both airports," Cooper says. "That and a tremendous amount of affordable land will most certainly bring in more build-to-suits, to follow Pioneer Natural Resources."
Cooper is referring to Hidden Ridge, a $1 billion, 5G-enabled mixed-use campus being developed between John Carpenter Freeway and MacArthur Boulevard by Verizon and KDC. Among other things, the 150-acre development will house a new 1 million-square-foot headquarters for Pioneer. "I never felt as if the golf tournament or the Cowboys being near Las Colinas had any real impact on the office market," Cooper says. "But it's all in the rear view mirror now."
Complications Along The Way
The first step in funding Irving's non-sports future came in 2007 when voters approved an increase in the city hotel and motel tax to 9 percent. Of that, 2 percent would go to the convention center and 2 percent would go to the entertainment district. The idea was for the convention center, the Music Factory and the new hotel to open at the same time. "But things usually don't work out like that," Gast says.
Indeed, they did not. The convention center was originally conceived in 1999 and proceeded slowly, due to the economic downturn, politics, and competing visions. After a three-year stall, the project restarted in 2006. Aided by the hotel tax boost, the $130 million, city-owned center finally opened in 2011. "The [football] stadium was going down while the Convention Center was going up," Gast says. "The Cowboys leaving forced us to be more resilient and creative."
Getting the entertainment district off the ground was a bit more complicated—to say the least. The ARK Group had successfully built entertainment districts in North Carolina had heard about Irving's desire for a similar project. Lazes began to call Irving's then-city manager Tommy Gonzales in 2011. "He always said he would like to do a project," but he was mired in a lawsuit and couldn't do anything," Lazes recalls. "I kept calling him every other month, and finally he got so frustrated he said, 'If you think you can do better, try it.'"
Ultimately, legal battles with original developer Billy Barnett were resolved, and a master agreement was signed in the summer of 2013. Irving would own the land and buildings then grant Lazes and The ARK Group a 99-year lease to operate, lease, and promote the facility. The ARK Group connected with Live Nation to operate and book the music venue.
Then, in mid-2015, work was shut down for several months because of a series of earthquakes in Irving, for reasons never totally explained, forcing the facility and city to buy earthquake insurance. "I mean earthquake insurance for Irving? Really?" Lazes says. "The soil here was really bad. When you walked around the site, the ground was literally moving. Every building is now set on pilings We spent $30 million to $40 million on soil alone."
Toyota Music Factory finally opened in September 2017, with ZZ Top as its first act. "We spent $200 million—$80 million from the city, after we put up most of the money up front, but we never lost faith in Irving," Lazes says. "We had a window of opportunity here, and we took advantage of that."
"We don't accept defeat. We just reinvented ourselves. So the cowboys left. So?"

Dirk Burghartz General Manager, Four Seasons Resort
Mayor Rick Stopfer has been in Irving for more than 30 years and has spent more than two decades in various forms of city government. He was on the city council when Jerry Jones brought the Cowboys in 1989. "The Cowboys were very good to us for a long time, and Mr. Jones was very good to work with," he says. "But when you looked at the stadium, it was an aging asset. We were getting $1.5 million a year on rent, but half of that was going back into maintenance."
A 2004 Arlington city election passed the funding measure to build the Cowboys a new stadium next to Texas Rangers' ballpark. There was some talk about Irving using city and tax funds to build something grander, but nothing ever happened, and the Cowboys were gone four years later. Stopfer and other officials focused on giving visitors, residents, and workers a reason to stick around in Irving. "We have 12,000 hotel rooms here, but wanted people to stay in Irving more than just spending the night," Stopfer says. "We made a decision with the convention center, the entertainment district, and the hotel. It's a big piece of keeping people here longer, getting them to spend more, and making them want to move and live here."
As for that 80-acre hole Gast saw when Texas Stadium crumbled? The city leased the site to the Texas Department of Transportation for future projects. In the end, looking for the hole proved to be a winning strategy for Irving, the comeback kid. To use another French term, Laissez les bon temps rouler: Let the good times roll.
Get the D CEO Newsletter
Stay up to speed on DFW's fast-moving business community with weekly news reports, interviews, and insights.