From D CEO June 2018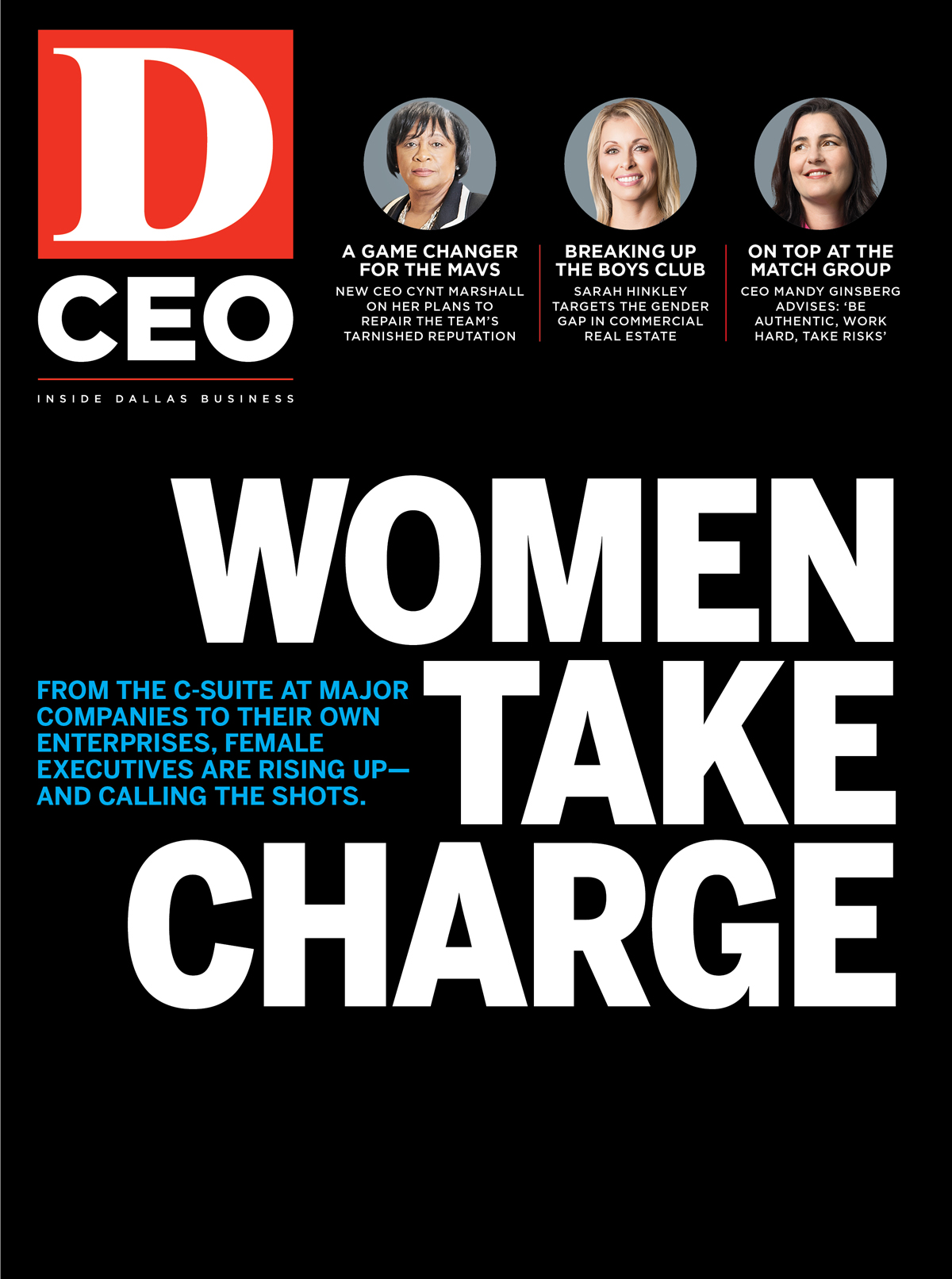 Subscribe
If you occupied office space in Dallas-Fort Worth a decade ago, it's more than likely that a real estate broker from The Staubach Co. helped make it happen. The real estate firm founded by legendary Dallas Cowboys quarterback Roger Staubach focused on the users of office space long before what's now known as tenant representation was commonplace. That was a big reason Chicago-based JLL was interested in purchasing the Dallas firm.
By mid-2008, when it sold itself to JLL, a then-nine-year-old company also known as Jones Lang LaSalle, The Staubach Co. had a market share of 52 percent in Dallas. But it also had a problem: It was struggling to serve all of its clients' wide-ranging needs. That problem led Staubach into the $727 million deal, announced in June 2008, that created a real estate juggernaut with nearly 34,000 employees across 184 offices worldwide. By 2017, JLL topped $7.9 billion in revenue.
On the 10th anniversary of the transaction's closing, we thought it was a good time to reflect on the reasons for the deal—and exactly what made it work.
Globalization Driving Change
Around 2008, it was becoming increasingly evident that The Staubach Co. needed to evolve to meet customers' changing needs.
"There was a globalization of companies taking place, and our customers were asking us to perform additional services in markets around the globe," says Brad Selner, then executive vice president at The Staubach Co. who is now president of JLL's South Central Region. "While we were strong domestically, we didn't have the depth and breadth of capabilities our customers were demanding."
Based on that, Staubach knew it needed to evolve, too. "We listened to our customers and made sure our priorities were our customers' priorities," says Roger Staubach, The Staubach Co. founder and executive chairman of JLL Americas.
Those customer needs were impacting the firm in a few ways. For one, the firm explored how to deliver its core business—tenant representation—internationally. "There were many technology clients in California that wanted us to handle their stuff globally, and we were really not set up do to that," says John Gates, former president and COO of The Staubach Co. who now serves as CEO of Markets at JLL.
Staubach, Gates says, looked at partnering with three different firms to expand globally, but those solutions would've been costly and time-consuming.
In addition to needing brokerage services, global clients were streamlining real estate needs. Integrated outsourcing allowed clients to rely on one firm to perform all real estate duties, from facilities management to brokerage to project and portfolio management. The Staubach Co. had added a couple of product lines since its founding in 1977, but it was mostly known for its "brokerage-led DNA," Selner says. Today, JLL, a publicly traded Fortune 500 company, offers 14 service lines.
"There were other avenues to get to a global solution. Would they have been as good as selling to JLL? I don't know, but JLL was the solution that addressed all our needs," Gates says.
Globalization also began impacting local brokers who didn't necessarily have international clients, says Jeff Staubach, son of Roger Staubach and then vice president at The Staubach Co. Though Staubach had strong relationships with longtime clients domestically, global firms were finding it more difficult to use multiple firms to service all their needs. "We had many existing clients saying, 'We can't be a client anymore because I can't carve out the Dallas deal just for you. We have to look at firms that have a true international presence,'" Jeff Staubach says.
Culture as a Cornerstone
That demand to offer better solutions to a globalizing world was one of three catalysts that led to the sale, Gates says.
Secondarily, he says, "they called us and wanted to meet." And finally, the two firms had cultural similarities. "We weren't going to get involved with someone who wasn't like-minded and like-hearted," Gates says.
That culture had been a cornerstone of the firm since inception. "I've always preached the message that we want to win the business and we want to do it right, and then the rewards follow," Roger Staubach says.
That much was evident to Selner when he joined in 1999. "To have a unique culture of teamwork and doing the right thing for your customer, you have to have a level of humility to put your clients' and teammates' needs above your own. That was and continues to be rare. Roger set that example of humility that still permeates today," he says.
Though 1,000 Staubach employees merged with JLL's nearly 33,000, top execs agree that the culture of The Staubach Co. made a significant impact. "If you look at our company today in the Americas, it looks as much like Staubach as it does like JLL," Selner says.
Prioritizing the joint firm's human capital over actual capital became a keystone of the sale. "Money—that's not a good reason to combine companies," Gates says. "We spent a lot of time communicating with JLL. We wanted to get very comfortable with each other's culture and understand how we both treat our people. None of those things are about dollar and cents."
The Recession's Impact
In mid-2008, a multimillion-dollar merger between two major real estate companies presented a few challenges.
"It didn't matter who you were globally," Gates says. "It was harder to get capital and make things happen." The Great Recession, though not a factor during initial discussions, ended up having implications on the structure of the deal—which closed in the third quarter of 2008—and merger of the companies. The deal was restructured, in part, to change up the cash and proceeds. Some employees took all stock, instead of cash, Gates says. JLL paid $613 million for Staubach with $123 million in cash and $100 million in stock paid at closing, and the balance paid out in cash over the next five years for all the outstanding capital stock of Staubach Holdings Inc. (Staubach Retail Services and development arm Cypress were untouched.)
Though The Staubach Co. was actively looking for a way to better solve clients' global demands, it didn't seriously consider mergers with other companies. "I don't think private equity or anything like that was an option. Going public wasn't something we wanted to do," Jeff Staubach says. And it was understood by leadership, he says, that merging with a firm with a large overlap in employees wouldn't have been attractive to The Staubach Co.
Then after the deal closed, doing business in the recession presented its own challenges. "Everyone was in cost-containment mode. Clients were looking at us to save them money, and we were focused on them. So it was not an easy time to integrate companies," Gates says.
Though the acquisition presented pressure points, such as the pain of learning new systems and having different security protocols, "80 percent of the issues we were having were based on the economy," Jeff Staubach says. His clearest indicator was turnover; very few brokers jumped ship as a result of or shortly after the merger. Even today, much of The Staubach Co. leadership team still works at JLL.
As for delivering international services to pre-acquisition clients, Jeff Staubach says the proof started surfacing for him in 2009 when the economy was marginally better. "I had a client who needed help very quickly in the Philippines," he says. "There's no way I could have provided the information they requested before JLL, much less in the time frame. The client was so surprised." Before the sale, he says, that situation might have worked out positively in first-tier international markets, but certainly not in the Philippines.
The Next Decade
Even accounting for both firms pre-acquisition, JLL since has more than doubled its revenue and employees and nearly doubled its offices worldwide. Gates, Selner, and Jeff Staubach all point to that growth as proof of the joint firm's success.
The last year brought some changes to the leadership at JLL as Jeff Staubach left to start his own investment venture, called Staubach Capital, and Selner transitioned to the role of president. Additional leadership changes will inevitably come as JLL continues to mature, but Gates isn't worried about the future. "If we've done our jobs as leaders, JLL will be a better company. We have many folks who are impressive young leaders, and they'll build on what we've built," Gates says.
If the past decade is any indication, JLL will keep growing. Says Roger Staubach: "Together over the last 10 years, we've been able to influence the industry, create really great places for our customers and their employees, and make new friends along the way. It was a great marriage."
Get the D CEO Newsletter
Stay up to speed on DFW's fast-moving business community with weekly news reports, interviews, and insights.