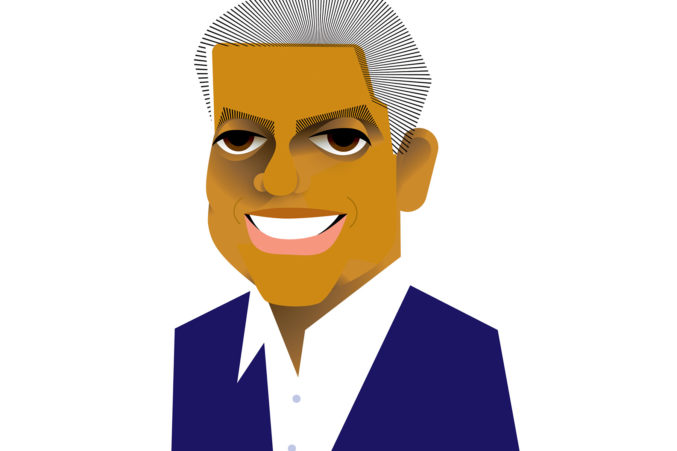 Lunch With D CEO: Anurag Jain
The philanthropic tech investor has sold multiple companies, turned around a multimillion-dollar tech services company, and launched a VC fund with Ross Perot Jr.
Equipped with little more than big aspirations, Anurag Jain arrived in the U.S. from Chenai, India, 23 years ago. His jacket reeked of smoke after he spent more than 20 hours in the low-cost smoking section of a flight to Detroit, Michigan. "I got off [the plane] in this new country, and I'm just like, 'Where is my story going to be?'" Jain recalls. "I still remember not being able to afford coffee."
He was pursuing an MBA from the University of Michigan, having already earned an undergraduate degree in engineering. Early on, Jain recognized an evolving economic model. The U.S. was hiring workers to build new brands, but the back-office jobs would soon be regularly outsourced to other countries, he thought. So Jain wrote a business plan based on the idea for school, and sought to turn the idea into a reality. "I told my friend when we graduated, 'Let's go build a company based on that,' and he said, 'No, that was a just class. Are you kidding me?' So I said, maybe he's right." Instead, Jain, then 25, took a consulting job. He only lasted one year before the entrepreneurial itch returned, and he launched his own company.
Jain leans back in a tall chair before continuing the rest of the story. Dressed in a blue suit, he sips on Perrier water and takes a bite of his specially made vegetarian Panini (on a gluten-free tortilla) at Dallas' Royal Oaks Country Club, where he's a member. He's come a long way from the days of the smoke-ridden jacket and empty pockets, having sold multiple companies, including the $10 million sale of Vision Healthsource to Perot Systems. He also turned around the multimillion-dollar technology services company Access Healthcare and launched a venture capital fund with Ross Perot Jr., called Perot Jain.
Now he's turned his attention to helping others. His goal: "enabling other people and removing some of the uncertainty around them … so they can ultimately succeed. That would be the theme of almost everything I do."
He's sold multiple companies, turned around a multimillion-dollar tech services company, and launched a VC fund with Ross Perot Jr.
For starters, Jain has led Perot Jain to invest in 28 early-stage startups, including four from Dallas-Fort Worth, since 2014. The fund invested anywhere from $100,000 to $2 million in previous deals and plans to invest between $100,000 and $500,000 moving forward. It also plans to zero-in on a few strategic business-to-business areas: artificial intelligence; augmented reality; big data; cybersecurity; and blockchain, a rising platform for transactions of digital assets and currency. "Dallas has tons of family money … and it has tons of corporations," he says. "Such a big business-to-business market, so much money, and yet no ecosystem for startups. That's what we're trying to change."
He's also trying to bring some of the movers and shakers into the same room. It'll likely take the shape of a regular breakfast and possibly a CEO conference, he says. He's hoping, among other things, that this will help spur syndicated investment deals with other local investors. "I'll bring them deals as a starting point," he says.
Beyond aiding entrepreneurs, Jain considers philanthropy another important path to helping others succeed. "My mother and my father always taught us that if you have 'X,' a certain part of 'X' goes to the community," he says. "You just had to factor that into your life." In October, after serving as a director of the nonprofit for about six years, Jain was named chairman of the North Texas Food Bank board.
As Jain finishes his meal, he circles back to the startup community. "Just like my company that almost went bankrupt 17 times, [the community] will evolve," he says. "What the caterpillar calls the end of the world, the world calls a butterfly. We just have to give it time."