From D CEO May 2016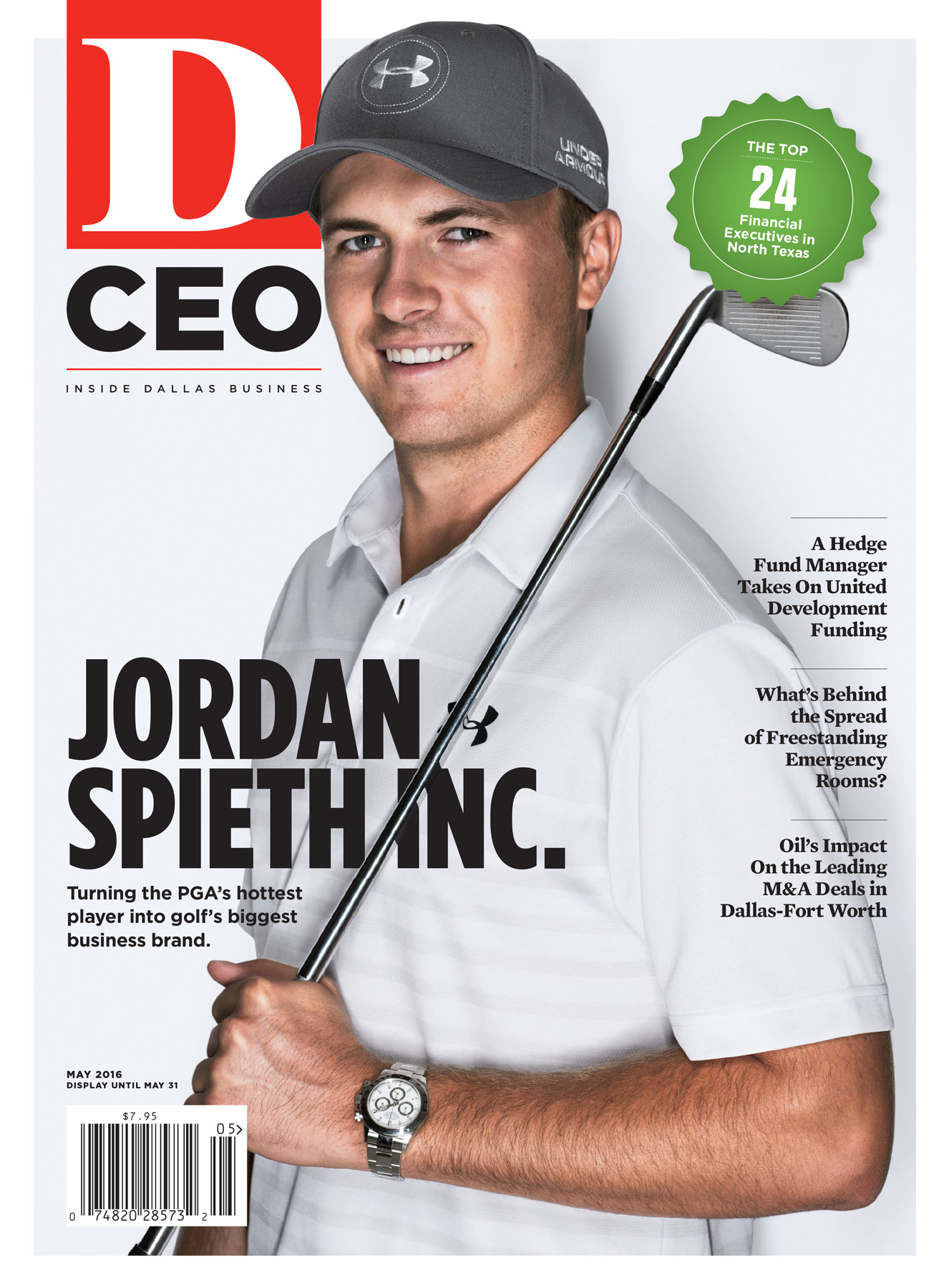 Subscribe
Not all that long ago—the start of 2014, say—the Texas economy was cruising along, with growth and job creation running well ahead of all other states. Since then, the economic picture turned turbulent, largely because of a persistent global glut in oil. Crude-oil prices tumbled from above $100 a barrel in early 2014 to around $30 in the first quarter of 2016. As oil prices spiraled downward, the state began seeing diminished oil and gas activity, with industry employment and revenue both weakening. 
These uneasy times provide an opportunity to preach the virtue of diversity—or, as grandma might say, not putting all your eggs in one basket. Whether we're looking at nations, states, or metropolitan areas, diversity means not being overly dependent on one or two industries.
Diversity pays off when hardships hit a particular sector. Economies dependent on that industry see a large initial decline in business activity, and the damage spreads—think back to the Texas oil bust of the 1980s, with its falling dominoes of oil, real estate, and banking. In more diverse economies, one industry's troubles have a relatively small overall impact, making it possible to weather these difficult times. 
Diversity makes economies less vulnerable to industry-specific struggles, but it's not an antidote to broad-based recession. In the financial crisis of 2008-09, the high levels of diversity didn't protect either Texas or Dallas-Fort Worth from hard times, although both bounced back faster than the rest of the U.S. economy.


Texas' Diverse Economy
Department of Commerce data divides Texas' $1.7 trillion economy into 15 major sectors. Somewhat surprisingly, it's manufacturing rather than oil and gas that ranks as the state's biggest industry, at 14.6 percent of state gross domestic product  in 2014. The financial sector comes in second at 13.6 percent, just nosing out the then-booming mining sector (oil and gas) at 13.5 percent (see top chart).
We get a broad measure of state-level economic diversity by calculating Herfindahl indexes, which range from 0 to 1, assigning high scores to economies dependent on a small number of industries and low scores to those with greater diversity. With a value of 0.096, Texas ranked as the fourth most-diverse state in 2014, trailing only Montana (0.093), Arkansas (0.092), and North Dakota (0.091). The least diverse states and their dominant industries were Delaware (0.211) and New York (0.157) with finance, Wyoming (0.164) and Alaska (0.140) with mining, and Indiana (0.142) with manufacturing. 
For Texas, it would be interesting to compare today's measure of diversity with Herfindahl indexes for past decades—perhaps the 1950s and 1980s. Unfortunately, comparable data on the components of state and local GDP go back only to 1997. So the numbers aren't there.  
But evidence points to the Texas economy's growing diversity. In a D CEO column published last April, we documented the declining importance of oil and gas to the Texas economy. As a share of state personal income, the oil sector was 26 percent in 1948 and 25 percent in 1981, but hit a low of 1.4 percent in 1998. It was only 9 percent in 2014, even after a decade of frenzied oilfield activity. The oil sector's share of state government revenue fell from 12 percent in the early 1980s to less than 2 percent earlier this decade.
In recent decades, the Texas economy has become less dependent on oil and gas. It's not that energy has shrunk—at least not until recently. It's that Texas entrepreneurs and businesses have expanded other industries, giving the state economy a wider, sturdier foundation.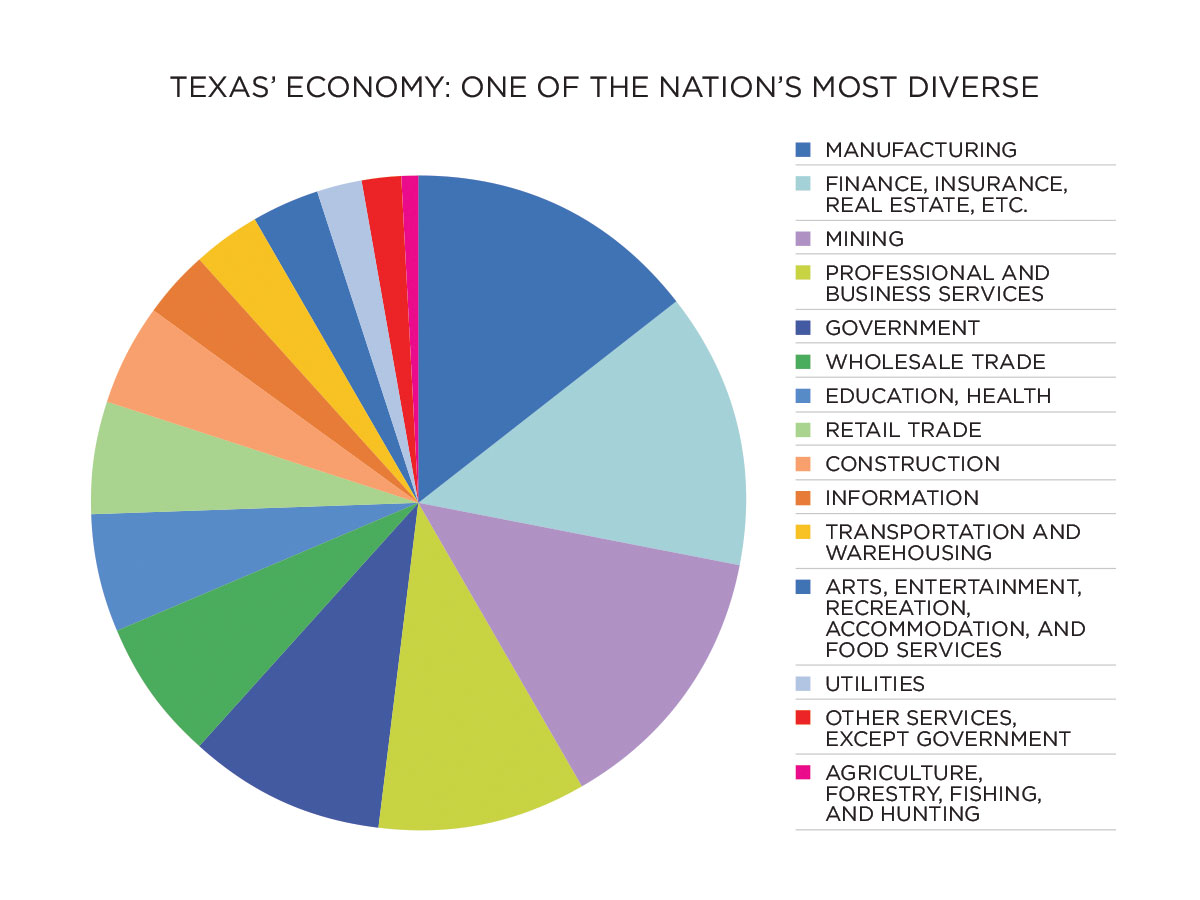 DFW's Diverse Economy
The Department of Commerce publishes a similar breakdown of economic sectors for U.S. metropolitan statistical areas. The snapshot of DFW shows that its largest industries are finance, insurance, and real estate at 18.6 percent, manufacturing at 16.1 percent, and professional and business services at 11.6 percent (see bottom chart).     
Because of data shortcomings, we calculated Herfindahl indexes for MSAs using each area's five largest industries. Bigger economies are more likely to be diversified, so we look at the nation's 25 most populous MSAs.
The results show the North Texas region, like the state itself, ranks highly in economic diversity. With an index value of 0.086 for 2014, DFW trails only Pittsburgh (0.083), a city that has in recent decades moved beyond its steel mill past. The least diverse big urban economies are New York (0.156), where finance holds sway, and Washington, D.C. (0.152), where government rules the roost.
Within Texas, the Austin area (0.086) is just as diverse as DFW, and San Antonio (0.081) is a tad more diverse. With the sixth-highest diversity among the Top 25, Houston (0.093) seems to belie its reputation as the nation's energy capital. The Herfindahl index may overstate Houston's diversity because large sectors like manufacturing and business and professional services might be closely tied to the energy sector.
Houston suggests that a high degree of diversity might not always make an economy less vulnerable. Local economies can be diversified among a number of relatively unstable industries (oil and finance) or diversified among industries that move up and down together. 
For both Texas and DFW, diversity has certainly been an asset in the past two years. While oil prices fell 70 percent, the state has avoided a repeat of the 1980s-style debacle. In fact, the overall economy remains healthy, with Texas employment rising by 407,000 in 2014 and 167,000 in 2015. DFW added 229,000 jobs in those two years.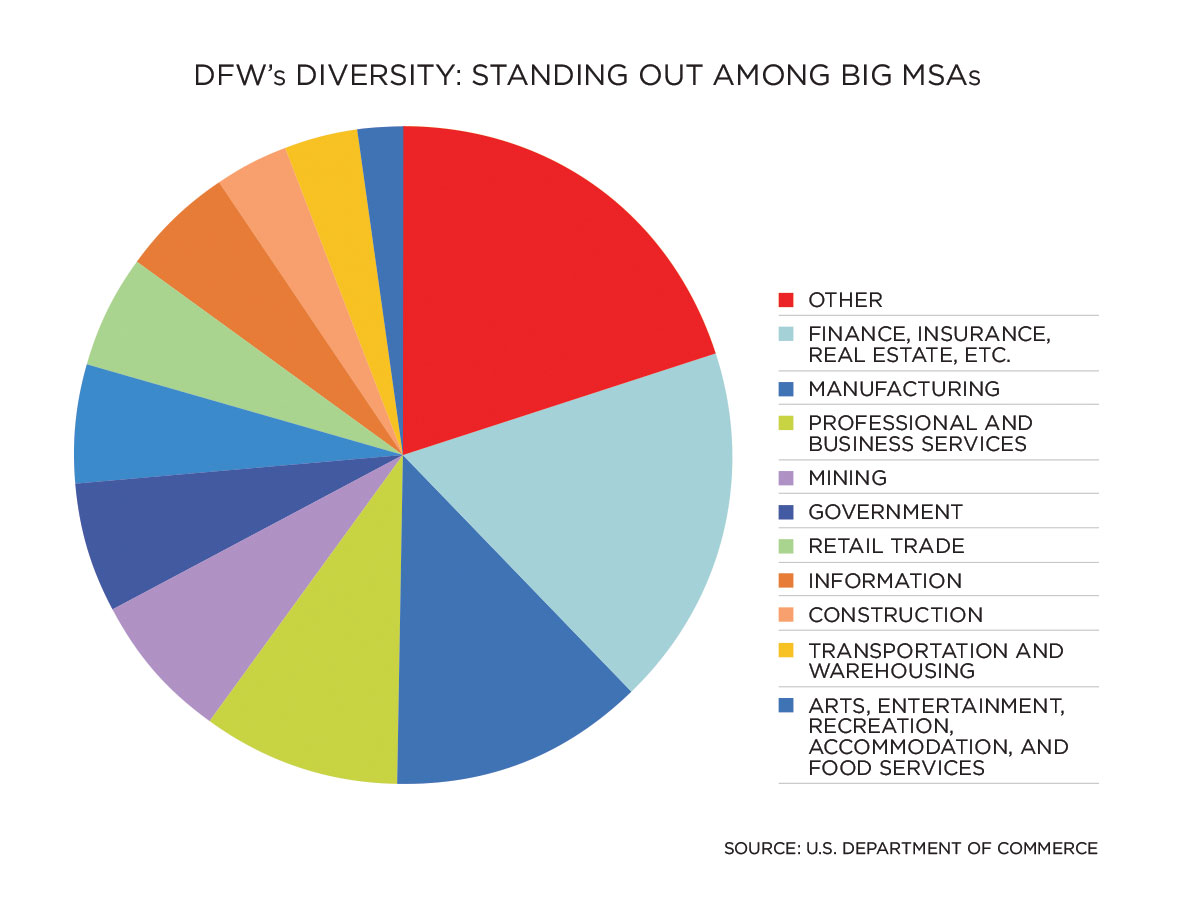 Get our weekly recap
Brings new meaning to the phrase Sunday Funday. No spam, ever.