In late July, days before Methodist's flagship hospital in Dallas began seeing patients at its new, $123 million trauma tower, Denton Wilson, the health system's fast-talking assistant vice president of design and construction, asked me to close my eyes and imagine being wheeled through an ICU on a stretcher.
I pictured the bustle: Nurses pulled to the centralized nursing station as if it were a magnet, other patients gliding in and out of rooms, doctors eyeballing the charts in their hands. The worst part, though, was staring into those jarring, fluorescent lights in the ceiling. I imagined being jolted into further disorientation every few feet, my pupils dilating and shrinking.  
The fourth floor of Methodist's new Charles A. Sammons Trauma Tower isn't like that. The surgical ICU has decentralized nursing stations in the name of preventing logjams. Patients have private rooms with doors. They control their own lighting and temperature. And those glowing daggers illuminating the hallway have been replaced with dim lighting. It's calming. 
Methodist is by no means the only system in North Texas employing these strategies in its new projects. But Wilson's request was interesting: Close your eyes and picture what you've known; now open them and look at what it has become. 
There are examples of this in nearly every corner of the region, where new hospitals are cropping up to replace aging facilities and to meet the demands of a population that won't stop growing.  
Ground zero is in Dallas' Medical District, with Parkland Health & Hospital System's monolithic new $1.3 billion building and UT Southwestern's W-shaped William P. Clements Jr. University Hospital. The Hospital Corp. of America is betting on growth in the Alliance area, on the northern edge of Tarrant County, with a new facility. The luxury, physician-owned hospital system Forest Park Medical Center has staked its claim in Frisco, North Dallas, Southlake, and Fort Worth. And that's only a sampling. 
"Most folks are saying there may be as many as 1,000 people or more moving to Texas every day, and I think a lot of them are moving to the urban areas," says John Hawkins, the Texas Hospital Association's senior vice president of advocacy and public policy. "We're trying to stay in front of those growth trends." 
The boom is also dictated by the aging baby boomer population. By 2050, the U.S. Census predicts 20.9 percent of Americans will be older than 65: "People who are older and more elderly tend to use more healthcare services because they generally have more chronic illnesses," says Steve Love, president and CEO of The Dallas-Fort Worth Hospital Council.
As for overall growth, the Dallas-Fort Worth-Arlington Metropolitan Statistical Area added just under 400,000 people between April 2010 and July 2013, Census figures show. That 6 percent growth rate was eclipsed by only one MSA in the country with more than 2 million residents during that same time period: Houston-The Woodlands-Sugarland, which grew by 6.6 percent. 
Are the hospitals keeping up? In 2011, the Kaiser Family Foundation found that Texas had 2.4 hospital beds for every 1,000 residents, just below the national average of 2.6. It's important to note that some of the hospital growth, including the upswing in Dallas' Medical District, is meant to replace older facilities. So while they are bringing new beds into commission, others are being taken out. 
For instance, Parkland's new facility will replace its existing, 730-bed campus, which opened in 1954. And UTSW's $800 million Clements Hospital is the death knell for St. Paul University Hospital, which has stood at Inwood Road and Harry Hines Boulevard since December 1963. The 300-bed facility is constantly at or near capacity. It will be demolished not long after the 12-story, 460-bed teaching hospital opens this month.  
"It was not easily adapted to what is needed to provide the best care today," says Dr. Daniel K. Podolsky, the university's president. "When we looked at the cost of investing further to bring it up, we realized it was a completely unreasonable investment."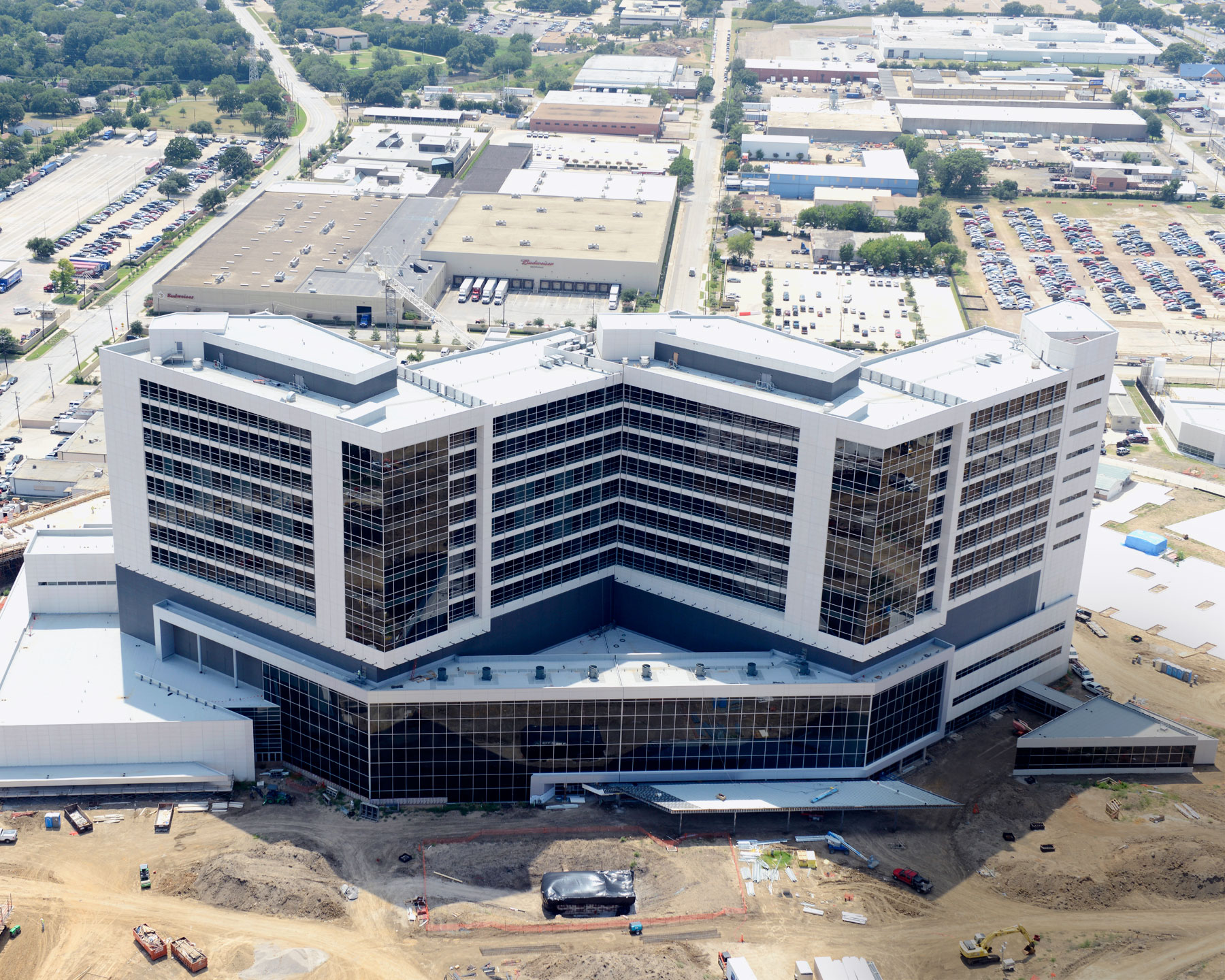 Collaborative Approach
The 2010 enactment of the Patient Protection and Affordable Care Act effectively killed the top-down approach of hospital design. Peppered throughout the reform law is the phrase "quality measures," which refers to evidence-based patient satisfaction metrics that ultimately affect reimbursements from the Centers for Medicare and Medicaid Services. Hospital systems that are building from the ground up or expanding current facilities have this in mind when they enter into the design process.  
So when Podolsky speaks of providing "the best care today," he's talking about including stakeholders from every aspect of the facility—patients and doctors and nurses and administrators—and incorporating their points of view. 
"There has to be a lot more collaboration because it affects readmission rates, it affects satisfaction rates," says John Castorina, senior vice president of the architecture firm RTKL, which designed UTSW's Clements Hospital. He says his team incorporated advice from a dozen subcommittees: "From what I've experienced, there's more and more information-sharing. It's getting more collaborative because of what the Affordable Care Act dictates." 
Another reform: transitioning to Electronic Medical Records. Both Parkland and Clements aim to be as paperless as possible. 
The 2.1 million-square-foot New Parkland purports to be the largest healthcare construction project in America. It's billed as an "all-digital" facility. Outside each inpatient room is a digital screen that allows the physician to access the patient's (HIPAA-compliant) EMRs. 
"They have the key clinical data they need to serve that patient before they walk in," says Joseph Longo, the vice president of information technology at New Parkland Hospital.  
The televisions in the hospital rooms are now tools for patient engagement. Patients can access educational material about their condition. They choose their meals using the TV interface—if the doctor has ordered a low-sodium diet, the menu will correlate with their nutrition demands. 
Technology changes rapidly. So, years ago, it didn't make sense for Parkland to decide on specific products when planning began. Longo says administrators determined a set of goals they wanted to achieve—make it more patient-friendly, increase connectivity, facilitate workflow transformations that make providing care easier. About four years ago, he says, the hospital began seeking out the technologies that would best position it as a setting for efficient healthcare delivery now and in the future. 
"We want to be able to expand upon these platforms on day 360 or year five," Longo says. "We wanted to anticipate this to be a useful building for the next 50 years. That's very tough to do from a technology perspective." 
UTSW is also thinking ahead, too, with 35,000 square feet solely dedicated for research and learning. The new hospital also includes a 10,000-square-foot education and conference center, larger than any educational resource area at St. Paul. 
The state's growth has lawmakers eyeing incentives to boost health education and residency programs to ensure there are enough doctors to treat residents. Republican gubernatorial candidate Greg Abbott's $175 million jolt to healthcare funding sets aside additional money for medical school residency slots in the state. 
There also are the things that came out of the more collaborative strategy. These range from simple improvements, like the comforting lighting at Methodist's trauma tower, to larger-scale features, like the 1.3 million-square-foot Clements Hospital's "W" design. It allows the medical staff to split each floor into four separate units, which, as Castorina puts it, "brings what otherwise is a very large building to a human scale." 
Keeping up with new healthcare regulations, advances in medicine and technology, and growing demand is no easy feat, says Love with the Hopsital Council. "We are continually addressing the needs of the population in North Texas," he says. "We're making a good-faith effort to have the supply and the demand meet at the appropriate level."   
Get the D CEO Newsletter
Stay up to speed on DFW's fast-moving business community with weekly news reports, interviews, and insights.