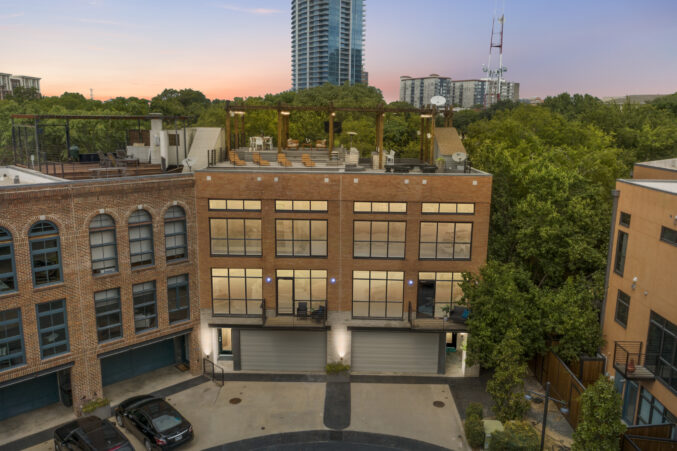 Hot Property: An Insanely Cool Contemporary Loft in Victory Park
This three-level home offers downtown views, a private rooftop terrace, and nearly 5,000 square feet of industrial-chic living space.
At first glance, 2935 Magnolia Hill Court looks like an industrial warehouse. Or maybe it's an office building. Perhaps it's a group of chic converted lofts. Almost, but not quite: this entire building–all three stories and both garages–belongs to one lucky homeowner.
2935 Magnolia Hill Court was built in 1996 and is housed in a gated community just blocks away from The American Airlines Center. Though it's nestled in one of the city's busiest neighborhoods, this build feels like it's enveloped in nature. Towering trees stretch higher than the rooftops, and the Mavs Ballpark next door looks like an urban green space from above.
Step inside, and you'll be greeted with a stylish, masculine blend of dark metals, rich wood tones, and concrete floors. Though the layout embraces openness, each space is subtly separated by metal beams, railings, and floating staircases.
The kitchen caught our eye first. Its sweeping window frames the foliage outside, and its moody palette is almost entirely black. The nearby living room is quite the opposite; it's light and bright, thanks to soaring ceilings, white walls, and a stretch of windows. This floor also houses a dining area, a wet bar, and a refrigerated wine cellar that's larger than the average bedroom.
Venture upstairs and take in the master suite, which occupies almost the entire level. There's an exercise room, a study, another living area, and an enormous closet. The bathroom has its own fridge, just in case you want a glass of Chardonnay to sip in the bath.
The two guest suites are located on the ground level, and each has a view of the private fenced-in yard. The space is awash with a glow from the twinkle lights and high-rises overhead.
Finally, head up to the rooftop patio. It's outfitted with everything you might need to entertain: grills, heaters, fire pits, multiple seating areas, and a 360-degree view of the city.
Take a full tour of 2935 Magnolia Hill Court with the gallery below.