When we think "gardening expert," a few local green thumbs might come to mind, but Dallas Arboretum's Vice President of Gardens Dave Forehand certainly makes his way to the forefront. Each week, we'll be sharing Forehand's seasonal gardening tips and insight. Today, Dave's talking root flare.
We often talk about tree care only in terms of what we see above the dirt, but not necessarily what's going on at the ground level—understanding your roots can't be overlooked.
What is "Root Flare"
The root flare is the area around the base of the trunk where support roots emerge, providing that nice curve. If it's damaged or doesn't develop properly, your tree can become unstable, which is a hazard. In fact, the most common cause of tree decline is when a tree is planted too deep, or with too much soil or mulch piled against the base of the tree – if you're not seeing your tree's root flare, your tree could be in trouble.
Avoid the "Mulch Volcano"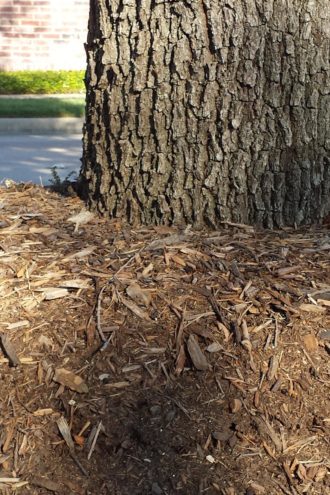 When trees are planted too deeply, a "mulch volcano" occurs, which covers the root flare. The moisture from the mulch can actually soften the tree bark, allowing pathogens and insects to penetrate the tree. Too much mulch can also hide girdling roots that may be choking your tree, which will limit uptake of water, nutrients and oxygen.
Care for Your Flare
Expose your root flare by removing soil and mulch from the area immediately around the trunk of the tree. Professional arborists will use a high-pressure air spade to blow away excess soil and mulch without damaging roots. You can also manually rake away loose material, and then use a powerful water nozzle to clear excess soil to keep your root flares exposed and healthy.
Get the AtHome Newsletter
Enjoy Dallas' best trends, hot properties, and tips from local designers to help you nest in style delivered weekly.