Today I'm debuting a February blog series aptly named Love Notes, a wink and a nod to cupid without getting all Valentines-y up in here. I've tasked movers and shakers in the art and design world to list five things they love and simply can't live without. I'm excited to introduce our first contributor, Jessa McIntosh, co-founder of Loom Decor. Last week I sat down with Jessa to learn about the recently launched website that offers design-it-yourself custom accessories at a fraction of the price. The three co-founders believe that everyone should have the opportunity to live in a home that expresses their unique style. Loom offers 25 custom products in three to five styles including duvets, pillows, and curtains. There are more than 150 designer fabrics to choose from that range in texture, print, color, and style. The company also features a helpful design element: stylists are on hand to help customers create the perfect custom look—for free. Yes, free. Doesn't get much better than that!
Jessa recently moved to Dallas from New York with her husband and two-year old daughter, so I know ya'll will give her a big Texas welcome. She's currently on the hunt for a home, so she's got design on her mind. Enjoy her Love Notes.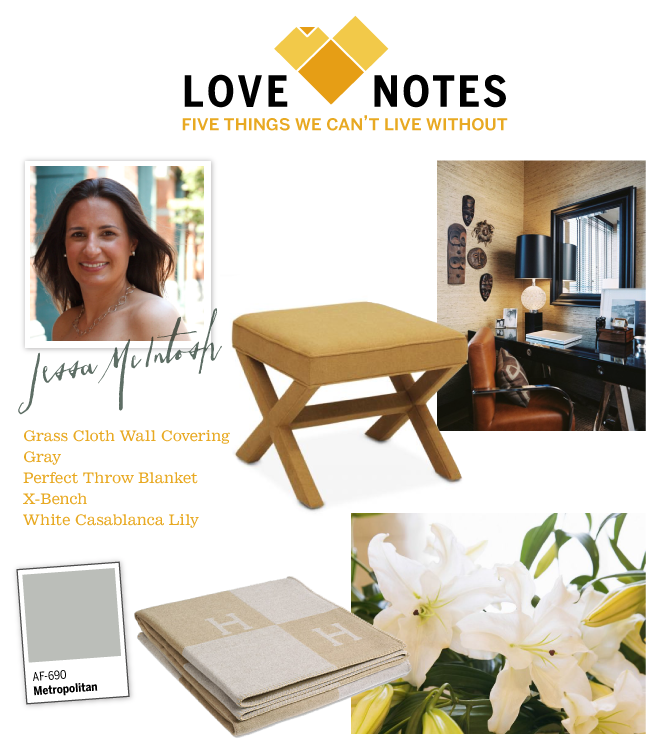 Jump for more Jessa.
Grass cloth wall covering : "I grew up in Vermont, so I'm a huge outdoors enthusiast and really love nature. So its no shock that I love grass cloth wall coverings, especially for entries, hallways, and living rooms. The look really brings the outdoors in. Grass cloth creates a natural, warm tone in your space especially if you use a neutral colorway such as oatmeal, a light beige, or a soft, light green."
Gray is my new beige: We've seen it everywhere but gray is the new beige for wall color. Right now I'm mad about Benjamin Moore's Metropolitan Gray as it is the perfect mix of a light tranquil gray and misty blue. This is going to be a must-have in my new home because this chic color really allows you the freedom to create a cool, relaxing tone but also gives you the ability to mix in and accessorize with fun, vibrant colors such as Monaco blue or emerald green."
The perfect throw blanket : "I always accessorize my bed with the perfect throw blanket. It's such a great way to bring in a fun pattern, texture, or color especially if you have very neutral or all white bedding. But even more importantly, throw blankets are a must-have for me because I love to curl up on my bed and read a good thriller. But I hate messing up my bed before I actually get in for the night. I'm a little nutty about having to have a crisply made bed before I get in it!"
X-Bench obsessed: "I know these are ubiquitous but I think they are the perfect accent piece for the living room or bedroom. Accessorizing with one or two X-benches are a great way to incorporate a fun pattern into a room while also providing function, such as a guest room luggage stand."
White Casablanca Lilies: "My husband will tell you, I love all things that smell good for the home. Things like linen spray, bathroom soaps, and diffusers I love and buy constantly. But my absolute must-have? White Casablanca lilies. If I could, I would have them delivered weekly! There is nothing that makes a room feel more delicious then the smell of lilies."