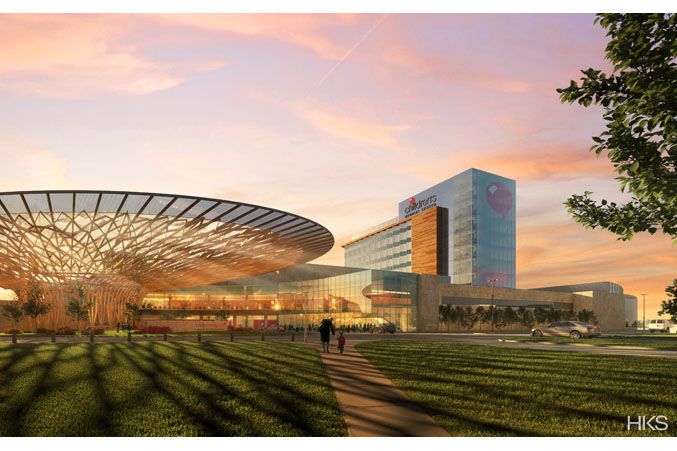 New Seven-Story Tower Planned for Children's Medical Center Plano
A look at what's coming to the Collin County Children's hospital.
Children's Medical Center Plano is responding to the growth in Collin County with the addition of a seven-story 300,000 square-foot tower that will more than triple its capacity. The Plano campus, which opened in 2008, provides more than 180,000 patient encounters each year.
The announcement follows Children's Health's announcement last year that a new 72-acre medical campus was in the works for Prosper, Texas. The healthcare industry is constantly expanding in Collin County, with numerous hospitals popping up in Frisco and Prosper north of Plano. Over the last few years, Children's Health has opened urgent care facilities in The Colony, Flower Mound and McKinney, and the system has developed a partnership with Prosper ISD that included naming rights to a high school football stadium.
"Children's Medical Center Plano was the first pediatric hospital north of Dallas when we opened in 2008. Throughout the last decade, we have grown alongside our community and a pediatric population that outpaces the nation in growth. While we have an extensive network of providers all working to serve the needs of the community, we have seen the average number of patient families we serve increase year-over-year," said Vanessa Walls, executive vice president of the Northern Market for Children's Health via release. "In addition, today we have many families traveling to our Dallas campus to receive specialty care not currently supported in Plano. This expansion allows us to not only serve our growing community, but also their growing medical needs closer to home, as we strengthen and invest in our world-class, critical and tertiary care programs in Plano."
The new tower will nearly double the size of the current Plano campus and grow the number of beds from 72 to 240. It will house specialty care programs such as cardiology, oncology, gastroenterology, orthopedics and neurology, and more. Additional pharmacy, lab, and imaging services, more operating room space, an expanded emergency room and an additional parking structure are also part of the plans. It is expected to be complete by 2023.
"Children's Medical Center Plano was built to be a dedicated pediatric hospital for families in this region. As we expand this hospital and our network in the area, we continue our promise to care for children, close to home, today, tomorrow and for many generations to come," says Walls. "We are committed to being a world-class and comprehensive pediatric health care provider north of Dallas to serve the growing community and make life better for even more children."