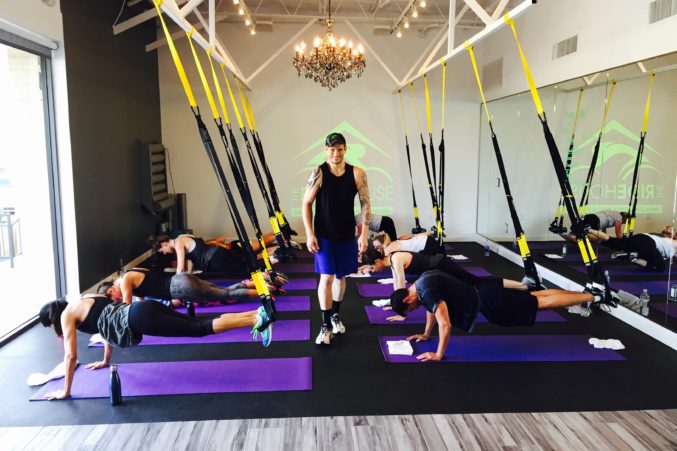 Morning Routine: The Ride House's Allen Pursley
The energetic cycling instructor shares his surprising favorite breakfast and his secret to waking up before dawn, sans snoozing.
By Laurie Snyder
Published in Health & Fitness
October 6, 2016
1:02 pm
Photos courtesy of The Ride House
Allen Pursley's reputation precedes him. Since leaving his corporate accounting job in 2012 to become a cycling instructor, Pursley has become known for his endless energy throughout his classes at The Ride House.
His change of career—and heart—came with a 90-pound weight loss, achieved primarily through indoor cycling. Now, Pursley works with others, motivating them with his story to help them reach their personal fitness goals.
In an effort to learn the secret to his endless energy, we asked Pursley what a typical morning looks like for him.
Rise and Shine! My alarm goes off at …
3:45 a.m. because I live in Lewisville and teach the 5:30 a.m. and 6:30 a.m. classes at The Ride House.
How many times do you hit the snooze button?
I actually never hit the snooze button. I quit years ago when I learned that hitting the snooze button actually makes your day harder!
What's the first thing you do when you wake up?
Brush my teeth and grab my bag that I packed the night before and head right out the door.
What do you do each morning that sets the overall tone for your day?
I try to have a list of a few things to accomplish each day. I've found that, for me, not having a list makes the day a lot less productive.
How do you take your coffee/tea?
In spite of what my exuberant amount of energy might suggest, I actually don't drink coffee, but I like my tea strong and sweet.
Typical breakfast?
This is always a really interesting question for me to answer because, despite being in the fitness industry, I have a major weakness for fast-food breakfasts. McDonald's and Whataburger are my two favorite breakfast spots, and my order is usually a sausage-egg-and-cheese something or another.
What do you love about the morning?
I like the freshness of it all. When you wake up, you start new with a chance to make each day what you want it to be—you never know what opportunities and experiences a new day can bring.
Any other details you'd like to share about your morning routine?
I have a squirrel and two dogs, so the first thing I do on the mornings I'm not teaching, or when I get home after my early morning classes, is play with them.