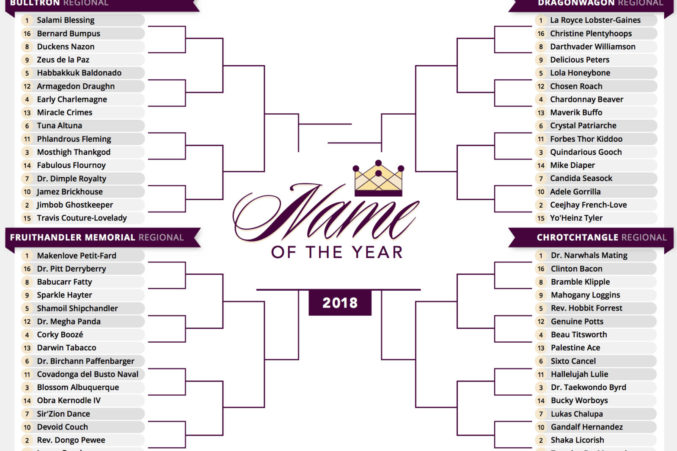 Shamoil Shipchandler to Go Deep in Deadspin's 'Name of the Year' Competition
He's no Charity Beaver, but he's all we got this year.
I have a thing for people with great names in North Texas. Whenever I can, I bring them the attention they deserve. I once wrote a feature-length profile of a guy just because I loved his name. Well, Ladar Levison is pretty cool. But my interest in him started with his name. I once did a Q&A with a guy named Maher Maso because he was a mayor, and that's quite something. True story: about a decade or so ago at D Magazine, I had two coworkers named Lizzie Tarbox and Rob Sidebottom. I would have come to work every day even if they didn't pay me.
Well, for a while now I've been fascinated by Shamoil Shipchandler, the guy who runs the Fort Worth regional office of the SEC. In 2015, I mentioned him on our blog. Last summer, I suggested they name the new ballpark after him. I'm pretty sure that's how Shamoil Shipchandler wound up in the Name of the Year Tournament, an annual March Madness bracket-style competition hosted by Deadspin. How could I be so bold as to claim credit for his inclusion? Because I also introduced Deadspin to Charity Beaver, a 2010 contestant.
Here, then, is how I see Shamoil Shipchandler's road to victory:
He's a 5 seed in his region. His first matchup is against No. 12 Dr. Megha Panda. This will be a rout. No question. It's funny that a doctor would be named Dr. Panda. But whatever. She's got no alliteration, and her first name adds very little.
I see No. 4 Corky Boozé advancing to face Shamoil Shipchandler in the round of 32. I get it. Booze comes in bottles, and bottles have corks. It will be close, but for me, the accent aigu blows it.
In the Sweet Sixteen, Shamoil Shipchandler will likely face No. 1 seed Makenlove Petit-Fard. I think the committee made a mistake with that No. 1 seed. They fell in love with that first name and didn't give enough consideration to the hyphenated second. If Makenlove's father had been Mr. Harder or Mr. Sloppy, then no question Shamoil Shipchandler would be headed home at this point to lick his wounds. As things stand, he'll advance to the Great Eight.
Now we've got a problem. Because then Shamoil Shipchandler will have to face No. 2 Rev. Gongo Pewee or an upset No. 11 Covadonga del Busto Naval. And you can't overlook No. 14 Obra Kernodle IV. Still, give me the Dub Shhh.
From there I see Shamoil Shipchandler eking out a Final Four win over No. 1 Salami Blessing and facing a surprise No. 8 Bramble Klipple for all the marbles. Side note: I know that picking Bramble Klipple over the No. 1 seed in his region, Dr. Narwhals Mating, is controversial. But this is another doctor situation, except in reverse when compared to Dr. Megha Panda. Here Dr. Mating's first name brings too much to the game.
So there you have it. Shamoil Shipchandler vs. Bramble Klipple in what promises to be an instant classic. I'm a homer. Gimme Shamoil Shipchandler from the SEC. Deadspin will open voting in a couple days. Do your part.