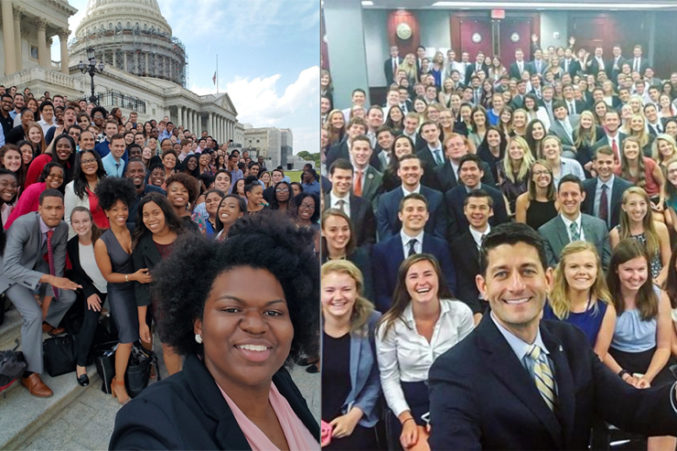 Eddie Bernice Johnson Punks Paul Ryan
After the house speaker posted history's biggest (and whitest) congressional selfie, the Dallas rep wryly responded with her own.
Depending on which version of America your Facebook feed corrals you into living, you may — or may not — have seen Paul Ryan's now infamous selfie of the latest crop of Republican Capitol Hill interns. The image, which Ryan claimed set a record for the most #CapitolHill interns in a single selfie, was ridiculed for its incredible, well, whiteness. Regardless of your political persuasion, you have to admit that the image is striking for its lack of diversity. If I were a Republican strategist with a keen eye on the shifting demographics of the country, it would be the kind of photo that would give me night sweats — that is, after having drunk myself into a blackout in a Cleveland hotel room with the shades drawn, doors locked, and television unplugged.
Well, yesterday, the other side of the aisle shot back. Dallas' own Rep. Eddie Bernice Johnson had her intern snap a similar selfie on the steps of the Capitol, and, well, the results speak for themselves. Interesting, Johnson doesn't appear in her own selfie, having her own intern take the shot, which somehow feels like a more distinguished and appropriate move.
Anyway, like everything about the elevated tenor of our refined national political conversion, selfies make for good times online.