We sent intern Jessica Melton out into the frigid air to capture the first trees being planted.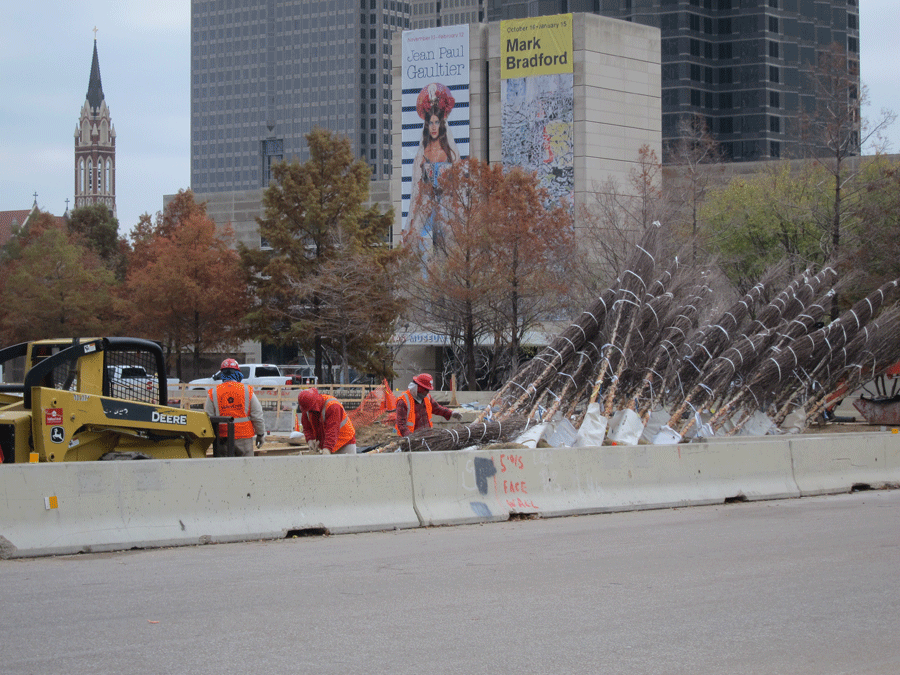 The Woodall Rodgers Park Foundation planted the first of 322 trees for the upcoming Park this morning at 10:30.
TurningPoint Foundation donated the first 25 River Birch trees. With the new trees came a new tree trust, which will allow donors who provide $25,000 or more to the Foundation to pick which trees they want to plant and select an area to place them in the Park.
One of the donors, Kristin Schor of the Gaedeke Group, says while her company already sponsors plant life around the United States, the people in her company are excited to see what they can do in their own backyard.
"We want to make a difference," Schor says. "Even if it is one tree at a time."
The trees are being planted in organic dirt placed on top of lightweight filler, because dirt alone would be too much weight for the bridge to handle, says Joanna Singleton of Jackson Spalding Communications.
Planting will be going on all day today and Thursday, but there's not much else to see on top of Woodall Rodgers Freeway right now except a lot of organic dirt.
If you're interested in what the Park will look like when it's finished, the Foundation's website has a bird's eye view of what they're planning for it. –Jessica Melton
Get the D Brief Newsletter
Dallas' most important news stories of the week, delivered to your inbox each Sunday.