It was bound to happen. Someone was bound to marry the notions of the fried chicken sandwich and exclusive delivery. That someone, of course,
as we are currently well aware
, was celebrity chef David Chang.
The news dropped Monday that the diminutively named
Fuku
, the delivery-only fried-chicken operation from the lauded chef, would open April 6 in Dallas and Plano (Houston, too). And all of a sudden, it was the subject of near hysteria with buzzwords like "David Chang!" "Delivery-only!" "Chicken sando!" making the rounds on Twitter and Instagram.
What beckoned was the dreamed-for golden, craggy fried chicken cutlet, the squishy bun, the sliver of crinkly-edged pickle, as though trimmed with pinking sheers, the anointing layer of sauce, from the land of umami Technicolor. (Fuku's got saucy fingers, too, but I went with a diet of sandwiches.)
Fuku operates out of ghost kitchens in partnership with Reef Kitchens under the umbrella of Reef Technology, a company that makes liaisons between restaurateurs and local diners to Grubhub, DoorDash, Uber Eats, and Postmates and food truck ghost kitchens cooking from underutilized urban spaces like parking garages and parking lots. Now we have two such ghost kitchens serving Dallas and Plano.
You could say the fast-casual New York City delivery-only concept is utterly COVID-born—born of the itch for comfort and cravings contactlessly filled. Those who have followed the story know that's not entirely true. The James Beard Award–winning chef's Michelin-star restaurant Momofuku Noodle Bar opened in 2004. Since then, he has spread his embrace to the Momofuku restaurant brand with locales as far-flung as Sydney and Toronto, but also through popular TV series
The Mind of a Chef
and
Ugly Delicious
and, for a while, the now-defunct food magazine quarterly
Lucky Peach
, which bristled with the same irreverent, rebellious spirit. And now comes the COVID dream of fried fowl beauty, wedged between two squishy buns, delivered straight to your home.
If you want to get really nerdy about it, before the spicy chicken sandwich, there was
the habanero fried chicken from Ma Pêche
. (You'll recognize the same green and orangey-peach branding that's become iconic—that tiny leaf and the pop of color, once a peach, now become a pop-art
pow!
) You could also find two whole fried birds—one Southern-style, one glazed Korean style served with mu shu pancakes—at Momofuku Noodle Bar for a cool $150. And the original Fuku sandwich in question was purportedly an off-menu item at Momofuku Noodle Bar, whose location in the East Village became Fuku's first brick and mortar.
The original Fuku sandwich in question was purportedly an off-menu item at Momofuku Noodle Bar.
The Fuku timeline begins when brick and mortars sprang up in New York, Boston, Los Angeles, Philadelphia, and Washington, D.C. in 2015—
announced, for what it's worth, at Austin's SXSW
—with their own menus that included the likes of kale-farro salad or mac and cheese. And then the brand pivoted and piloted the ghost kitchen model in New York in April 2020, mid-pandemic. From there, it hit Washington, D.C., Philadelphia, Miami, Portland. The model swiftly expanding and scalable in partnership with Reef.
All of that is backdrop to, and context for, understanding why it's a big deal and why it would, essentially, take any city by storm.
The reality, of course, is that such a roll-out involves four delivery services and human bodies and provisioning and our ever-ravenous city.
I found myself in a parking lot on Houston Street
near the historic West End, tucked under the freeway overpass, with a mural—geometric shapes, flowers, and the word "LOVE"—sprawled along one wall of an adjacent parking structure. We—a few non-affiliated walk-ups and a gaggle of delivery people—clustered around the single food truck emblazoned Reef Technology. We shifted to keep our distance in masks as we faced the window, expectantly. A pile of sealed to-go bags languished in the sunshine, unclaimed.
An hour and a half earlier, I had placed an order. It was canceled after 45 minutes. A try with another delivery service yielded shifts in drivers and another cancellation (there were, the explanatory message told me, no available drivers). I decided to try my luck with pick-up. The parking lot was 10 minutes from my home. I went myself.
And so I found myself in this enclave: Two food trucks, only one of which was cooking for Fuku; a delivery truck (they'd already experienced shortages that morning); and crew members periodically off-loading Martin's potato rolls or cases of Dasani water.
One walk-up customer would-be sandwich-eater, there with his son napping in a stroller, had put in an order at noon and been there since 12:30pm. It was now 2:20pm. His toddler was copacetic. His own work was flexible—he would work later that night to compensate for the several-hour gap.
One delivery person had been waiting an hour. He was "disappointed," he said. He was losing income on other deliveries. Another had snagged one order, delivered it, and was working on another—11 a.m. to 2:30 p.m. and he was looking at his second delivery. None wanted to give their names. But they talked strategy: not confirming that the food was ready, because then the customer expects it, but not confirming might mean a customer losing their patience.
Uber Eats offers compensation for waits past 25 minutes, one said. Postmates was paying one driver with a 10-star rating 10 cents per minute delay. If they didn't have the rating, they judged: better to cancel the order and cut losses? How would this affect their ratings? "As long as I'm communicating with them," one said. Hopefully they get it, he said: It's a hype.
"I hope my wife likes it," the man with the stroller offered.
We switch to a roll-call system. The Reef Technology employee handling the melée, keeping us from tapping at the window and distracting the cook, makes an executive decision to stop the flood coming in from delivery apps and take care of the people in front of him, slotting us in. We show him the orders on our phones. He photographs them. Shows them to the cook. They'll fire them off to-order. We wait, some of us (like me) coming up on our one and a half hour or two hour mark.
They are experiencing, the helpless middleman says, "a catastrophic meltdown."
All of this will be addressed in the 6 o'clock meeting, he says. A train rumbles by on the freight tracks.
And I can't help thinking that the proposition is wild: One food truck feeding the entire Dallas frenzy.
So I did not experience the deliver-to-your-door reality, quite.
And the food. Was it worth the wait? Did it earn the hype?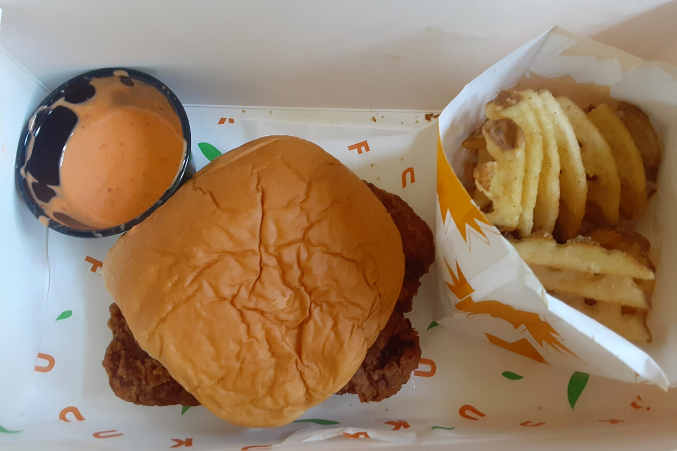 At home, I survey the spread splayed in front of me. The Knockout with coleslaw is quite good—sweet, spicy, creamy—with a juicy chicken breast, golden breading, and a soft bun. Yes, the bun is just a commercial potato bun. But the chicken does stay crispy. The orangey-pink tinged mayo sings of chiles and sweetness. There were no pickles. They may have run out of pickles. The version that's supposed to be slathered with buttermilk ranch and bacon is missing its oozing ranch.
And what about the crispness of those fries? Are the crinkle-cut waffle fries crispy? They are. Pleasantly so, though the mixture of what seems to be sugar and powdered jalapeño that gives them the name sweet jalapeño fries is barely detectable.
Much more pronounced is the glow from the habanero brine on the chicken breasts, which jives with the golden, shaggy crust. The heat lingers long with a complex fire.
If you had asked me last April, when the first delivery-only Fuku launched in New York City, if I thought sandwiches from ghost kitchens in parking lots, delivered (presumably) to my door would be the future, I would have said yes. Not the specifics. But I do think, like many others, I saw the writing was on the wall.
The goal for Fuku, according to a press release, is to expand its presence in the Dallas-Fort Worth area by the end of May, with up to six ghost kitchens. I'm sure they'll have the kinks ironed out by then.
Get the SideDish Newsletter
Dallas' hottest dining news, recipes, and reviews served up fresh to your inbox each week.