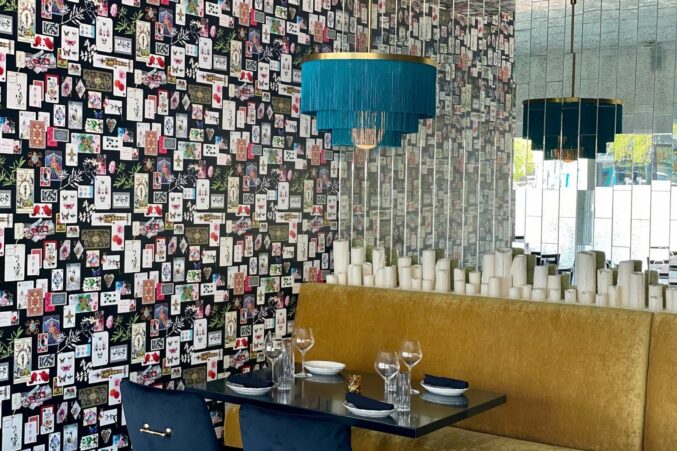 News Bites: Celeb Chef Chicken and Upscale Indian Cuisine Coming Soon to Bishop Arts
SideDish's weekly digest of need-to-know dining happenings in Dallas.
Welcome to SideDish's weekly dispatch of need-to-know News Bites, from quiet closures to opening updates and everything in between, including coronavirus-related intel.
David Chang's Order-Only Fried Chicken Joint Opens
Fuku, the fast casual (very casual, it's a ghost kitchen that does takeout only) fried chicken concept from chef David Chang of Momofuku fame, has arrived in Dallas (and Houston, too). It opened for orders April 6. You can order saucy Fuku Fingers (chicken strips plain or coated in a sweet-spicy glaze), or go for the sandwiches, like the Spicy Fried Chicken Sando, a habanero-brined chicken breast, served alongside Fuku mayo, topped with some crisp pickles, all in between a Martin's potato roll. It seems like more people, including our Eve Hill-Agnus, are having difficulty getting an order through. Maybe try next week. 
The Family Behind 8 Cloves and Laili Bring Âme to Bishop Arts
Âme landed on our list of restaurant openings to watch in 2021, and now it's just about here. Mother-daughter duo Afifa Nayeb and Sabrina Nayeb, who respectively operate Laili, 8 Cloves, and JuiceBabe in the Dallas Farmers Market, will open their upscale Indian restaurant on April 9. Âme will take over the space formerly occupied by Southern food gem Hattie's. But the Nayebs will bring their own kind of soul food: fine Indian cuisine realized through French techniques. Springtime is a time of new beginnings—"A new year, a new spring, a new restaurant," Sabrina told D recently when Persian New Year arrived last month.
Vietnamese Restaurant in Garland Vandalized
The Vu family found the front glass doors to their restaurant, Banh Cuon Thang Long on Belt Line Road, smashed into bits early Saturday morning, reports the Dallas Morning News. They boarded it up and went to work in the kitchen; there's no time to wait for repairs as the show must go on. There are scant details so far, but it doesn't appear anyone entered the restaurant or took anything. There's also nothing to indicate that this was a targeted attacked against their Asian-owned business, but in light of increasing violence and harassment toward Asian American Pacific Islander communities, it is certainly not an outlandish concern for the Vu family.
The Latest in Pizza Happenings
Bryan Street Tavern, a beloved pizzeria-bar mainstay in Old East Dallas, has spun off a sibling spot on the west side. Sylvan Avenue Tavern is slated to open hopefully by early summer, per CultureMap Dallas. When it does, the pizza joint will have pizza (duh), craft beer, live music, the usual lineup of bar games (pool, darts, and the like), plus a pet-friendly patio. Watch for Sylvan Avenue Tavern's opening at 1888 Sylvan Avenue, #F250 inside the Sylvan Thirty complex in West Dallas.
In other pizza news, Zalat's breakneck growth continues unfettered. It opened an Arlington outpost this week on April 5. Also this week—today in fact—the pizzeria is jumping on the hot chicken bandwagon with a Nashville Hot Chicken and pickle pizza. You can order it now from any location, and it'll remain a permanent fixture on Zalat menus. And, yes, I've had pickles on pizza, so this does sound legitimately tasty.