Have you ever driven to a brewery only to second guess your smart phone's map directions? Many good pints await at breweries hidden in industrial parks or tucked away in a suburban neighborhood. You just might need to take several legal U-turns to get there. Much of the beer below isn't readily available in stores and can only be sipped fresh from the brewery. Luckily, Dallas has its fair share of great beer—it's just a little off the beaten path. But these six under-sung breweries are worth discovering.
Right across the street from the main entrance of Fair Park, Craft & Growler has been a North Texas beer staple in the Dallas community since 2012, arguably starting the growler filling trend in North Texas. Less than a year ago, though, owner Todd Quigley decided to venture into brewing their own beer on site. Sitting on the brewing equipment for months on end, Quigley hired head brewer Brendan Smith. Smith comes from Franconia Brewing Company in McKinney, and brings his deep well of knowledge with him. The IPA here is a thing of beauty, balancing the forces of malt and hops. On Rotation Brewery and Taproom has already been a collaborator with C&G, and they anticipate more crossover beers like the cranberry and plum Berliner Weisse. 
There's nothing but room for growth for Craft & Growler with ideas of expanding their brewing operations and offering up bar food staples like spicy wings. Quigley mentioned the sales of in-house beers have Hulk-smashed the guest taps. Eventually, the tap wall might be taken over entirely by Craft & Growler house beers. I'm more than okay with that.
Right off the I-35 and 183 feeder road may just be one of Dallas' best hidden gems. Stay sharp, though—if you're not paying attention, you might miss the turn into the parking lot. Don't be fooled by the makeshift equipment or industrial look of the indoor space when you walk in, Outfit Brewing is fermenting some of the best beer in Dallas. Upon entering, the tap wall showcases over 12 house beers. Standouts include the Cole Kolsch, a traditional German-style Kolsch that packs a lot of flavor into a 4.5 percent ABV beer and Cletus, a Saison-style introduced with Brett, a strain of yeast that has the ability to create more funk than Rick James.
Where Outfit truly shines, however, is in the hazy IPA style with hits like Gene, BoobyTrap, and Doug. Brothers Jordan and Mike Frazer first started Outfit Brewing in 2018 and they've since converted many non–IPA drinkers over to the hazy side with the typical fruity and juicy profiles you expect from the style. Dogs and families are welcome on the spacious outdoor patio, a perfect spot for sunny day beer drinking. If you want your memories to be as hazy as the IPAs, grab a four pack to-go of Gene², the Imperial version of the Gene IPA. You won't be disappointed.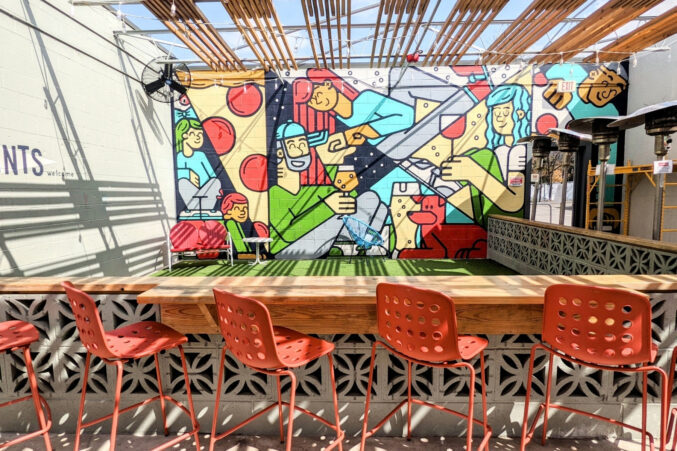 Just within the 635 circle in Lake Highlands lies Vector Brewing, a newbie to the Dallas beer scene that opened in 2020 at the height of COVID. The Vector team only knows business during a global pandemic, but it doesn't show. It's already gathering a cult following on social media, and it's clear why. The large, spanning outdoor patio with some green space for your half pints (kids, but – bedtime's at 8 p.m., after that it's 21 and up), housemade pizza with sourdough crust, housemade beer and amazing artwork and design are the dreams behind owners Veronica and Craig Bradley.
You never know what you're going to get with the beer selection because specializing in any one style is not their main goal. Sourcing locally as much as possible is a priority for Vector. They use local goods like coffee roasted next door at Noble Coyote, honey from Allen and the highly coveted pecos cantaloupe. One stand-out piece of equipment you don't see in many places is their foeder, a large white oak barrel that holds up to 600 litres of that delicious nectar we call beer. This isn't surprising since Vector wants to beef up their barrel program over the next year. Be on the lookout for more sours and funky beers like the latest bottle release Biogenesis, a Farmhouse ale with that popular Brett yeast, aged in the foeder with Texas cantaloupe and Texas honey. What's your vector Victor? Hopefully Vector Brewing. 
Tucked away on a side road in the medical district near Parkland and UT Southwestern lies one of the most colorful murals this side of the Gulf, home to Celestial Beerworks who is brewing up some of the most eccentric beers in Dallas. This brilliant brewery is starting to make a name for itself in Dallas with its out-of-the-ordinary branding and design, delicious beer and love for all things celestial. You won't find bartenders here, you'll find startenders. You don't order flights of beer, you order missions of beer. A love of the stars is evident the moment you walk in. The interstellar interior is bright and vibrant and hard to describe. You just have to experience it for yourself. One thing to note, both bathrooms have changing stations for your multitasking parental needs, which I appreciate on a whole nother level. 
Now let's talk about the beer. If you haven't jumped on the hazy IPA train yet, this is the place to start. The Lunar hazy will make you question why you ever drank anything else. If you're looking for something a little on the dark side, some of the biggest imperial stouts under the sun are being brewed up here. Under Pressure, the Maker's Mark barrel aged with vanilla and dark chocolate, will knock you into another dimension. Even for coconut haters like myself, the Pina Colada Berliner Weisse with pineapple and coconut is reminiscent of a creamy delicious orange julius and is a must-try. Go for the beer. Stay for the atmosphere.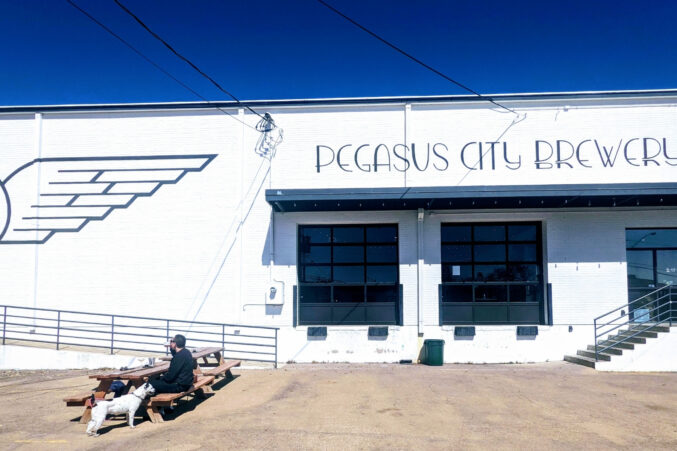 The Design District is home to so many popular beer joints in town we may need to start calling it the Beer District. While many venture over to Community Beer Co. or Peticolas, don't sleep on Pegasus City Brewery next door. Its love for Dallas can be seen from the name alone, but the branding and label art is where it's at. Each beer pays homage to some Dallas institution like the Sixth Floor Imperial porter, Great Hall Hefe or Nine Volt DP&L Tripel. The tripel is a crowd favorite, and a deceivingly easy-to-drink 9.1 percent ABV beer. 
Pegasus has a wide array of beer styles suitable for all taste buds, however. The Highpoint Porch Ale is an easy drinking English mild ale, perfect for sipping on one of many picnic tables filling up their front parking area. Don't miss the taproom dubbed the Tiny Tap because, well, it's tiny.
In case you missed it, Pegasus quietly opened a second taproom in the historical Dallas Power and Lights building last year. It's simply poetic that the brewery now occupying this space brews a Tripel paying homage to it. Although not off the beaten path—quite the opposite—this location is another great spot with outdoor space to check out.
Drive 20 minutes south of Dallas to Ash & Ember in Cedar Hill and this new brewery may just surprise you. Ash & Ember hit the beer scene in June of 2020 during some of the more restrictive state shutdown measures. While it has been difficult, this Cedar Hill brewery has made quite the impact on its community. The beer is currently being brewed on a small five-barrel system that churns out a lot of different styles. The High Pointe Porter is a delicious English-style porter that won first place at the Brew Riot homebrew competition before the owners started Ash & Ember. In the taproom, the High Pointe Porter is only served using their beer engine, a process that naturally carbonates and slowly draws the beer up through the tap giving you the creamiest porter you may ever try.
Note: Most of the breweries mentioned here have online ordering for curbside pickup if you want to grab your brews to go.
---
Matt Abendschein is a local beer writer in Dallas. He recently published Quarantine Dad: A #DadLife Guide to My Favorite Quarantine Dishes and the Beers to Drink With Them, a cookbook that sounds pretty self-explanatory. Follow Matt's beer-fueled adventures on Instagram @stayhoppy.
Get the SideDish Newsletter
Dallas' hottest dining news, recipes, and reviews served up fresh to your inbox each week.